The Vietnam Business Integrity Index (VBII) was introduced for the first time by the Vietnam Chamber of Commerce and Industry (VCCI) and the United Nations Development Programme (UNDP) in Hanoi on September 21.
"Transparency, accountability, and integrity are key elements that define good governance and the existence of a Fair Business Environment in any country. Sustainable development is no longer a choice but a matter of survival for enterprises to exist and develop at present and in the future, VBII is ", said Nguyen Quang Vinh, Vice Executive Chairman of VCCI, in his opening marks.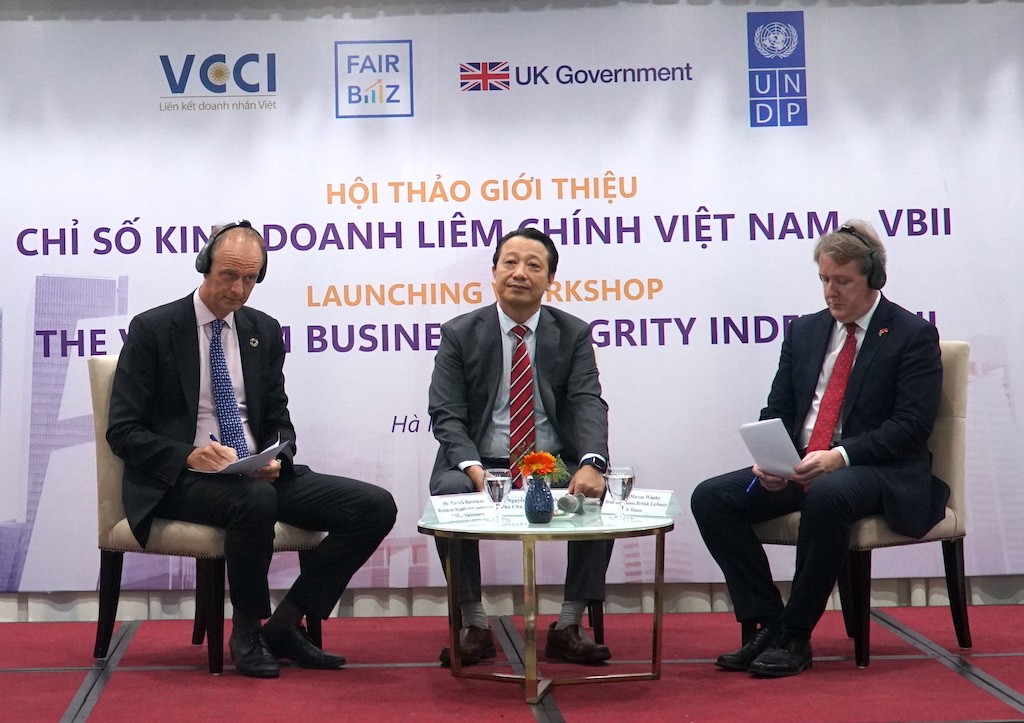 From left to right: Mr. Patrick Haverman, Deputy Resident Representative of UNDP in Vietnam, Mr. Nguyen Quang Vinh, Vice Executive Chairman of VCCI, Mr. Marcus Winsley, Deputy Head of Mission of British Embassy in Hanoi (Photo: VCCI)
Vinh highlighted the significance of VBII to improve business conduct in Vietnam, stating that it is a useful tool for bringing Vietnamese businesses closer to international standards of transparency and integrity as well as helping businesses overcome difficulties in integrating integrity into their production and business activities.
Special guest speakers were Patrick Haverman, Deputy Resident Representative of UNDP in Vietnam, and Marcus Winsley, Deputy Head of Mission of the British Embassy in Hanoi. Many other experts and advisors from the partners and in the industry also attended the event.
"VBII is a tool that if used by businesses in an honest and transparent manner, will contribute to improving the country's standing and brand, building trust based on data and information, attracting investments, generating wealth and improving the lives of citizens," said UNDP Deputy Resident Representative Patrick Haverman in his opening remarks.
Deputy Head of Mission, British Embassy Ha Noi, Marcus Winsley congratulated VCCI and UNDP on the launch of the DBII, stressing that the UK will continue to support the development of a fair and just business environment in Vietnam. He said "Together with Vietnamese and international partners, we stand ready to support Vietnam to achieve your ambition and deliver your commitment towards a fair business environment, an effective economic reform and in various other areas including climate change, education, healthcare, and innovation".
Many challenges from misconduct practices in business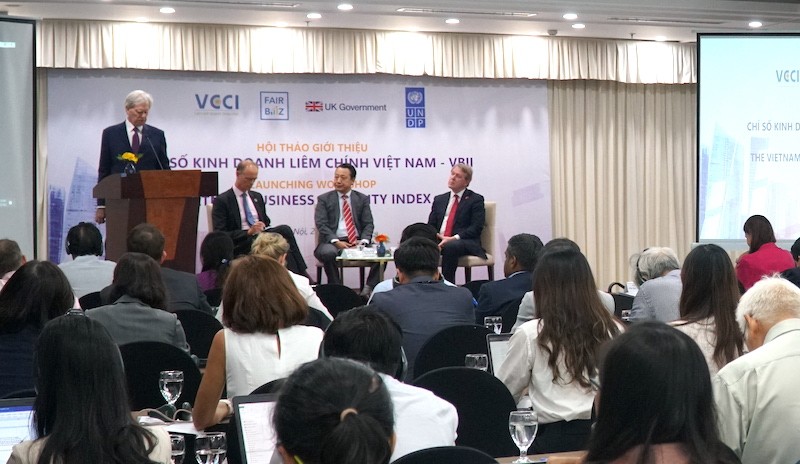 The Vietnam Business Integrity Index (VBII) launching event in Hanoi. Photo: VCCI
According to Transparency International's Corruption Perception Index, Vietnam is one of the few countries that has shown incremental progress in going up by 26 places globally (from 113 in 2017 to 87 in 2021). The Rule of Law Index, an annual comprehensive report by the World Justice Project, viewed Vietnam as an exception among ASEAN countries in moving up in ranking at 88 last year, indicating the country's stronger adherence to the rule of law.
However, some sectors remain more vulnerable to corruption than others. For example, a joint business survey report published by VCCI and UNDP last June showed that at least 1 out of 3 businesses participating in public procurement recognized the need for informal payments for winning government contracts.
The VBII is built on the seven essential elements to building and operating a company based on integrity, including Culture (commitment from the top, management, employees, and training); Code of conduct, Control, Communication, Conduct (employee and gender/ inclusion, community, social, environment, and sustainable development); Compliance, and Certification. It is considered a tool to assess the state of business integrity of companies.
This tool is intended for companies in Viet Nam of all sizes, ownership, sectors, and structure that is interested in business integrity and sees business integrity as a bedrock principle for their growth, said Gerald Pachoud, Business Integrity Expert, FairBiz, UNDP in his presentation "Introduction of the Vietnam Business Integrity Index – VBII".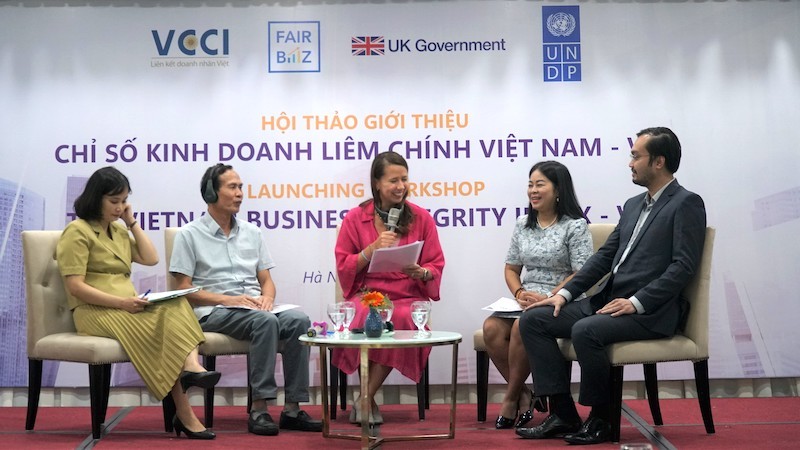 The panel discussion of the launching workshop (Photo: VCCI)
Besides the introduction of the index, a panel discussion was held to address the challenges resulting from misconduct practices in business. Accordingly, misconduct practices are shown in many areas, such as in the management and the use of land construction investment, health care sector, manipulation of the stock market and hiding information in securities activities, etc. These have resulted in negative effects, threatened ethical values, disturbed the business environment, and increased both costs and difficulties of doing business because those costs are paid through bribery.
VBII has been supported by the FairBiz project, a UNDP regional initiative that is funded by the UK Government under ASEAN Economic Reform Programme to promote a fair business environment in six ASEAN countries (Indonesia, Malaysia, Myanmar, the Philippines, Thailand, and Viet Nam).