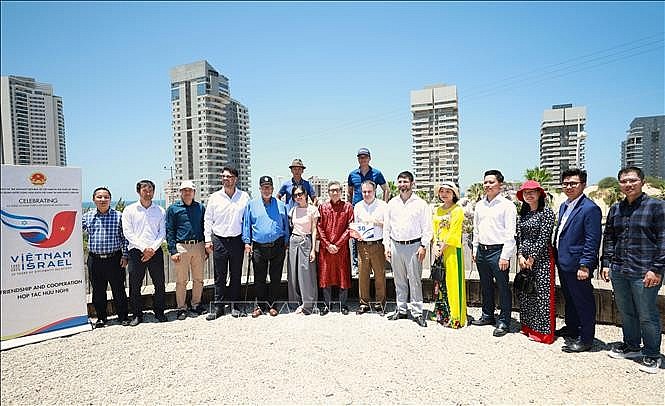 Delegates at the event in a group photo. Photo: VNA
Council member Alexander Oberfeld, who proposed the concept, emphasized that fostering exchanges between Israel and Vietnam's localities is vital for turning the bilateral relationship into a tangible reality. By leveraging the strengths of each side, businesses from both the city and Vietnam can collaborate to boost bilateral trade in the foreseeable future.
According to a report from VietnamPlus, he expressed his belief that Ashdod, being one of Israel's largest seaports, will establish friendly relations with localities in Vietnam.
According to Ambassador Ly Duc Trung, the Vietnamese Ambassador to Israel, Vietnam and Israel have achieved impressive cooperation in politics, economy, trade, and investment over the past 30 years. The two nations have become key partners for each other in Southeast Asia and the Middle East, thanks to their mutual respect and trust.
The plate marks the 30th anniversary of the establishment of Vietnam-Israel diplomatic relations. Photo: VNA
In 2020, the trade between Vietnam and Israel reached a record-high value of $2.2 billion.
According to a report from Nhan dan (People) Newspaper, on July 11th, the Vietnamese Embassy in Israel, together with local authorities in Netanya, organized an event aimed at promoting Vietnamese culture, cuisine, and tourism to the local residents and businesses.
Join us in celebrating the 30th anniversary of the diplomatic ties between our two countries. This momentous occasion marks the enduring friendship and cooperation between us, which began on July 12, 1993. We invite you to take part in a series of activities that have been organized to commemorate this milestone in our bilateral relations. Let us come together and celebrate this significant achievement as we look forward to a future filled with continued collaboration and friendship between our nations.
During his remarks, Vietnamese Ambassador to Israel, Ly Duc Trung, provided an overview of Vietnam's rich traditional culture and highlighted the country's vast tourism potential.
The attendees were delighted to indulge in an exquisite array of authentic Vietnamese cuisine, meticulously prepared in strict accordance with the esteemed Kosher dietary guidelines observed by the Jewish community.
Several local businesses have expressed interest in importing agro-aquatic products from Vietnam.
During a recent interview with the Vietnam News Agency (VNA), Yaron Mayer, the Israeli Ambassador to Vietnam, emphasized the successful progress in bilateral relations between the two countries. Key areas such as trade, agriculture, and education have shown promising developments.
"Economic cooperation acts as a crucial link between Israel and Asia, facilitating Israel's access to Asian markets and enabling Vietnam to tap into the Middle East market," he acknowledged.
Israel and Vietnam have collaborated on various agricultural initiatives aimed at advancing Vietnam's agricultural sector. Through training programs, the two countries have successfully developed innovative ideas and technologies tailored to meet the needs of Vietnam's agriculture industry. Over the past 15 years, Israel has provided comprehensive training to numerous Vietnamese students, resulting in valuable knowledge and skills transfer.
Mayer emphasized the importance of enhancing cooperation in education and training between the two countries. He expressed Israel's desire to support Vietnam's development through collaborative efforts in education and training, with a particular emphasis on innovation.
The diplomat also discussed other areas for potential collaboration between the two parties, such as climate change adaptation, clean energy, and green agriculture. They highlighted Israel's abundance of new technologies and start-ups that are specifically dedicated to these sectors.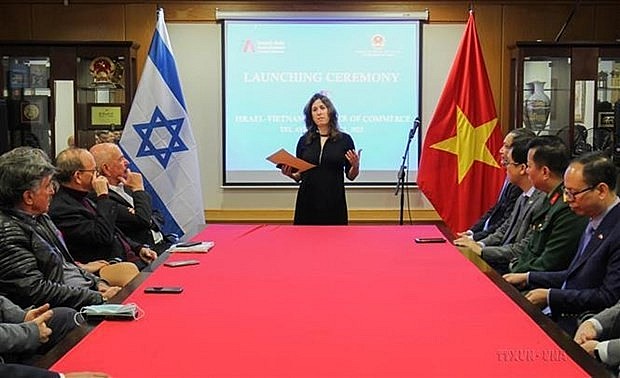 The Vietnamese Embassy in Israel, in collaboration with the Israel-Asia Chamber of Commerce, hold a ceremony on March 22, 2022 to inaugurate the Israel-Vietnam Chamber of Commerce. Photo:VNA
The speaker underscored the importance of fostering greater exchange of business delegations in order to facilitate knowledge-sharing and explore collaboration possibilities.
"The Israeli government and Embassy consistently foster favorable conditions for enterprises from both countries, enhancing trade and investment ties," he affirmed.
Vietnam and Israel have successfully conducted exchange delegations focused on knowledge sharing in the fields of aquaculture, cyber security, and drainage. Through collaborative efforts, both countries have actively worked towards the enhancement and development of innovative ideas, as stated by Mayer.
Israeli investors have recognized Vietnam as an optimal location for establishing factories and acquiring modern technologies. Concurrently, Vietnamese enterprises perceive Israel as a promising market for the pharmaceutical industry, high technology, and various other sectors.