The coffee route. Screenshot by Ollie Nguyen.
Vung Tau is a thriving port city and the capital of Ba Ria – Vung Tau Province in southern Vietnam. Situated on a picturesque peninsula, it is conveniently accessible with a two-hour drive from HCMC or a two-hours flight from Hanoi. Known for its charming town ambiance, Vung Tau has been an enduring attraction for holidaymakers, seeking to bask in its sunny weather and enjoy its beautiful beaches. As the summer season approaches, it is indeed an idyllic destination for you to explore.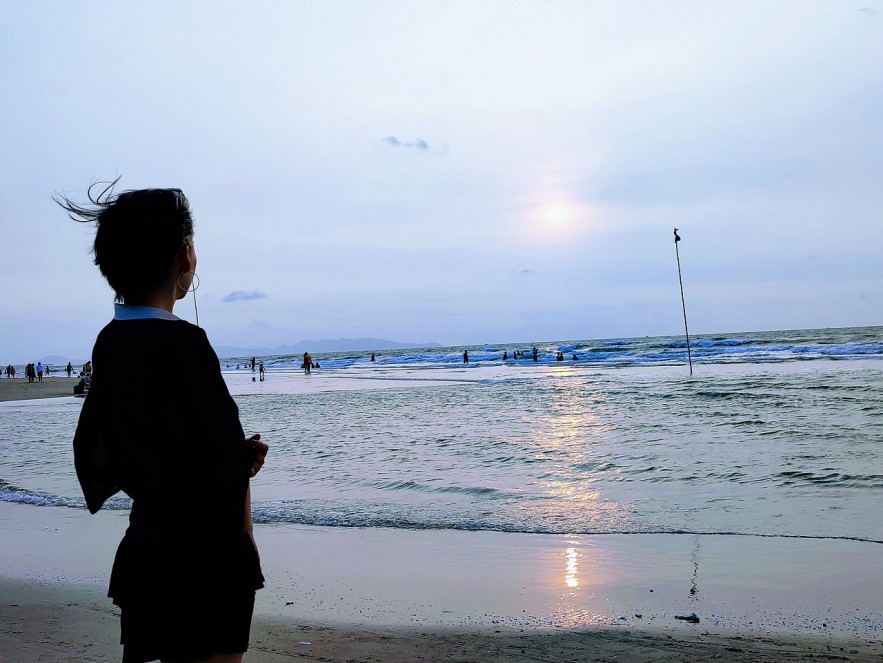 6:20 AM at Ba Ria – Vung Tau beach, witnessing the sunrise. Photo: Ryan Terry
Valley Beach – Vung Tau. Photo: Ollie Le Nguyen
Marina Club & Coffee Grand Opening in Vung Tau City, Ward 2 Ha Long
The Marina Club & Coffee in Vung Tau is a highly respected and recently renovated restaurant-lounge-café complex situated in the vibrant seaside city. With its breathtaking ocean view and elegant Mediterranean-style atmosphere, it has become a sought-after destination for discerning travelers.
If you are in search of a delightful spot to indulge in a revitalizing detox beverage or a refreshing cocktail, look no further. Our establishment offers an idyllic setting that will transport you to new heights as you savor your chosen libations. Let the ethereal blue sky and breathtaking sea view captivate you as you take pleasure in our selection of beverages. For those seeking respite from the heat, we recommend our invigorating double shot-ice cappuccino or our rejuvenating carrot juice. Come and immerse yourself in our oasis of serenity.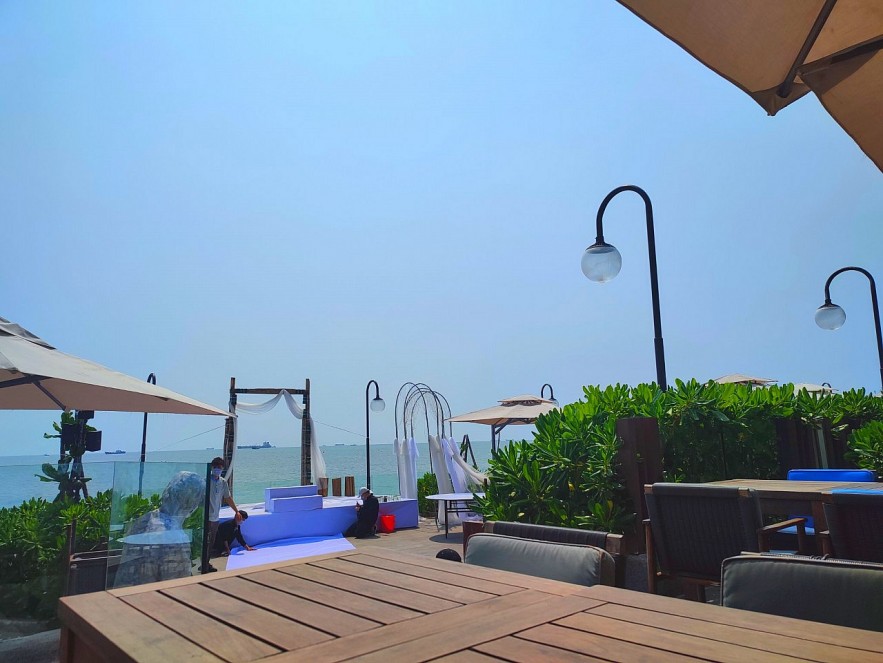 View from Marina Club Vung Tau cafe & bar area. Photo: Ollie Le Nguyen
Marina Club Vung Tau
Discover a must-see destination for Instagram-worthy moments and unforgettable fun. Marina Club Vung Tau is renowned for its expansive drink menu and stunning atmosphere.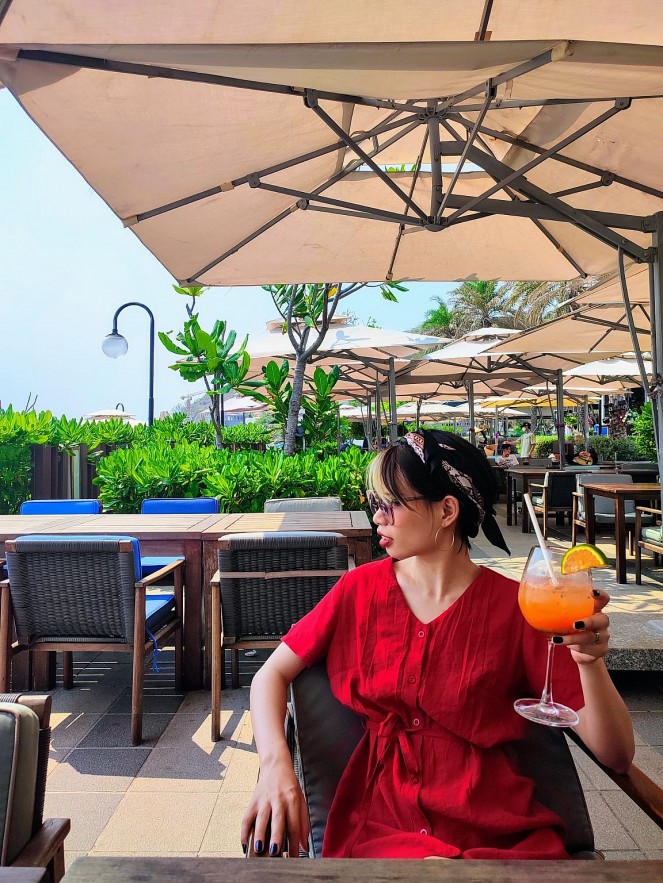 View from Marina Club Vung Tau cafe & bar area. Photo: Ryan Terry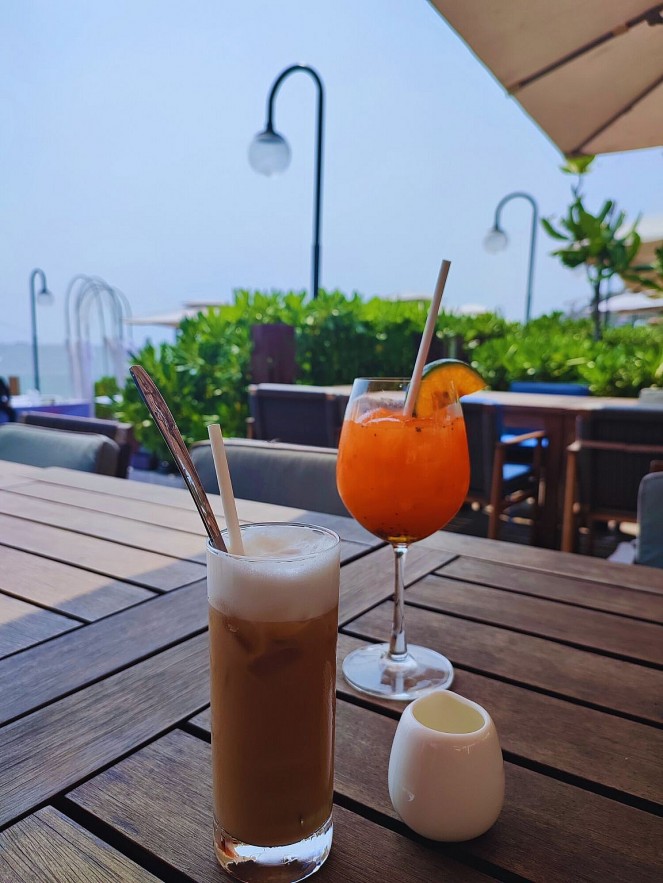 A 2 USD carrot and orange juice and a 4 USD iced latte. Photo: Ollie Le Nguyen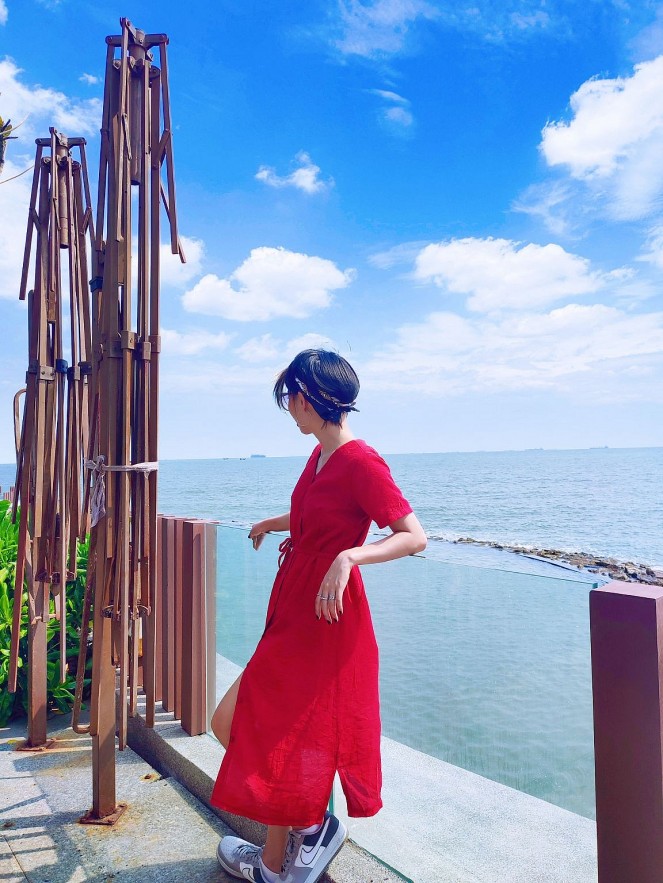 Area in the back overlooks the ocean at Marina Club Vung Tau. Photo: Ryan Terry
My partner enjoyed a refreshing carrot and orange juice, while I opted for a traditional iced latte. Our beverage choices range from $4 to $13, reflecting the slightly higher pricing compared to typical cafes in any city. However, it's important to consider that you are not just paying for the drinks, but also for the ambiance and overall dining experience. Additionally, the restaurant offers a delectable selection of fresh seafood dishes that should not be missed, showcasing the local fish specialties.
"Gazebo Cafe and Lounge Now Open in Vung Tau's Ward 2"
Crowded front view of Gazebo at night. Photo: Ollie Le Nguyen
As I ventured along Ha Long Street, parallel to the picturesque Pineapple Beach, I came across the esteemed Gazebo Beach Café and Lounge. By day, Gazebo serves as a charming beachfront café, but as the sun sets, it transforms into a captivating destination, boasting a lively lounge adorned with thrilling entertainment options.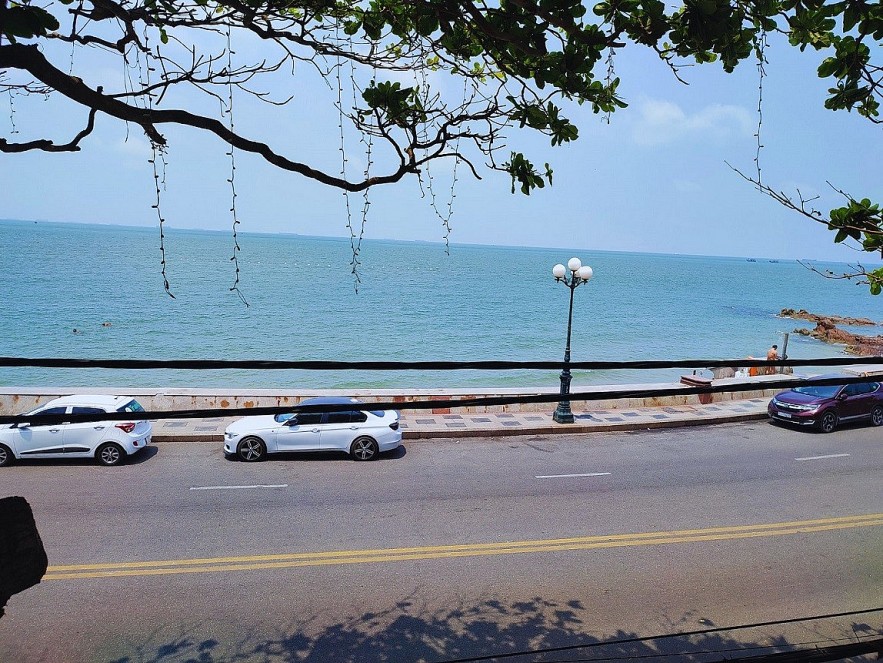 Gazebo front view is Pineapple Beach. Photo: Ollie Le Nguyen
Pineapple Beach (Bãi Dứa) also known as Lang Du Beach, is located between Front Beach and Back Beach, to the west of Small Mountain, near Nghinh Phong Cape. Currently, Pineapple beach is one of the most beautiful beaches and attracts many tourists to Vung Tau.
Start your morning off right with a visit to the charming Gazebo sundeck, where you can savor a cup of coffee while engaging in delightful conversations with friends. Indulge in a selection of toast and other traditional breakfast choices, all expertly prepared. Enhance your experience with a perfectly brewed espresso, available for just $2.
For lunch and dinner, we proudly serve a delectable array of fresh seafood options, perfectly paired with an extensive selection of beverages. Join us here for a truly memorable dining experience.
Gazebo Cafe offers a selection of high-quality drinks, including beer and wine, to enhance your dining experience in our luxury lounge setting near the beach. In addition to these classic options, we also serve a variety of delicious and visually captivating cocktails. As a patron myself, I have personally enjoyed the exquisite cocktails on offer during my visits to Gazebo Cafe, particularly when I have dined there for dinner.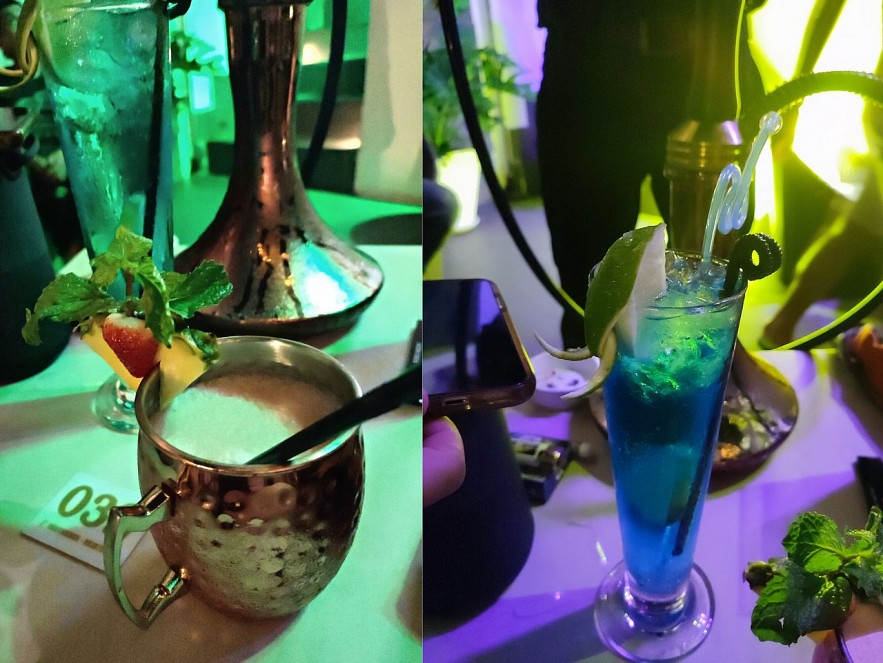 A classic Piña colada and A Blue Lagoon at Gazebo. Photo: Ollie Le Nguyen
Join us at Gazebo in Vung Tau as the sun sets and the vibrant nightlife begins. From afar, the pulsating music and dazzling lights tempt you to immerse yourself in the electrifying atmosphere. Come and experience the captivating nightly scenes that unfold at Gazebo.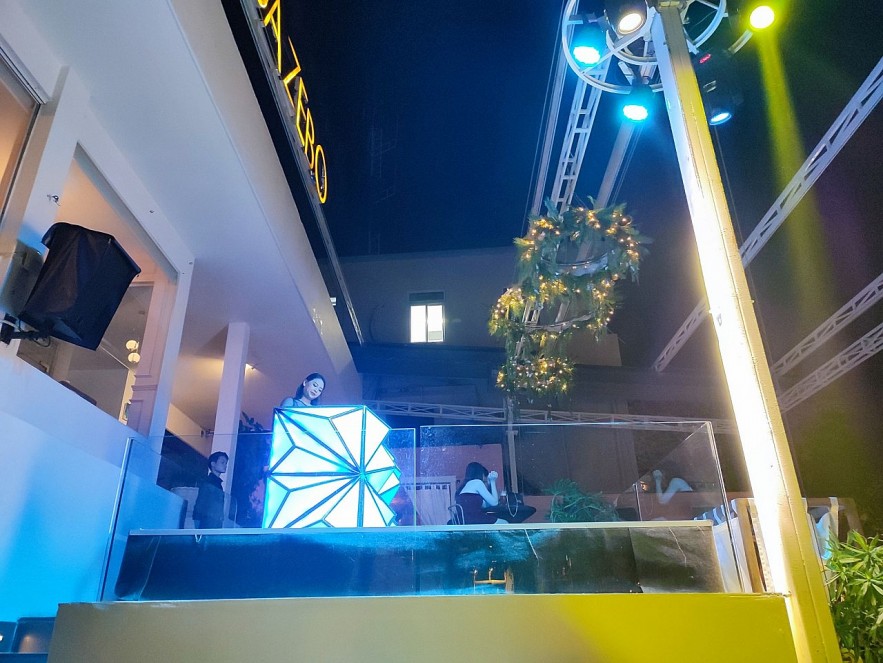 You'll have a fantastic view of the DJ booth and the go-go dancer from the audience. Photo: Ollie Le Nguyen
As the go-go dancers and vibrant stage lights took center stage, the tranquility of Ha Long Street's beach was abruptly disrupted. The peaceful sounds of ocean waves and hushed conversations over coffee gave way to the clinking of champagne glasses and thumping bass music that enveloped the atmosphere of an upscale nightclub. Energetic DJs mesmerized visitors with their captivating electronic tunes.
SoHo Coffee Opens Third Café in Vung Tau's Ward 2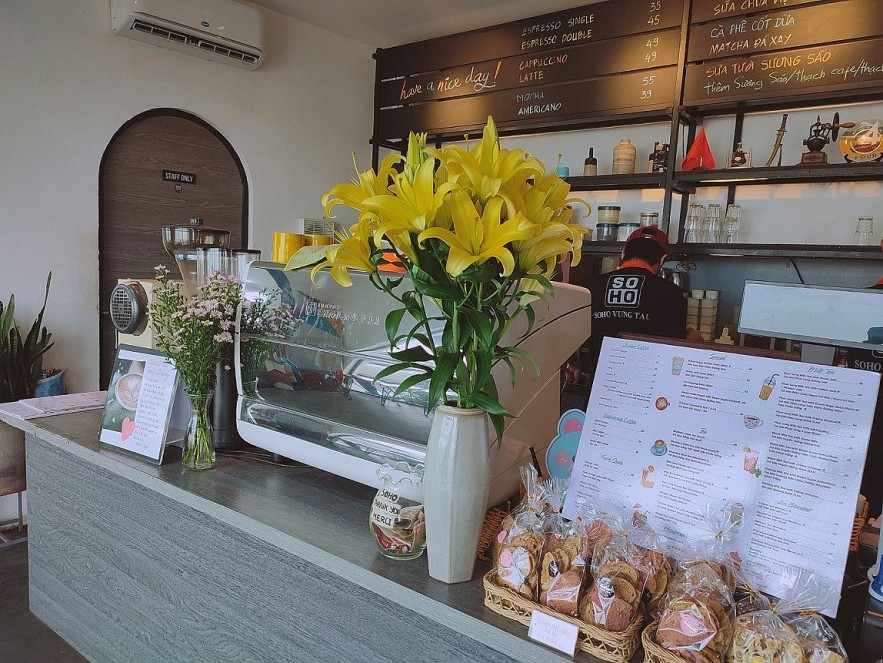 Soho coffee's design is serene and pleasant. Photo: Ollie Le Nguyen
Soho Coffee is currently one of the most highly regarded and trendy establishments in town. Situated on the bustling Ha Long Street in Vung Tau city, this seaside cafe offers a spacious and inviting setting, complete with breathtaking views.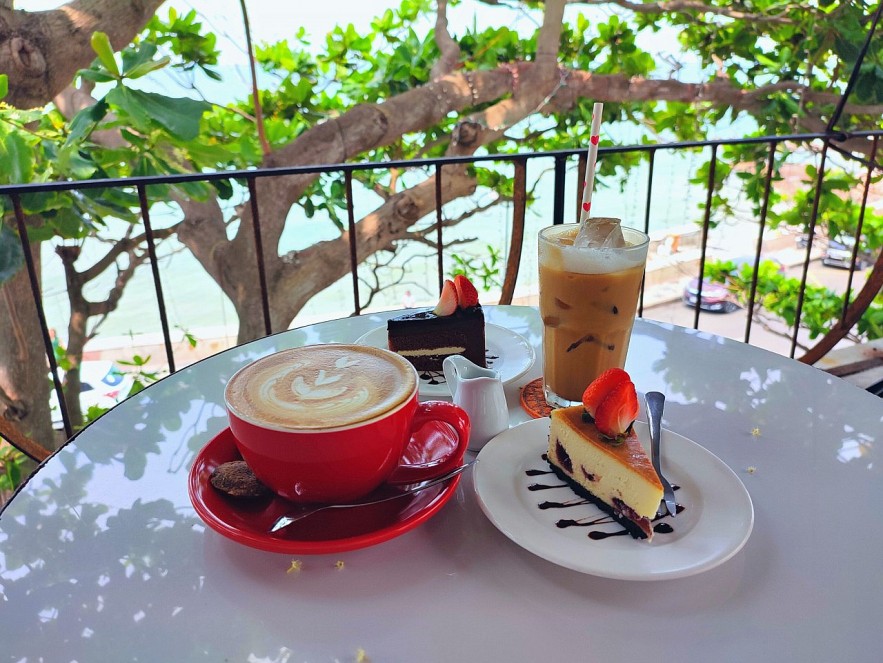 The cost of a Vietnamese milk coffee is $1.29, a latte is $2.09, a dark chocolate cake is $1.66, and a cheesecake is $2.35. Photo: Ollie Le Nguyen
Moreover, SoHo exudes an exquisite ambiance with a combination of delicate white, cool, and light blue tones, which beautifully adorn every item showcased in the store. The seamless interplay of these colors creates a breathtaking visual impact, making it an absolute haven for Instagram enthusiasts. Unsurprisingly, SoHo Coffee has become a go-to destination for young individuals seeking to immerse themselves in a refined and cultured atmosphere near the sea.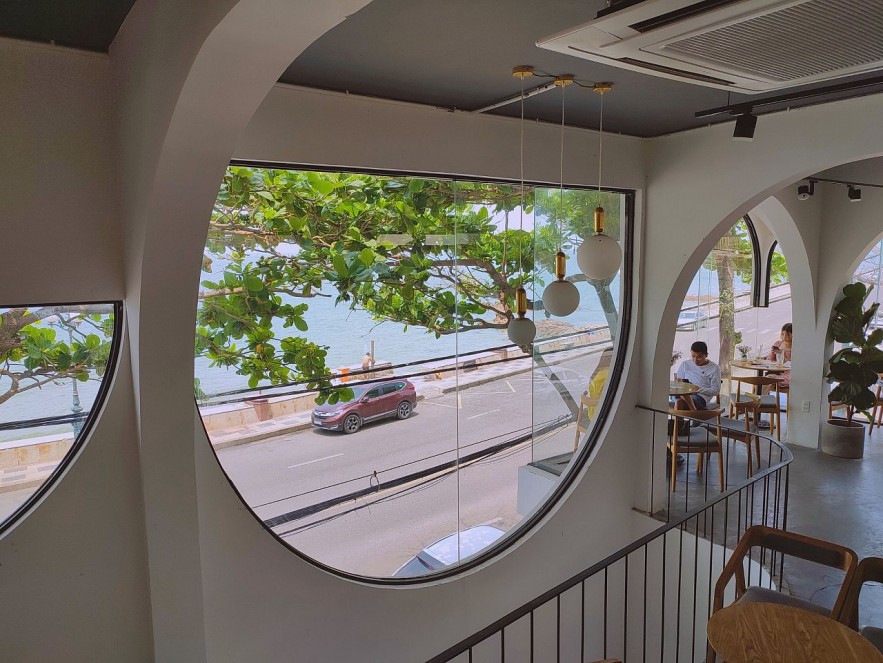 Delicate white, cool, and light blue decor at SoHo. Photo: Ollie Le Nguyen
SoHo Coffee's drink menu features a diverse selection of refreshing beverages, including milk tea, flower tea, latte, mocha, and more. In addition, the café offers a delectable assortment of cakes that are sure to please those with a sweet tooth. Guests can also enjoy picturesque views of the beach while capturing memorable moments through photographs.
Top area of SoHo. Photo: Ollie Le Nguyen
Our menu features a variety of delicious options, presented in an elegant and eco-friendly manner. Each item is affordably priced, ranging from just over a dollar to five dollars. As you unwind and soak up the breathtaking sunset over the serene sea, indulge in a cup of warm and satisfying coffee accompanied by a delectable slice of cake. It's the ideal way to wrap up your day in Vung Tau.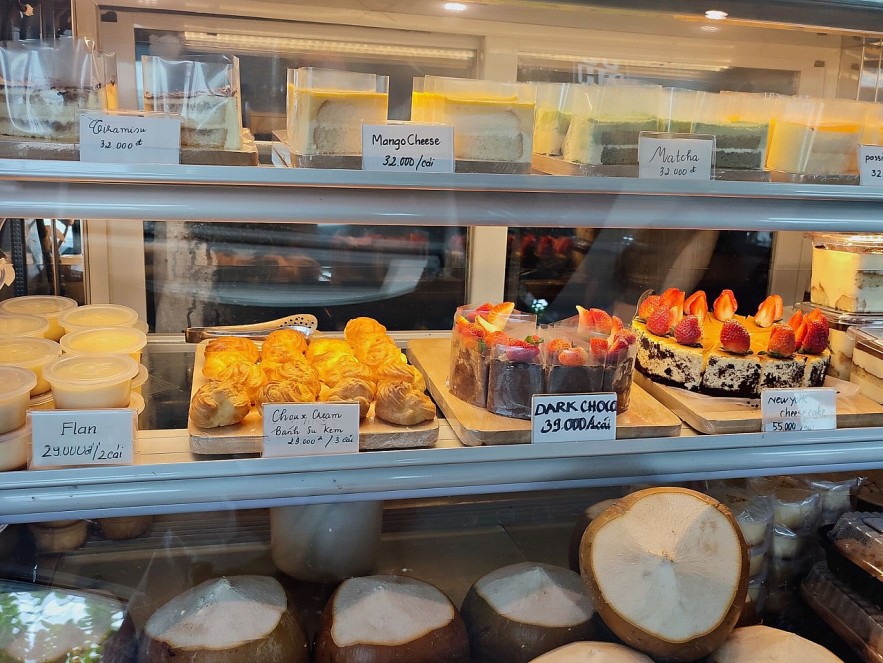 Cake are being displayed at the center of the entry so you can pick out your favourite dessert. Photo: Ollie Le Nguyen
A stunning cafe as SoHo is a must-visit for getting your new photos taken. Photo: Ryan Terry