After the successful event in 2022, the BritCham Charity Fun Run 2023 Hanoi, powered by British University Vietnam (BUV), is returning on November 5 at the British University Vietnam (BUV) campus in Ecopark City, Hung Yen.


The run brings together the BritCham community along with the wider international and Vietnamese business network. This annual Fun Run is always a great way to connect with friends and family, get active, and raise money for life-changing charities.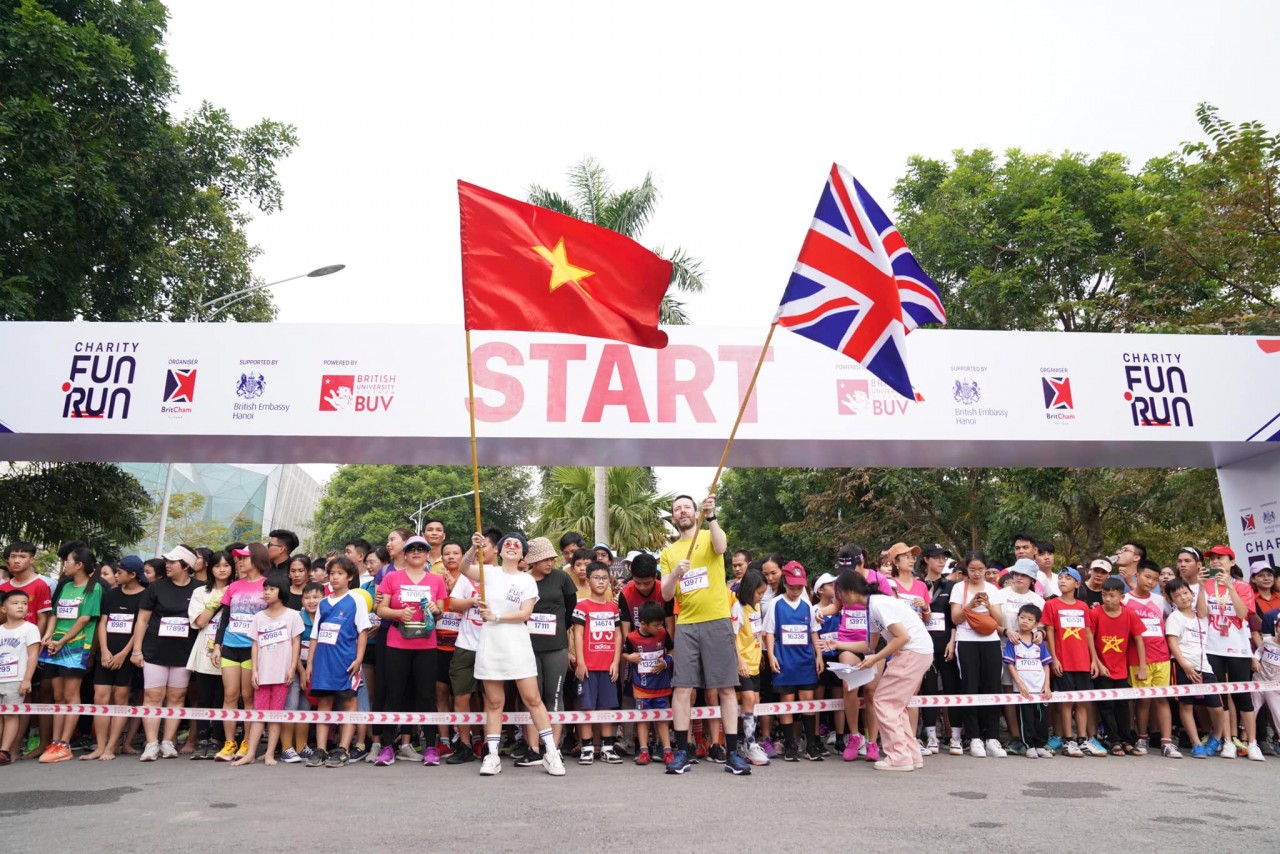 Last year, BritCham successfully organized Fun Runs in Hanoi and HCMC with the participation of over 10,000 people.

The first BritCham Charity Fun Run was held in 2000 and has continued until now. For the last 22 years, this event has become one of the most well-known charity events in Vietnam.


The event is suitable for all ages, from grandparents to kids, encouraging everyone to live a healthy lifestyle and, most importantly, raising much-needed funds for local charities.


"This event is not simply about business, not just about the relationship between Vietnam and the UK, but it is also a symbol of the influence of British businesses and community organizations that have contributed to Vietnam's social development," shared Christopher Jeffery, Chairman of BritCham, at the press conference.


Fun runs in Vietnam's two largest cities, Hanoi and Ho Chi Minh City, have welcomed more than 130,000 runners and raised over VND 13 billion (USD 529,740) with the support of over 90 sponsors.


BritCham Charity Fun Run 2023 will continue to raise funds for the Christina Noble Children's Foundation, Saigon Children's Charity, Newborns Vietnam, and Blue Dragon Children's Foundation.


The Blue Dragon Children's Foundation, an Australian charity working with children in Vietnam, assists the most vulnerable children throughout the country, including street kids, children with disabilities, children from rural families living in extreme poverty, and victims of human trafficking and slavery.


Saigon Children's Charity CIO (saigonchildren) was founded in 1992 to help disadvantaged children get an education and a fairer start in life. Saigonchildren works across the whole of Vietnam to overcome barriers to education for children, including poverty, geography, knowledge, and disability.


In 2018, saigonchildren received the Certificate of Merit from the Prime Minister of Vietnam in recognition of their work in improving access to education and contributing to Vietnam's economic development.

Christina Noble Children's Foundation (CNCF) is a British Registered, third-generation, family Foundation and one of the longest-serving foreign NGOs in Vietnam since 1989. It has so far launched over 100 projects in Ho Chi Minh City and adjacent provinces, providing support to hundreds of thousands of disadvantaged children.
In 2010, CNCF founder Christina Noble was awarded the Friendship Order by the Vietnamese President in recognition of her contributions to the relationship between the UK and Vietnam.
Newborns Vietnam is a UK-based NGO operating in Vietnam with the mission of reducing infant mortality in Southeast Asian countries, especially in Vietnam. UK medical experts provide training to doctors, nurses, and midwives in order to improve their knowledge and better care for babies.