During the exchange with the audience at the second Born Pink concert in Hanoi, the members of Blackpink expressed their deep appreciation for Vietnamese cuisine. Jisoo and Lisa disclosed that the group had indulged in local delicacies such as bread and the popular dish, pho. Rosé, in particular, expressed her immense love for pho, stating that she savored every last bit of the famous dish.
Due to their tight schedules, the band didn't have time to themselves, so fans guessed they enjoyed the food right at the Capella Hanoi hotel, where the group stayed when performing at the end of July.
Upon her return to Korea after the tour in Vietnam, Rosé promptly shared a photo on her personal Instagram page, which boasts over 73 million followers. The image captured her donning a Vietnamese conical hat.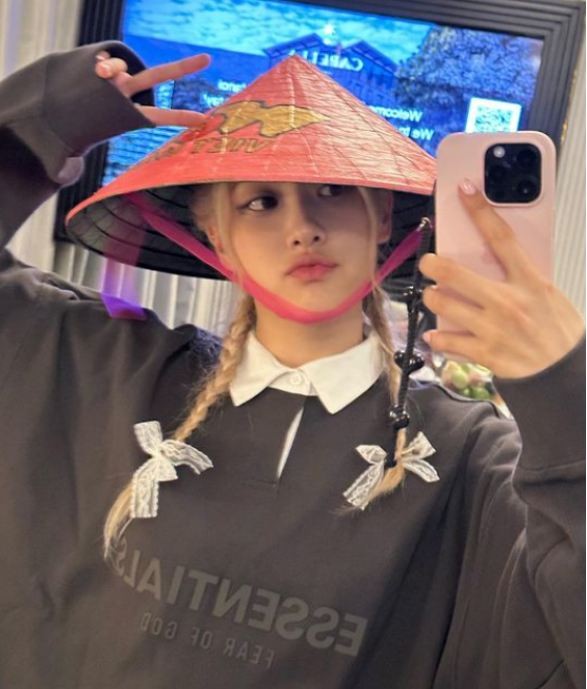 Source: Instagram roses_are_rosie
Upon arrival at the airport, Rosé wasted no time in sharing her experience. She took to her social media accounts to showcase five captivating photos, showcasing her wearing a traditional conical hat gifted by a devoted fan. The pictures were taken in her hotel room during her enchanting tour in the beautiful city of Hanoi.
After just 12 hours of the post being published, the photos have already garnered an impressive 3.5 million likes.
During both shows on July 29th and 30th, all four members consistently wore conical hats, even while performing or engaging with fans.
During the concert, BlackPink interacted with their Vietnamese fans, discussing traditional Vietnamese dishes such as pho and bread. In a humorous moment, Rosé playfully referred to Lisa as "sniffing a bowl of pho". This amusing exchange generated significant press coverage and buzz on various social media platforms.
During the second night of the show in Hanoi, Rosé enthralled the audience with her energetic performance. Clad in conical hats, she captivated everyone while dancing to the popular song "Boombayah". It was a truly exhilarating experience for all those present at the stage.
Aside from her iconic conical hats, Rosé has also repeatedly expressed her love for Vietnamese Pho, which has become a familiar topic within her fan community.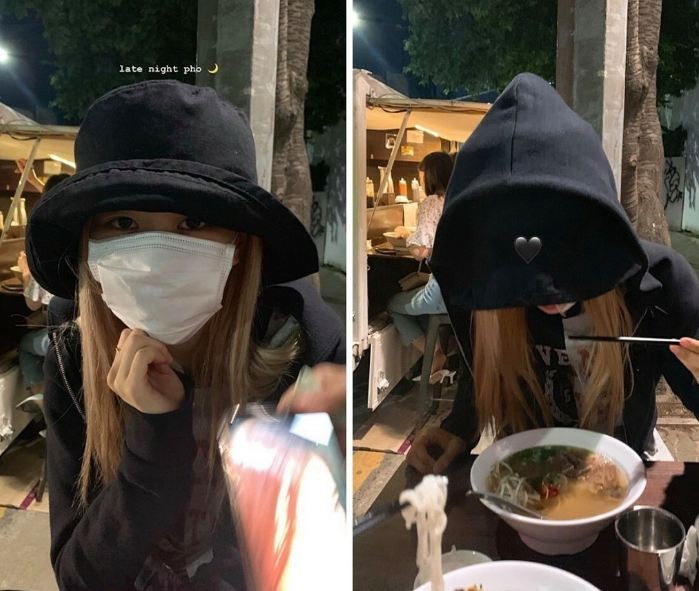 Rosé loves Vietnamese pho. Source: Instagram roses_are_rosie
To celebrate Rosé's arrival in Vietnam, dedicated fans of the talented female singer purchased ad space on the LED screen at TNR Tower. The prominent display, strategically positioned along the bustling main roads of Chua Lang, Kim Ma, and Nguyen Chi Thanh streets in Hanoi, featured the heartfelt message, "Let's enjoy a delightful pho experience together."
Moreover, Rosé has also demonstrated her appreciation for various culinary delights, including dried mango and Vietnamese spring rolls.
Many times, Rosé has promoted and brought the culture and cuisine of Vietnam closer to people around the world. Cultural exchange is always an effective way to bring people together, and this is evident in Rosé and Lisa's visits to a Vietnamese restaurant in Korea, where they enjoyed dishes like pho and traditional rolls.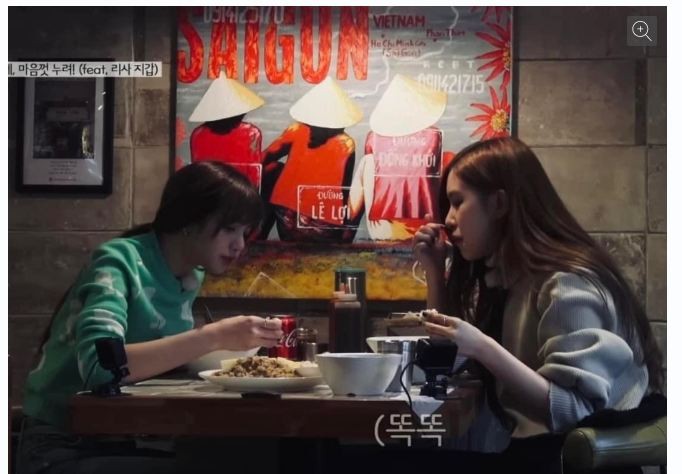 Lisa and Rosé (right) eat pho and Vietnamese dishes in Korea. Photo: BLACKPINK HOUSE
On the morning of August 2nd, Jennie shared a collection of photos from the Born Pink world tour in Hanoi on her Instagram account.
Jennie expresses her gratitude to Vietnamese fans, saying "Hanoi [symbol of the Vietnamese national flag]. Thank you so much for two amazing nights."
On her Instagram Story, the Korean singer shared a video of herself dancing to the viral Vietnamese song 'See Tinh', with the caption, "For my Vietnamese Blinks."
Earlier, late at night on August 1, Jisoo expressed her gratitude on her personal page, stating, "I had a delightful time during my first visit to Vietnam! The support and energy I receive from Blink never fail to uplift me. Looking forward to our next meeting. Lots of love to you all."
Jisoo shared heartfelt messages with Vietnamese fans and also treated them to a collection of captivating backstage and hotel selfies.
Both Jennie and Jisoo demonstrate their interest in Vietnamese culture by sharing photos of traditional conical hats featuring the country's emblem of a red flag and yellow star.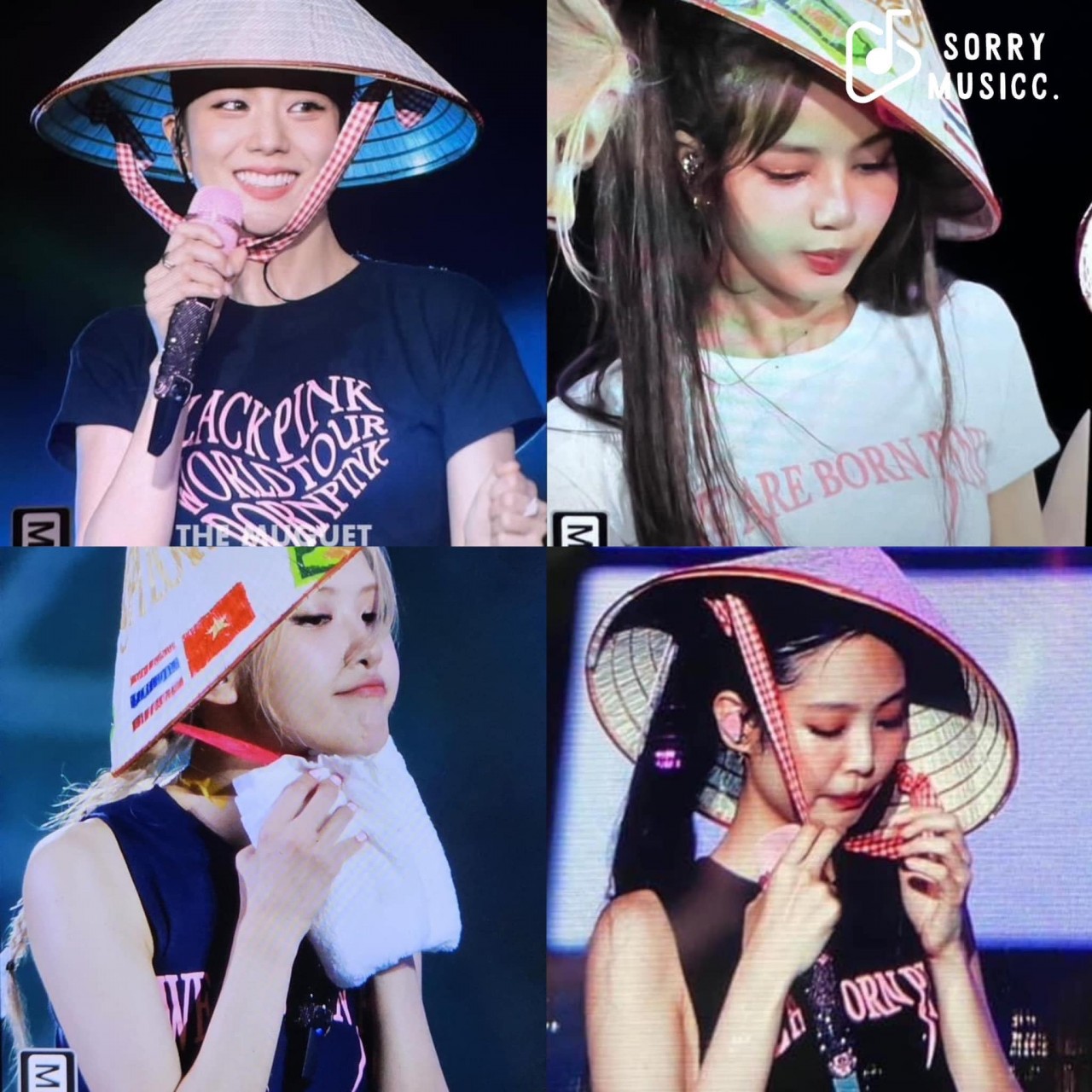 Blackpink wears conical hats on the stage.