Just over 100km from Ho Chi Minh City, Ba Den Mountain is renowned as the "roof of the South" due to its lofty altitude of 986 m above sea level. This picturesque locale is surrounded by the lush primeval forests of Heo and Phung mountains, granting its cool atmosphere throughout the year, with temperatures that are 8-10 degrees Celsius lower than those of nearby Tay Ninh City and neighboring provinces. In the evening, the mountain air is especially chilly and refreshingly windy.
In recent days, when the temperature in Vietnam reaches a scorching 42°C, travelers flock to Ba Den Mountain to escape the sweltering heat, explore nature, and participate in a variety of fun activities and travel events. Here, they can enjoy a truly remarkable experience.
Hiking and Conquering the Mountains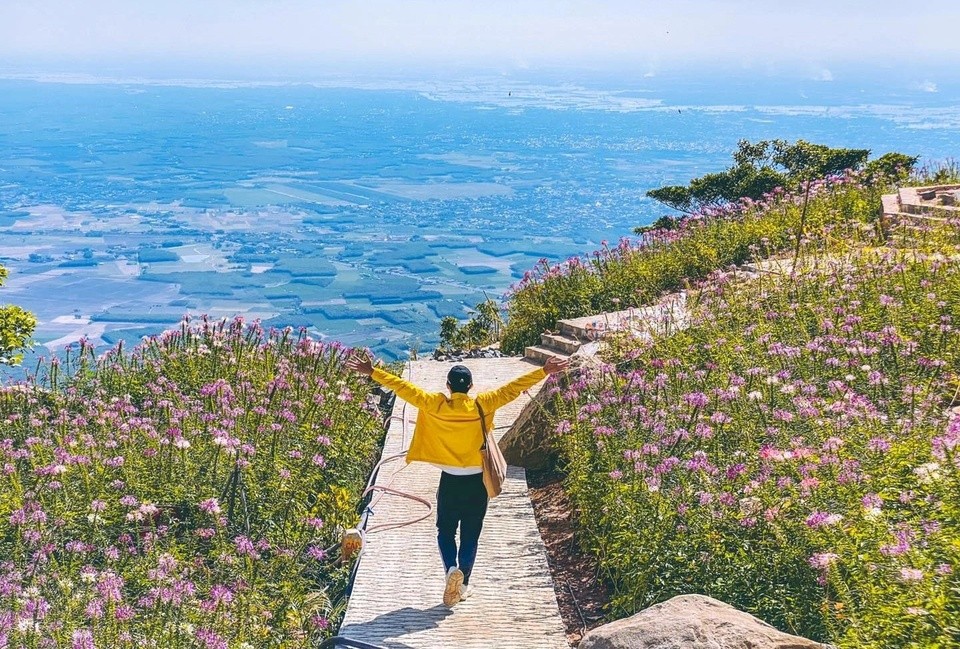 Photo: Ly Thanh Co
There is a cable car system that helps many tourists move up to the top of the mountain, but those who are looking for an adventure and a challenge can still choose to trek their way through the forests and over large rocks to reach the summit of 986 meters. The mountain air is cool and fresh, and the route is lined with shady trees, making the whole experience even more enjoyable and comfortable.
The majestic shape of the mountain resembles an inverted cone, making the ascent to its peak a challenging and arduous journey. For those seeking to conquer it, there are a variety of routes to choose from, such as Ba Pagoda Street, Electric Pole Street, and Ma Thien Lanh Street. Among them, Electric Pole Street is particularly popular among the younger generations, as it offers a relatively safe and straightforward trek.
From the foot of the mountain, travelers can easily follow the road and count more than 100 electric poles before they reach their destination, which will take about two to three hours. As you pass the 55th electric pole, you'll come across a small ravine and a cluster of large rocks that offer a perfect spot to take a break, grab a drink of water, and freshen up.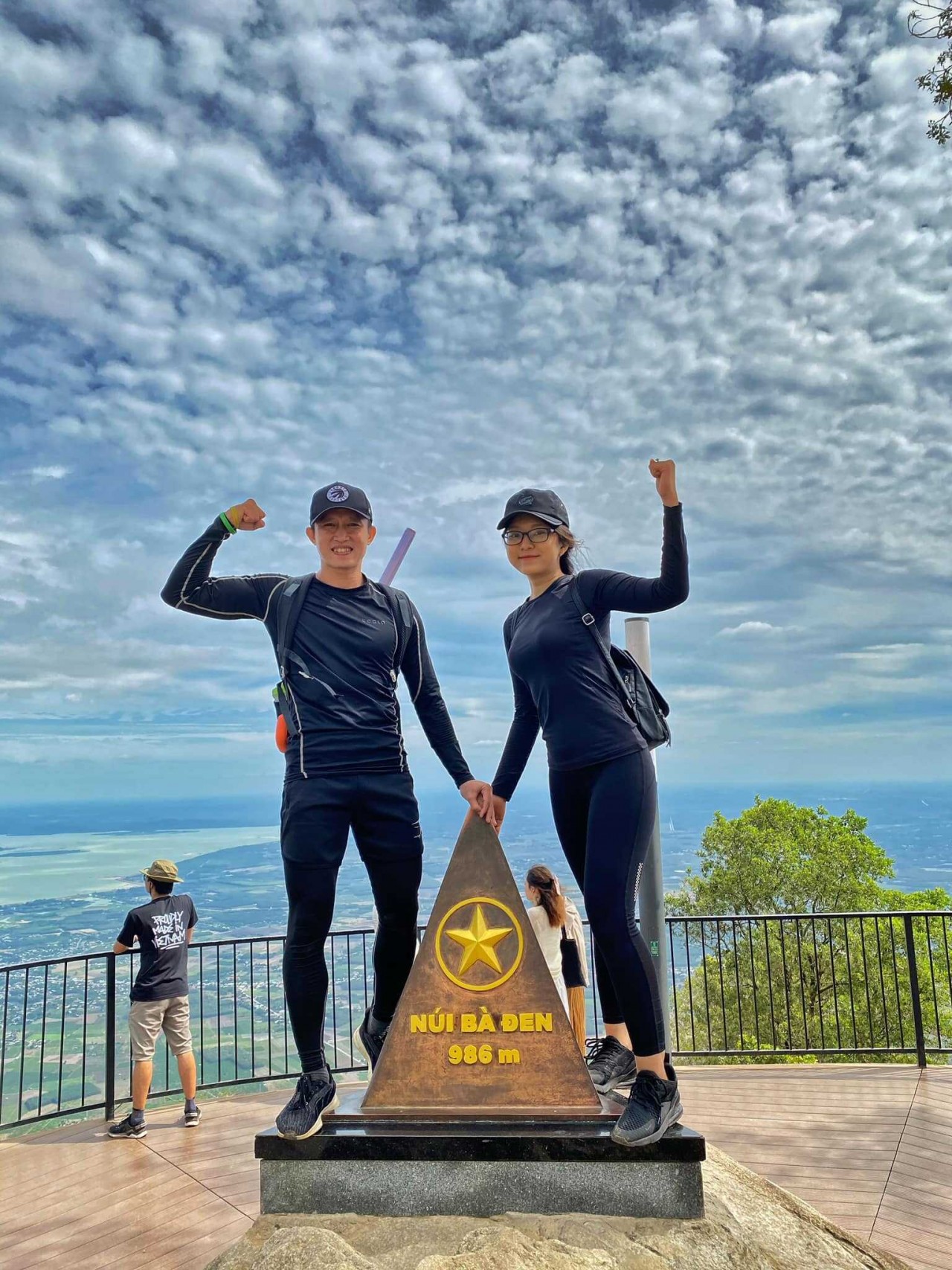 Photo: Nguyen Huynh
Nguyen Huynh, an experienced trekker and tourist, has often visited Ba Den Mountain and expressed that the sport brings him exciting challenges and new experiences during the journey. With each route offering its own unique beauty, he remarked that the rows of many years old trees standing along the road create a breathtaking natural scenery, providing a much needed respite from the feeling of fatigue while trekking.
When you go trekking, you will have a chance to witness the breathtaking wildlife and magnificent scenery that surrounds the mountains. You can expect to be taken beyond your limits and conquer new grounds. The cool atmosphere makes this place the perfect destination to escape the summer heat and find some reprieve. So, why not take a break and embark on this amazing adventure!
Before trekking, it is essential for tourists to equip themselves with the necessary items such as mosquito repellent, sticks, gloves, knee pads, hats, and jackets to shield their skin from the sun's harmful rays. It is also important to remember to bring along food and sweet snacks to prevent hypoglycemia.
Photo: Nguyen Huynh
If you choose to trek by the electric pole road or Ma Thien Lanh, it is important to remember to bring plenty of mineral water bottles since there won't be any stops or grocery stores to purchase water along the way. It is highly recommended to wear trekking shoes with good grip in order to reduce your chance of slipping and sustaining an injury, according to Nguyen Huynh.
From atop Ba Den Mountain, you can take in the breathtaking views of the never-ending rice fields and the home roofs of the villagers in Tay Ninh. The refreshing air and stunning scenery will provide you with a sense of peace and serenity, allowing you to forget your worries and fully embrace the magnificent beauty of nature.
Searching for Clouds in the Early Morning
Immersing yourself in the sea of fluffy, thick layers of clouds is an unforgettable experience that can be had atop Ba Den Mountain. Here, visitors can marvel at the majestic beauty of the clouds, seemingly suspended in time and space, creating a vivid, awe-inspiring sight. This stunning natural phenomenon is truly a sight for sore eyes, and a wonderful way to take in the stunning views of the mountain. Whether you're looking for a peaceful escape or a fun-filled adventure, a visit to Ba Den Mountain is sure to be a memorable one.
From the peak, tourists can marvel at the clouds from up close. When the sun rises, the majestic sea of clouds is revealed, accompanied by a delicate morning mist. The azure sky, the golden sun and the pristine white clouds combine to create a breathtaking vista.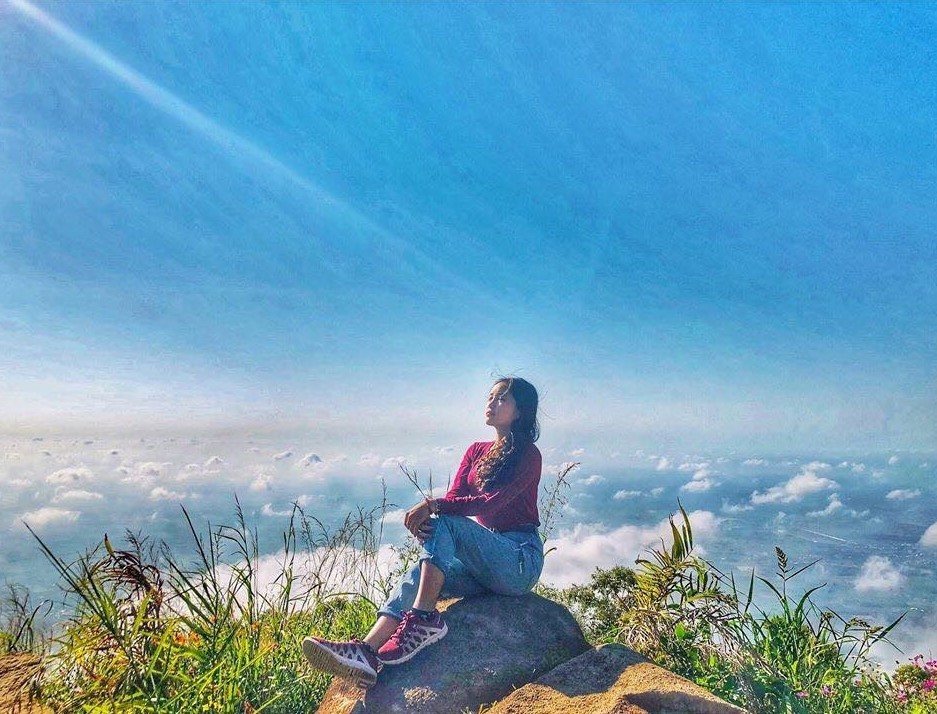 Photo: Tho Phan
The best time to go cloud hunting is from December to May of the following year. During this dry season, the conditions on the mountain are optimal for spotting a sea of clouds: little rain, little wind, and plenty of clouds. However, coming here after the rain can reduce your chances of witnessing this breathtaking phenomenon.
Talking about the experience of going cloud hunting on Ba Den Mountain, Nguyen Thanh Ngan, a female tourist from Ho Chi Minh City, was filled with admiration for the great mountain. She said, "It was an incredible experience. I was awestruck by the spectacular views of the mountain and its surrounding landscape. The fresh air and the peaceful environment made it an unforgettable experience." She added, "The journey was also filled with adventure, with the winding roads and the deep valleys." Ngan concluded, "Ba Den Mountain is truly a unique destination that will stay in my heart forever."
The weather in Ho Chi Minh City is unbearably hot, so I often come here with my friends since it only takes a couple of hours to drive. Even though it is still scorching around Tay Ninh, the atmosphere is surprisingly cool when you are in the mountains.
Photo: Du Ngoc Tram
To add an extra level of excitement to this awe-inspiring cloud-hunting experience, why not make it a night camping trip? Tourists can make their way up to Ba Den in the evening, armed with tents, snacks, and a sense of adventure. The next morning, they can step out of their tents and marvel at the flowing clouds, basking in the warmth of the first rays of sunshine.
Other places such as the station, Buddhist art gallery, and breathtaking natural scenery with its fresh air have all contributed to luring visitors to Ba Den Mountain.
The Hang Chua cable car route is an awe-inspiring experience, featuring 78 cars and stretching 1,246 meters long. Tourists can use the cable car to reach the spiritual cultural complex, and marvel at the stunning system of pagodas on Nui Ba, including Trung Pagoda, Quan Am Pagoda, Hang Pagoda, Ba Pagoda, and Kim Quang Cave, all situated amidst a majestic mountain landscape.
The awe-inspiring statue of Buddha Shakyamuni entering nirvana, reclining on the mountainside, known as Dai Hong Chung, weighs an impressive six tons, making it a must-see for visitors to the mountain.