Around three kilometers from ancient town Hoi An, An Bang was in 24th position on the list of 25 best beaches in Asia while My Khe in the tourist city of Da Nang finished off the list.
An Bang is one of the few white-sand beaches left in Vietnam that has yet to be spoiled by the boom in beach tourism that has resulted in overcrowding, coral damage and environmental pollution.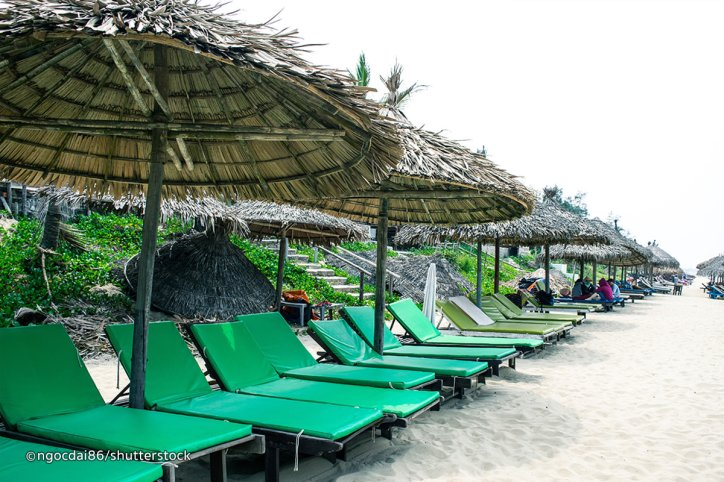 Photo: Shutterstock
An Bang Beach is one of the few stretches of beach in Hoi An that's relatively unspoiled by development, making it a popular option for soaking up the sun and enjoying an array of seaside activities. It also houses an array of beachfront resorts, seafood restaurants, and hippy bars with stunning views of the neighbouring Marble Mountains, Da Nang Bay, and Da Nang and Cham Island. Most of the restaurants offer sunbed rentals between VND 15,000 and VND 40,000, but they're free of charge if you dine there.
Some of the most popular activities at An Bang Beach are swimming, paddle-boarding, and surfing. If you're looking to learn how to surf during your visit, there are plenty of board rentals, surf and stand-up paddling classes offered by An Bang Beach's expat surfing community. Surf season is from September until March, offering spectacular wave conditions, comfortably warm climate, and average water temperature of 25°C.
Located seven kilometres north of Hoi An Ancient Town, you can easily get to An Bang Beach via bicycle or motorcycle. Parking at the entrance to the beach is priced no more than VND 10,000 for the entire day. Alternatively, you can opt for a five-minute taxi ride, which costs about VND 80,000.
Once a hidden gem in the old town, the beach entered the international limelight when CNN listed it as one of the 100 best beaches on earth in 2011. The best time to visit is between May and September.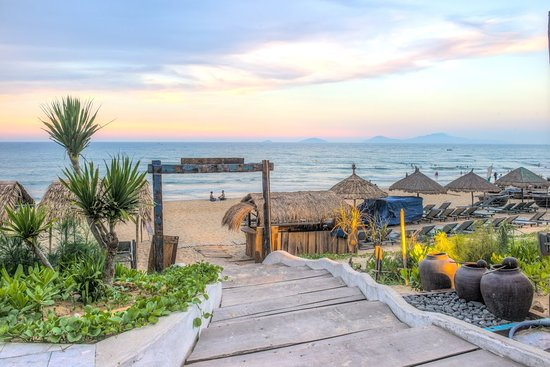 Photo: TripAdvisor
"There are tons of chairs and umbrellas laid out across the beach and almost all of the restaurants will let you have chairs for the day for free," the U.S. travel site said, referring to the pre-coronavirus pandemic times.
The 10-kilometer-long My Khe beach running from the base of Son Tra Peninsula to Marble Mountains was catapulted to global fame when Australian newspaper The Sunday Herald Sun listed it among Asia's 10 most beautiful beaches in 2012.
Considered to be Vietnam's most picturesque beach, the white sandy 20-mile stretch of My Khe Beach was named by the American troops who visited during the Vietnam War for R&R. It offers excellent surfing from September just off the shores of Danang. There are also a number of high-end resorts within the vicinity should you be in need of pampering with most offering a rich choice of treatments at their spas and a range of dining options.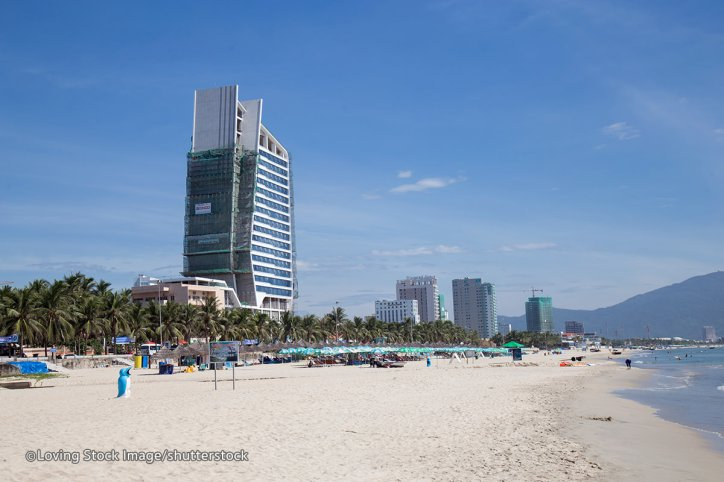 Photo: Shutterstock
Sunbathing and surfing aside, there are a host of historical sites situated close by including the port of Hoi An which is only 10 minutes away by bus and offers wonderfully preserved merchant houses and small alleyways to explore. Hoi An is also a superb place to get anything you desire tailor made usually within 12 hours, and while you wait it's definitely recommended that you try some local delights including very fresh shrimp pancakes.
Once listed in Forbes Magazine as one of the 'World's Most Luxurious Beaches', the stunning sands of My Khe Beach offer surfers and sun seekers a gloriously unspoilt hideaway with a host of big brand hotels such as Raffles and Hyatt opening or due to open very soon.
The My Khe Beach area was first flung into the spotlight thanks to the My Khe Beach television show broadcast on American networks highlighting US Vietnam War soldiers enjoying rest and play in Da Nang. After the war, the beach became a well-known spot on the backpacker trail before heading upmarket to today's more glamorous resort scene.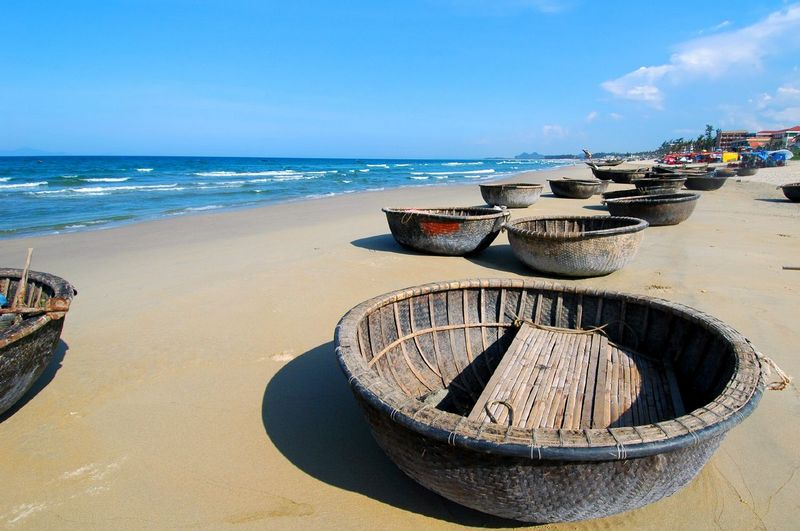 Photo: Guide Vietnam
My Khe Beach benefits from being perfectly located at the heart of World Heritage sites – the ancient port of Hoi An, the mysterious Phing Nga Caves, the home place of the Champa population and the revered imperial city of Hue are all easily accessible. My Khe Beach is also reaping the rewards of an increasing number of international flight connections from Singapore, Bangkok and Ho Chi Minh City to name a few.
Agonda Beach in India topped this year's TripAdvisor list, followed by Cavelossim Beach, also in India, and Myanmar's Ngapali Beach.
Thailand proved to be the most popular beach paradise in the region with five beaches making it into TripAdvisor's top 25 list.