A tour of Vietnam offers explorers exciting opportunities to dive into the culture, history, and beautiful landscapes of this incredible country. Discover the 1,000-year-old city of Hanoi, including the One Pillar Pagoda and the Temple of Literature, built in the 11th century and still preserved today. As you trek and bike through the verdant mountains by Sapa, admire the terraced rice paddies and traditional villages characteristic of Vietnam. Then head into Ho Chi Minh City (Saigon) to witness how modern skyscrapers are integrated seamlessly into the traditional pagoda architecture. Underneath the city, you'll find the Cu Chi tunnels that were a strategic part of the war of independence.
1. Ho Chi Minh City (formerly Saigon)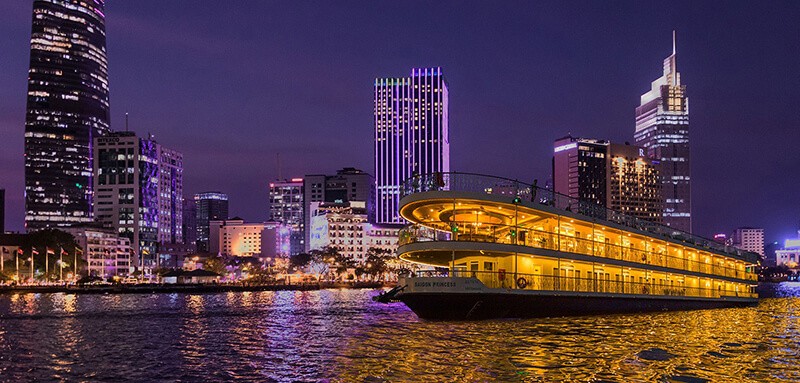 Ho Chi Minh City is the largest city in Vietnam and is considered a thriving metropolis. As a result, the bustling city is also a coffee lover's paradise, with different varieties of brews sold throughout the city. While the city is known throughout the world as Ho Chi Minh City (HCMC), it may also still be called by its former name, Saigon, in some areas.
Few cities evoke the same mystery and glamor as Vietnam's Saigon, now called Ho Chi Minh City, where its historic past mingles with an effortless edginess to form a modern city on its way to being a top destination on any Asia cruise. You might know more about Ho Chi Minh City than you think, whether you're intrigued by the area's elaborate underground tunnel system used throughout the 20th century or know of the famous Reunification Palace from history books and photographs.
BEST TIME TO VISIT
Visit HCMC from December through March, when the temperature is around 78 to 82 degrees Fahrenheit.
YOU SHOULD KNOW
Coffee is so well-loved in the city that it comes in different thicknesses and may be served with condensed milk or consumed cold. Sometimes, the ca phe de (or coffee) is so thick that it can be scooped with a spoon instead of sipped. The main religions in the HCMC include Buddhism, Taoism, Confucianism, and Mahayana. As a result, Taoism, Confucianism, and Buddhism may be practiced in the same temple. About 10% of the population are Catholics. Famous Buddhist temples in the city include the Jade Emperor Pagoda Vinh Nghiem Pagoda, and the Tam Son Hoi Quan Pagoda.
Top Food and Drink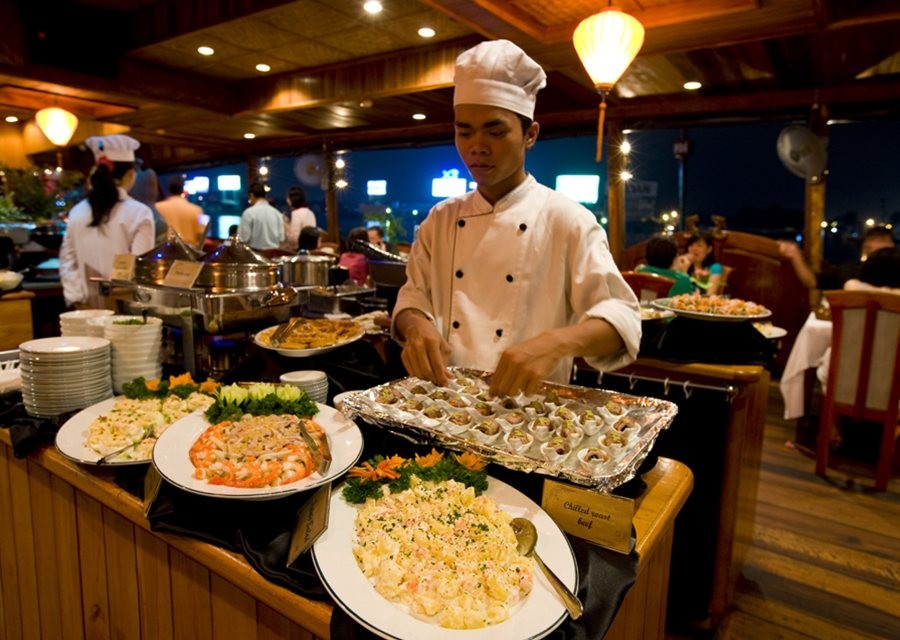 Hum Lounge & Restaurant
Take a seat on the lush, plant-filled back patio of Hum Lounge & Restaurant, and you'll be transported to a world where worries don't exist. The theme of the place is vegetarian, which gives carnivores a break from meat dishes and encourages them to try something new. Fresh, lightweight salads and braised tofu are a few highlights. Don't forget to try the mango sticky rice.
Maison Saigon Marou
If you're stumped on what priceless souvenir to bring back home from your Saigon cruise, why not give the gift of delicious chocolate from Maison Saigon Marou? They produce some of the best chocolates in Ho Chi Minh city, plus an iced chocolate drink you have to try. Of course, there are the classics like cheesecakes, eclairs, and espresso and coffee drinks available.
Banh Mi 362
You can't come to Vietnam without trying an authentic banh mi, one of the country's most famous dishes, and Banh Mi 362 is just one of the many spots travelers can choose from during their time in Ho Chi Minh City. Whether you want pork or veggies, they'll build your banh mi however you'd like.
Propaganda Bistro
The first word that comes to mind when you step inside Propaganda Bistro is "stylish," because this trendy spot has a colorfully painted mural with popular expressions written on the walls. Beyond that, Propaganda calls itself "twisted Vietnamese cuisine," meaning they put a new spin on traditional Vietnamese dishes, like breakfast banh mi complete with a cup of coffee, or duck curry with rice noodles.
2. Hanoi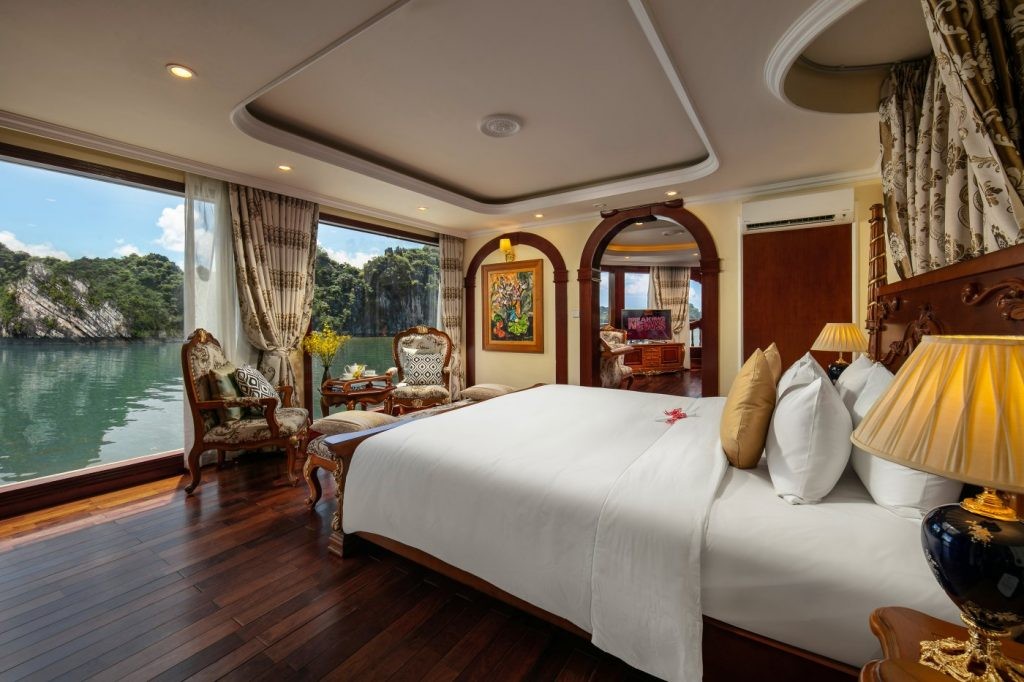 If it's your first time in Vietnam, it's destined not to be your last. Whether you keep close to the limestone structures dotting Halong Bay or venture 100 miles inland to the cosmopolitan Hanoi, there's something in Vietnam for any type of adventurous traveler. From your Hanoi cruise, arrange a paddling or boat tour of the limestone islets and elaborate network of caves in Halong Bay, spend an afternoon exploring historic temples, or go trekking through Cat Ba National Park.
No trip to Vietnam is not complete without a visit to Hanoi, or the capital of Vietnam. This traditional Vietnamese city is known for its rich culture and history, which is comprised of French, Chinese, and Southeast Asian influences.
BEST TIME TO VISIT
The best time for Hanoi is around September to November or from March to April. During this time, the temperature and weather are milder.
YOU SHOULD KNOW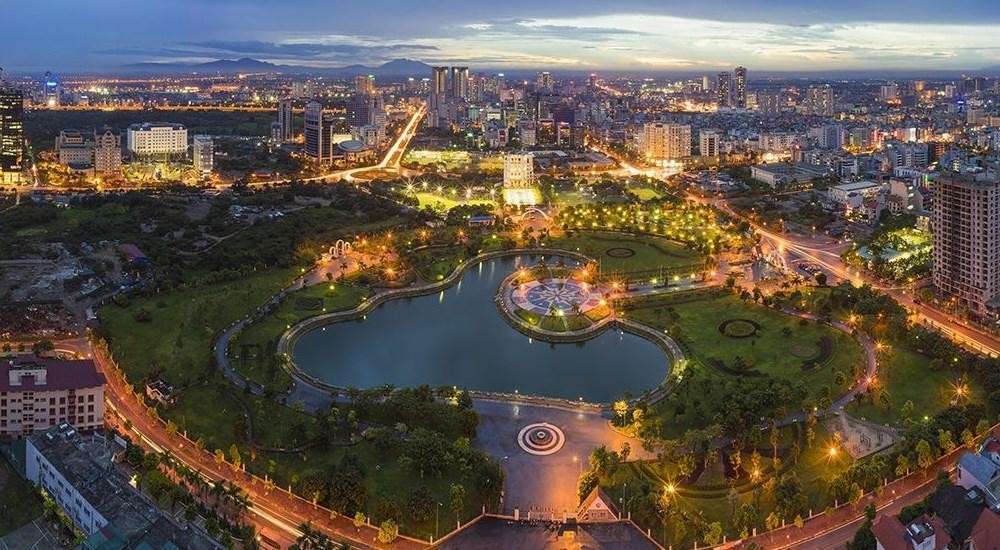 The Hanoi Old Town quarter gives you a good introduction to vendor shopping in Hanoi. You can buy Buddhist religious trappings and traditional medicines. St. Joseph's Cathedral on Nha Tho Street is an example of a structure built during the time of French Colonial rule. Because the main entrance is only opened for mass, you must enter the church through the back by going through the Diocese of Hanoi offices. The Ngoc Son Temple is located on an island on the lake and can be reached by a red bridge. It commemorates three major figures of Vietnamese history – La To (the revered patron saint of doctors); Van Xuong (a renowned scholar); and Tran Hung Dao (a 13th-century general who battled invading Mongols.
Top Things to Do
See a Show at the Hanoi Opera House
Once you get into Hanoi from where your cruise ship is docked, why not head to the Hanoi Opera House for an evening of culture and entertainment? Located in the heart of Hanoi's Old Quarter, the Opera House is a French colonial gem for architecture buffs. Get dolled up and enjoy the show.
Imperial Citadel of Thang Long
Also called the Hanoi Citadel, the Imperial Citadel of Thang Long is another UNESCO World Heritage Site in this part of Vietnam. The Citadel was once critical in the history of Hanoi and holds special cultural and governmental significance. Don't miss the D67 house tucked within the citadel, which was the HQ of the People's Army during the American Vietnam War.
Old Quarter Hanoi
Roam the narrow, winding, and often crowded streets of Hanoi's Old Quarter district, which is the beating heart of Hanoi's cultural scene. By day, these French colonial buildings are office buildings, but by night, the district bursts to life with eateries, art galleries, and shophouses. Leave a few hours to stroll unhurriedly so you can explore Dong Xuan, the city's biggest market, or the National Museum of Vietnamese History.
3. Mekong Delta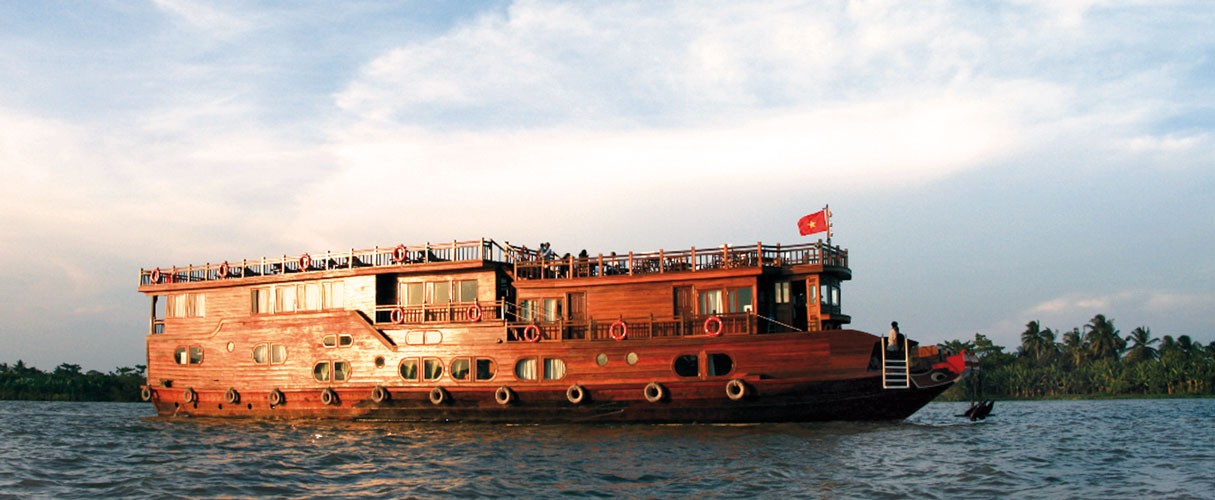 The Mekong Delta is one of Vietnam's most mysterious and fascinating destinations. And there's no one way to see it. Cruise along mangrove-lined riverways, ride a bicycle through coconut groves, or jump headfirst into local life at a rustic homestay – whatever you do, prepare to make memories that last.
The most important thing about day trips is choosing the right one. You could spend a whole day cruising serenely on a sampan, or have a non-stop excursion taking in temples, workshops, and floating markets. It's all up to you.
Many day trips feature the famous Cai Be Floating Market, or go through Ben Tre for a day of kayaking, coconut sweets, and shaded hammocks. You may find yourself heading to a factory to learn about local products, such as Ben Tre coconut candy; exploring a local brick kiln, or sample Mekong cuisine in a pagoda by the river. A sampan ride through the palm fronds is almost always included, and a must-do photo opportunity.
Sleep in a Mekong Delta homestay
Another way to have a truly local experience in the Mekong Delta is to stay with a Vietnamese family. Depending on the homestay you choose, you might spend your time exploring the village by boat, going fishing with your hosts, or even helping in the rice fields.
Homestays in Vietnam are known for their tasty food and guests are often invited to join in the cooking process. Follow your host to the local market to buy ingredients, then watch how Mekong fare is prepared before sitting down to an amazing meal together. Homestays are often set next to lush riverways or are farm stays surrounded by rice paddies.
Go sightseeing by bicycle
Cycling is one of the most popular, immersive ways to see the Delta. A number of companies offer guided cycling trips to the region, from quick day trips close to Ho Chi Minh City to longer adventures through remote and unexplored provinces. There's no rush on two wheels. Move slowly through the countryside, weaving through miniature walkways, over bridges just wide enough for one person to cross, and through green fields and coconut groves, perhaps stopping in the shade for an ice-cold ca phe or tropical fruit.
Unwind on a luxury river cruise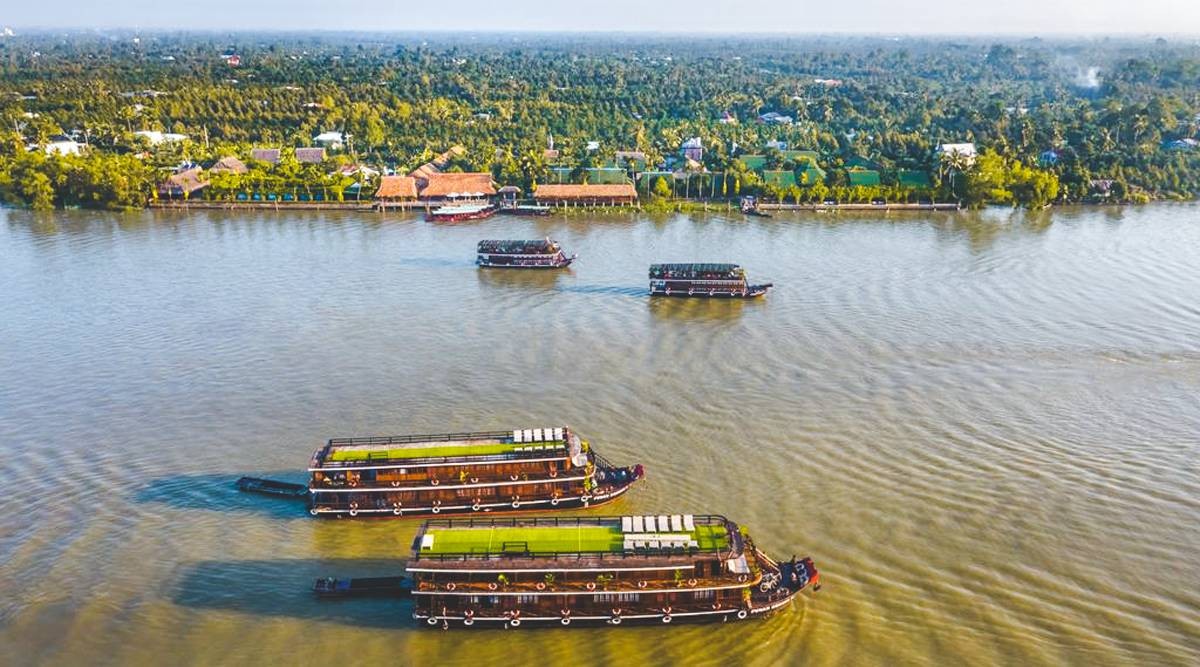 Going on a luxury river cruise can be a wonderful way to see the Mekong Delta. Imagine days and nights drifting wide, tropical waterways, with mangroves and palm trees lining the riverbanks, plus a constant stream of passing villages and colorful boats to catch your eye.
Once you're aboard, all you have to do is kick back for a few days of complete relaxation. Wake up at sunrise and watch the sky turn a soft pink over the palm trees, or enjoy dinner on the water before retiring to a cozy wooden cabin. As you cruise, you may choose to disembark to explore bustling markets and local towns, buy fresh tropical fruit or take a stroll in emerald-green rice paddies before returning to your boat for more relaxation.
4. Ha Long Bay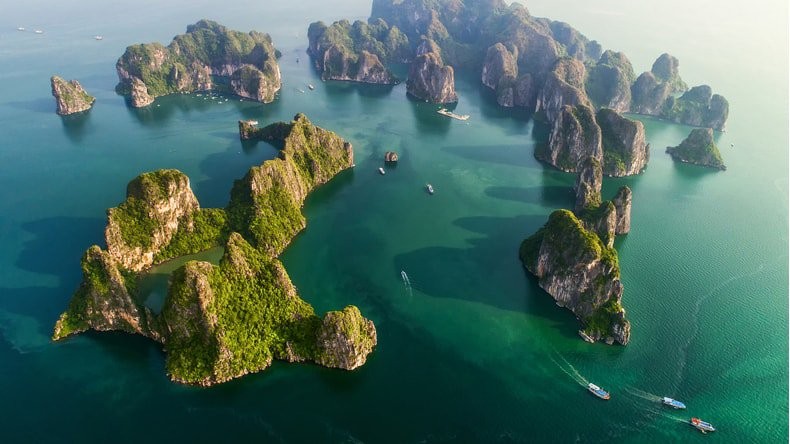 Taking a boat ride through the UNESCO World Heritage Site of Halong Bay will have you feeling like you've been transported to a mystical land far away, one that is enchanted with emerald green water and numerous vertical limestone rock formations topped with rainforests.
The whole of Halong Bay or sometimes referred to as the Gulf of Tonkin has an area of around 1,500km2, which contains approximately 1,969 islands and islets made from karst limestone towering like skyscrapers throughout the bay, formed through millions of years.
A long history and tremendous values lie within Halong's magnificent limestone mountains.
Normal limestone mountains are usually found on the ground, however, Halong Bay's limestones are raised from above the water.
It's taken 500 million years to form Halong Bay into 2000 limestone islands as today.
Human beings have inhabited the area for centuries but made no damage to the heritage. The appearance, indeed, added unique cultural values to Halong Bay.
The best time to visit Halong Bay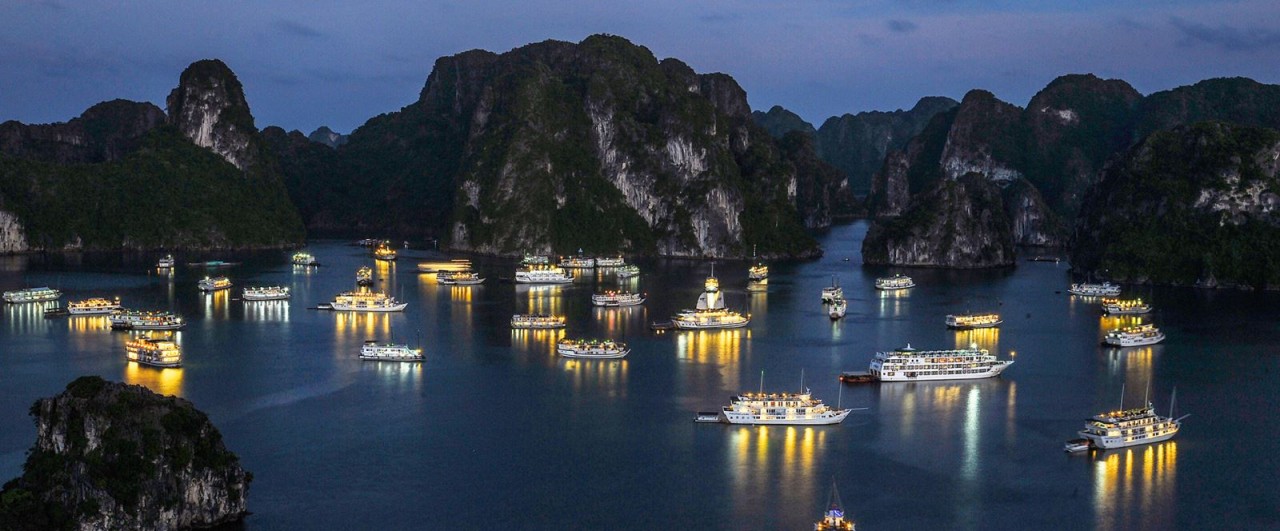 October to December
The most popular period of the year for western tourists and visitors, October to December for some people can be the best time to go to Halong Bay as the weather is not sweaty, the waters are still calm as during summers, and the sky can still be blue and clear, depending on which month you go with.
The only cons during this period is the incredible number of tourists from all over the globe flocking Halong Bay usually all at the same time, especially during the Christmas to New Year's seasons.
Another disappointing factor during the high season for Halong Bay is that the weather can be mostly dull, grey, and quite chilly, as winter in the northern part of Vietnam starts around the end of November and can last until early April.
Again, the best way to avoid disappointment is to double-check all necessary information with your tour operator or cruise company before booking anything. It's always best to be prepared before flying to your final destination rather than find out the worst is yet to come.
Cruise
With so many last-minute Halong Bay cruise deals available online, opting to cruise Halong Bay instead of staying in your typical hotel accommodation is a more interactive way of experiencing the World Heritage Site.
With hundreds of scattering islets and grottos around the Bay, cruising will give you a closer look and also the most convenient way to visit the attractions in Halong Bay.
Besides, saving time to move in between hotels and attractions, you won't have to worry about transportation, food, and attraction fees because everything will be included in your cruise package.
Ranging from day cruises to over 5-day cruises, and 3-stars to a 5-star level of services, there are more than enough options for you to see Halong Bay for a more intimate and personalized experience.
What to See & Do in Vietnam
Vietnam Trip Highlights
Perhaps best known for its bloody decades-long war between 1955 and 1975, in recent years Vietnam has overcome this dark part of its history and become a popular tourist destination. The rolling mountains shelter traditional villages, while the big cities like Hanoi and Ho Chi Minh continue to grow and prosper. Adventurous travelers enjoy sites including:
Ho Chi Minh City (formerly Saigon) – You'll be left in awe as you see the eclectic mix of old French and Chinese-style architecture that mingle with the modern towers that form the skyline.
Hanoi – The city of Hanoi stands as a historic tribute to this nation's rich history, with buildings dating back close to a thousand years.
Hoi An – This small town hosts charming historic houses and pagodas.
Ha Long Bay – Here, you will see traditional native villages and even a floating fishing village that will give you insight into Vietnam's rich culture.
Cu Chi Tunnels – These were successfully used by the North Vietnamese army during the War of Independence to secretly gain access to South Vietnam territory.
Thanh Chuong Viet Palace – Here, in the former residence & studio of renowned artist Thanh Chuong, you will see art and sculptures from throughout Vietnam's history, including the Dinh, Ly, and Tran dynasties.
Cai Be Floating Market – Here you will see an exciting market that you can explore by boat, in which artisans make candy and rice paper, among other products.
Snorkeling – The idyllic beaches at Cham Island & Nha Trang Bay are home to a colorful array of tropical fish that have made this coral reef their home.