Deputy Minister Do Hung Viet warmly welcomed Attilio Fontana and the Lombardia Region delegation on their first visit to Vietnam. The visit holds significant importance as it coincides with the celebration of 50 years of diplomatic relations and 10 years of strategic partnership between Vietnam and Italy. Deputy Minister Viet expressed his hopes that the visit will further deepen the strategic partnership between the two countries and build upon the achievements made during President Vo Van Thuong's visit to Italy in July last year.
In his discussion with Fontana, Deputy Minister Viet emphasized Vietnam's commitment to three strategic breakthroughs, namely strengthening international integration, utilizing new driving forces for rapid and sustainable development, and prioritizing the implementation of these goals. He proposed that the Lombardia region and the Italian Government enhance cooperation with Vietnam in areas such as high technology, green transformation, digital transformation, and innovation.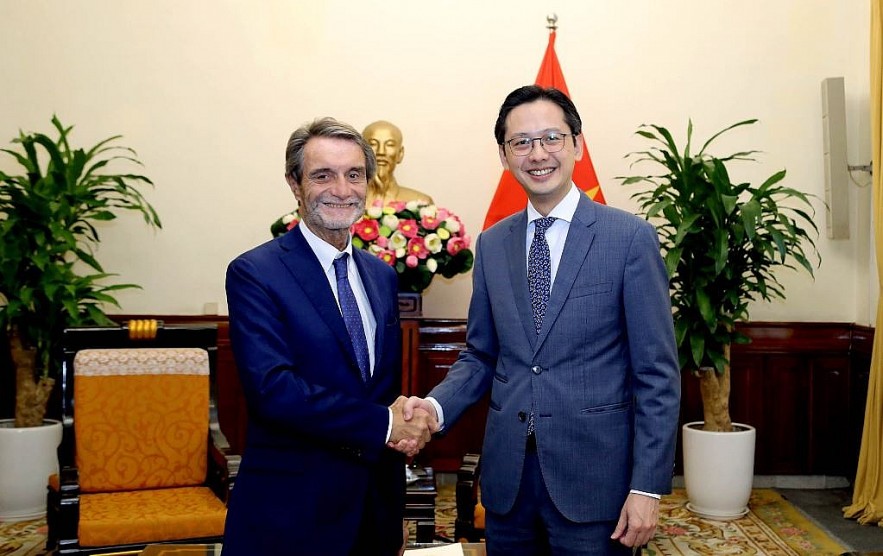 Deputy Minister Do Hung Viet (R) received Attilio Fontana, President of the Lombardy region, Italy. (Photo: Quang Hoa)
Vietnam and Lombardia have great potential for cooperation in trade and investment, especially with the advantage of the EVFTA Agreement. Deputy Minister Viet also emphasized the importance of cultural exchange and cooperation in education and training, suggesting that Italian universities and the Lombardy region continue to prioritize scholarships for Vietnamese students and engage in cultural, tourism, and sports exchange activities with Vietnam.
The President of the Lombardia region expressed his admiration for Vietnam's development and the attention it has garnered from Lombardia authorities and businesses. He praised Vietnam's commitment to sustainable development and expressed eagerness to strengthen cooperation in this field. As a dynamic economic region with a GDP of nearly EUR 370 billion, representing a quarter of Italy's GDP and ranking second in the European Union, Lombardia looks forward to enhancing collaboration with Vietnam in sustainable development.
The President of Lombardia also outlined his plans for partnerships among universities in research and development and encouraged businesses to collaborate in the manufacturing industry, automation, medicine, and the establishment of research centers.