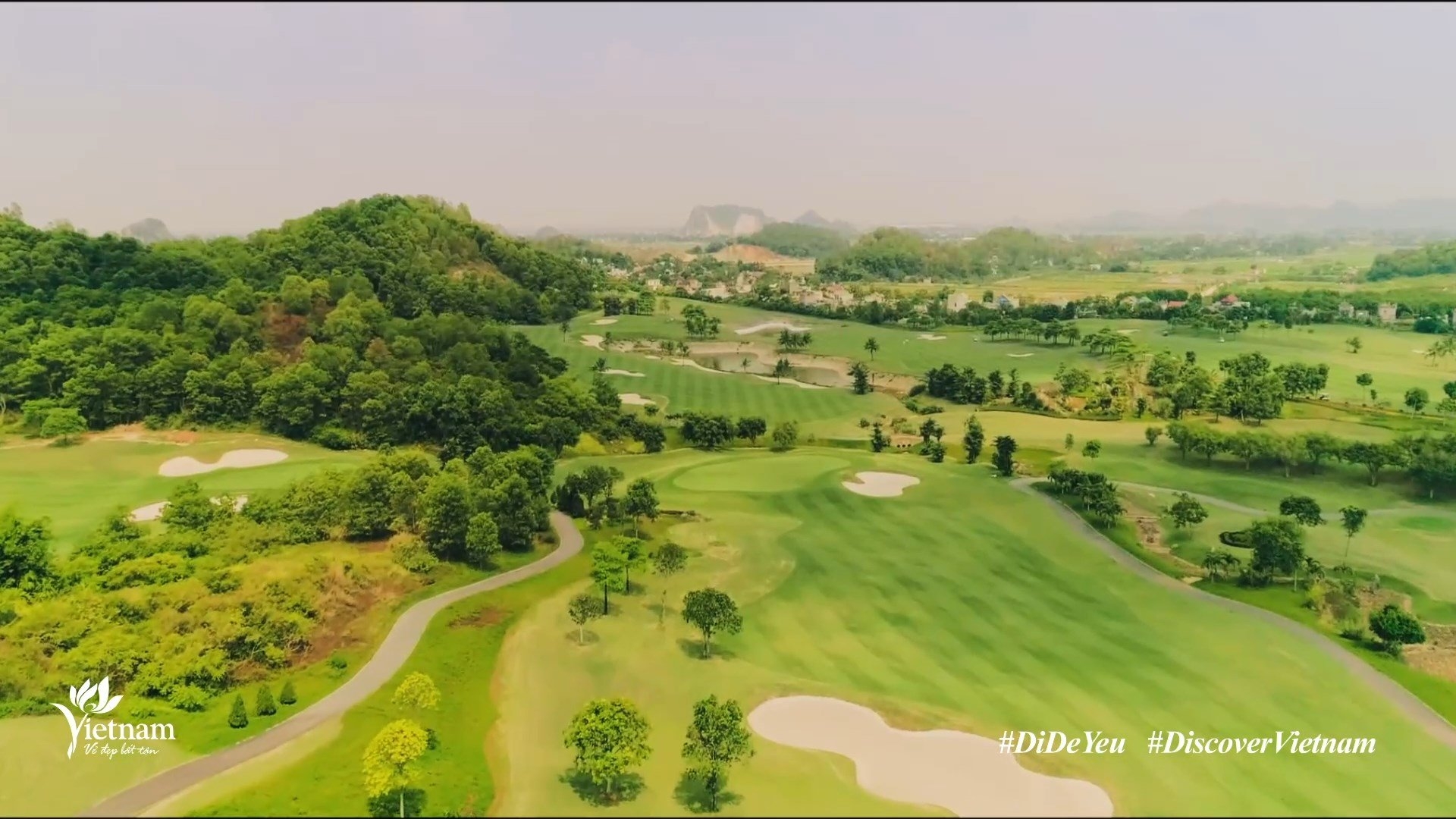 Viewers can see natural beauty and unique tourism experiences in the 60-second video. Photo VNAT
A Youtube video has been released to promote the national tourism year in Ninh Binh.
It is the latest video launched on the YouTube channel of VNAT as part of the tourism promotion campaign entitled "Vietnam: Travel to Love!" ("Vietnam: Di de Yeu!").
Viewers can enjoy footage of Hoa Lu ancient capital, Bai Dinh pagoda, Phat Diem church, natural scenery of Trang An Scenic Landscape Complex, Thung Nham, and Van Long lagoon.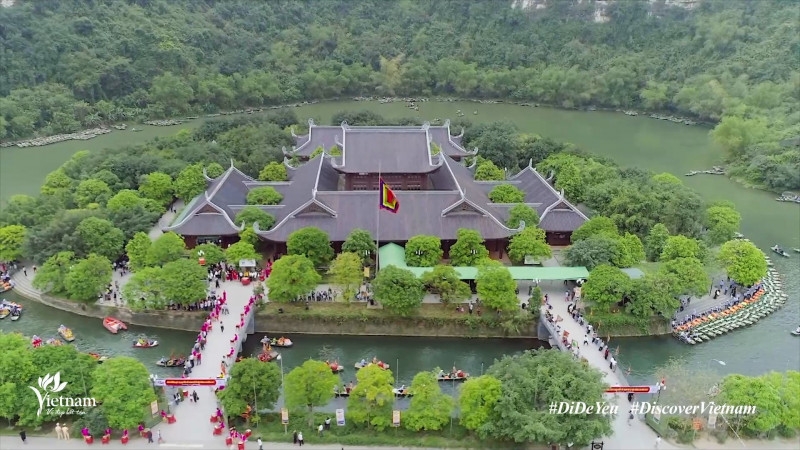 Bai DInh pagoda featured in the video. Photo VNAT
Traditional craft villages and new experiences such as taking helicopters to enjoy the aerial view of tourism spots and golf tours are also featured in the promo.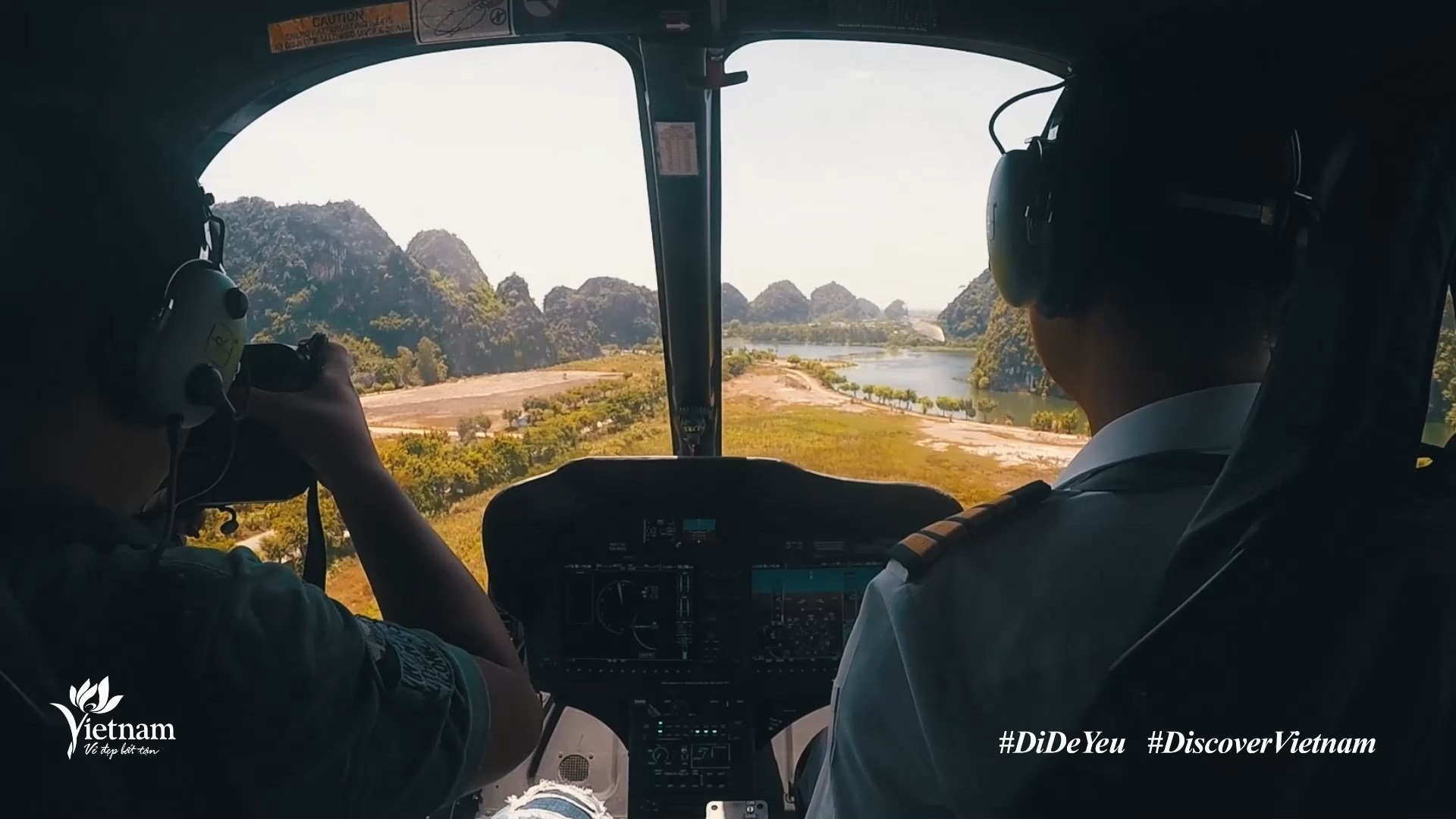 Taking a helicopter ride in Ninh Binh is a must-try experience. Photo VNAT
The viewers can immerse themselves in the relaxing space of the Ngo Dong river, majestic limestone mountains, the natural beauty at Van Long lagoon, and conquer more than 400 stone steps leading to the top of Mua cave.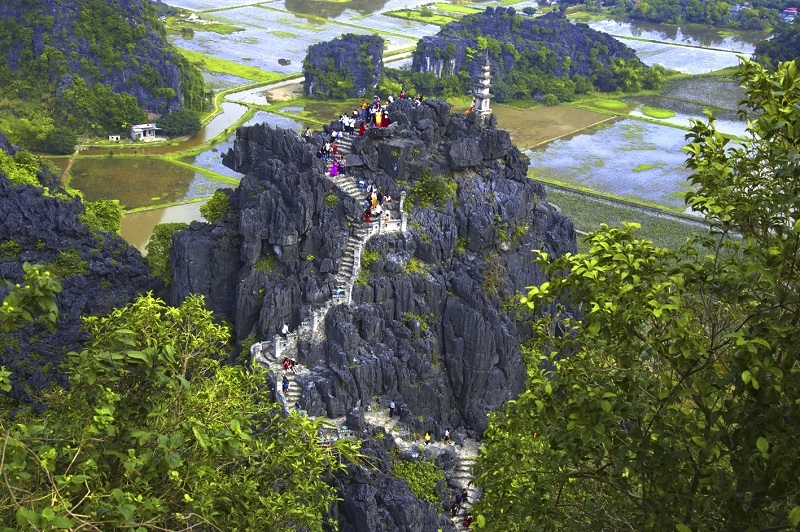 Mua cave is featured in the video for only a few seconds but impresses. Photo Hanoitimes
Famous content creators on Facebook and Youtube such as Trieu Dinh Nam, Dinh Huy, Flycam 4K, and Sunny Vietnam visited Ninh Binh to record the footage, bringing a taste of real experience to viewers.
While the tourism industry is being hit hard by the Covid-19 pandemic, media products on the YouTube digital platform help spread knowlege on Vietnam's tourism, evoking love for the country, and inspiring tourists to explore new destinations.
Ninh Binh has been chosen as host of national tourism year for 2021. Tourism destinations and relics in the province have been allowed to reopen from July 3 as the province has been able to control the pandemic.
With the theme "Hoa Lu – A thousand-year-old capital," the National Tourism Year 2021 in NinhBinh Province will focus on the history of the ancient capital of Hoa Lu and the UNESCO heritage site of Trang An.
The highlight of the National Tourism Year 2021 will be nearly 40 activities which will take place in the province such as "The Golden Color of Tam Coc – Trang An," Bai Dinh Pagoda Festival; "Vietnam International Photography Festival 2021"; the exhibition "Vietnam's Cultural Heritage, Landscapes and Traditional Handicrafts" and "Industry, Trade and Tourism Fair of Ninh Binh."
As part of national tourism year, 27 cities and provinces nationwide will organize around 100 activities including Hanoi Tourism – Culture Festival; Vietnam-China International Trade – Tourism Fair in 2021; Mau Son Tourism festival in 2021; Thanh Hoa Beach Tourism Festival and the seventh Quang Nam Heritage Festival in 2021: "Quang Nam – a journey of connecting heritage."
Earlier, the VNAT released three videos featuring Vietnamese people, landscapes, food, culture and ocean destinations, which attracted more than one million videos on its Youtube channel.
The tourism promotion campaign entitled "Vietnam: Travel to Love!" ("Vietnam: Di de Yeu!"), launched by VNAT with the assistance of Google and Vinpearl, uses young local YouTube creators such as Khoai Lang Thang, Chan La Ca, Fly Around Vietnam, and the Beauty Queen H'Hen Niê.
On their YouTube channels, each of these creators will be an "online tour guide" to help audiences explore Vietnamese culture, cuisine, people and nature.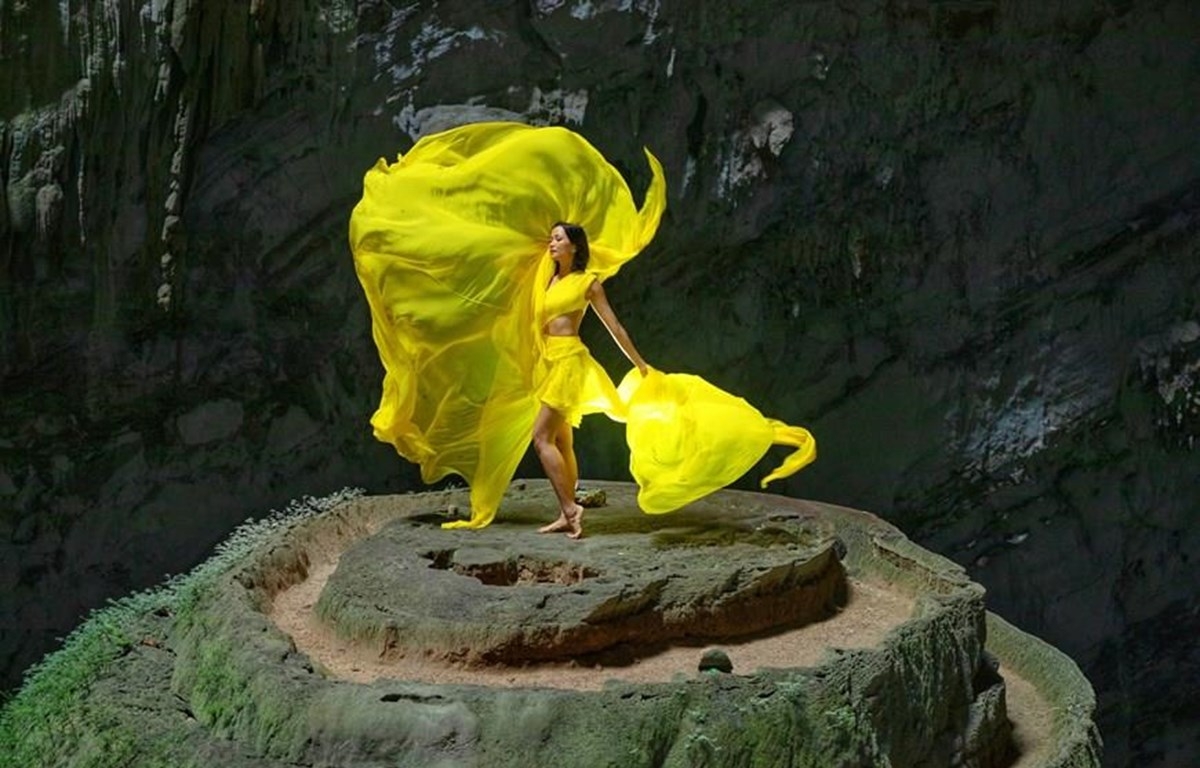 Vietnamese Miss Universe 2017 H'Hen Niê in a "Vietnam: Travel to Love!" video promoting Son Doong cave. Photo VietnamPlus
The campaign shows the determination of the tourism industry in using digital technology. The tourism promotion campaign "Vietnam – Travel to Love!" will help stimulate domestic travel and inspire Vietnamese to travel more in the future.