Hoang Su Phi Lodge
Hoang Su Phi Lodge is located in Nam Hong village, Thong Nguyen commune, Hoang Su Phi district. It is famous for long terraced fields, attracting visitors in harvest (September and October) and wet season (May and June). There are many streams and waterfalls around the resort. Lying on the bed, you can even hear the sound of streams flowing around the homestay in the early morning. From the resort, you can cycle or walk into the forest to explore, indulge in natural onsen baths in streams.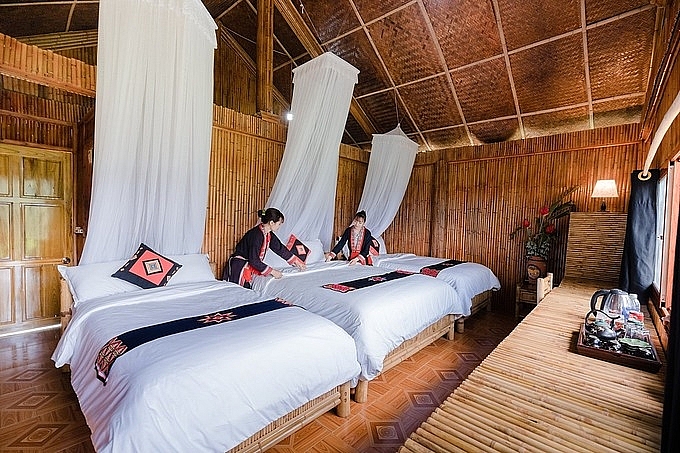 Photo: Hoang Su Phi Lodge
The resort includes a dormitory and private bungalow with stunning views of terraces. Each bungalow has a balcony facing the garden and the valley so tourists can enjoy the fresh air and observe the ripen rice on the spot. Besides accommodation, Hoang Su Phi Lodge also has a restaurant serving ethnic specialties, massage services, Dao herbal bath, motorbike rental.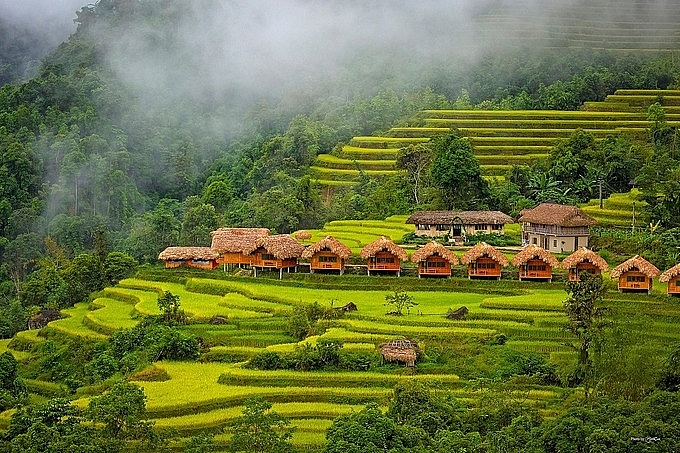 Photo: Hoang Su Phi Lodge
Rental charge in September, October: 51.6 – 64.5 USD/night in bungalow for 2-3 people; 12.9 USD/night/person in a dormitory.
Ecolodge Panhou Village
Located in Giang village, Thong Nguyen commune, Hoang Su Phi district, Ecolodge Panhou Village is an environmentally and friendly resort using hot water systems and fans powered by solar energy. All rooms at Ecolodge Panhou are surrounded by a pond and vegetable gardens. Some rooms have private balconies and seating for tourists to relax. The resort has both a dormitory room and a private bungalow for couples or families. The price of a dormitory is 10.7 USD / person / night, a room for 2-3 people is from 38.6 USD/night.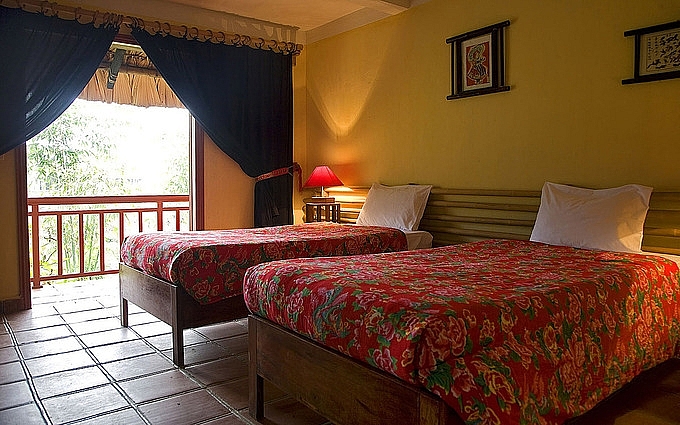 Photo: Panhou Village
The resort also offers more walking tours through the forest to explore the neighboring villages, massage, Dao herbal bath, meals with a rich menu at the large restaurant.
Photo: Quang Vinh
Chi Tai homestay
Located in Ban Phung, Hoang Su Phi as one of the attractive harvest viewing spots in Ha Giang, Chi Tai homestay has 3 facilities quite close to each other. In particular, Chi Tai 3 is one of the homestay with direct views to the most beautiful terraced valley. This destinaton is usually chosen by many photographers to accomodate for photo hunting.
In the early morning, tourists can sit and watch the harvest, hunt clouds and enjoy a cup of coffee or breakfast at the shared balcony. In Chi Tai homestay, in addition to hunting photos in the golden season, you can also explore the Hoang Van Thung ancient tomb as well as the culture and life of La Chi ethnic people.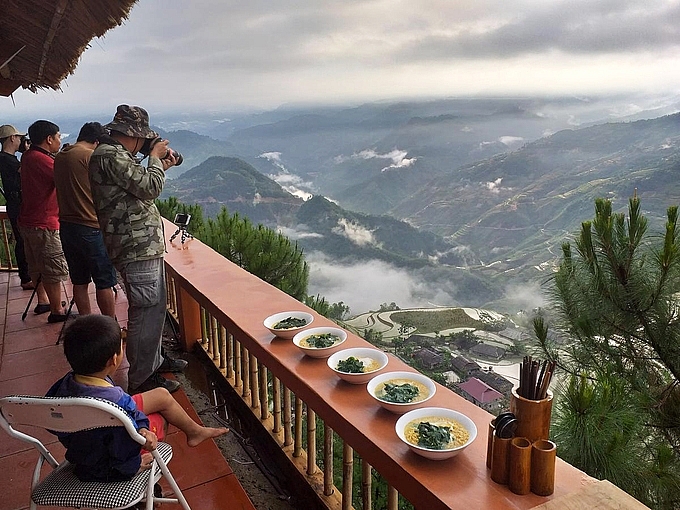 Photo: Booking Chi Tai Homestay 3
In Chi Tai homestay, a private room with 2 – 4 people costs 12.8 – 17.1 USD/night; 3.4 – 4.3 VND/night in the dormitory. In addition to sleeping, visitors can organize a campfire, experience brocade weaving, farming, fishing … with residents.
Kinh homestay
Kinh homestay, which located very close to Hoang Su Phi Lodge, is a house bearing the Dao ethnic identity. It has 2 floors with the upper one divided into 2 sections to serve as a place to sleep, rest, work and dining. The lower one is a kitchen. Sleeping area has mattresses, pillows, separate lights and curtains.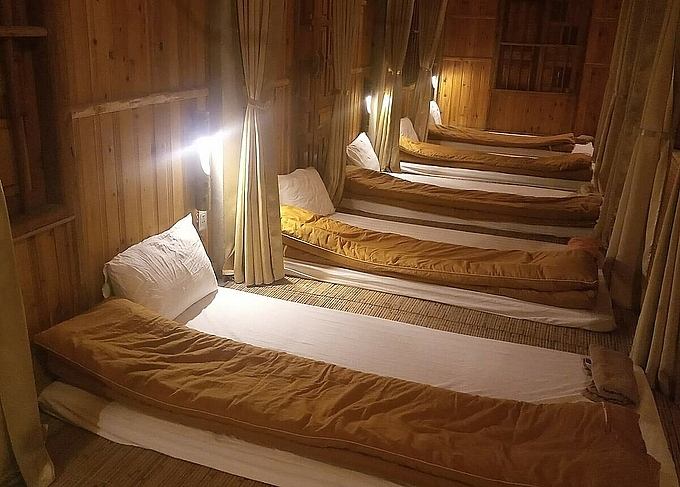 Photo: Kinh homestay
Looking from the homestay, tourists will see Dao's house alternating with clouds and dew every morning, hiding terraced fields in the ripe rice season. If tourists are eager to explore, they can rent a motorbike from homestay and conquer Tay Con Linh mountain, Chieu Lau Thi peak, or watch terraced fields … Room price is 4.3 USD/night.