"Xam" singing is an ancient art form that originated in the northern region of Vietnam hundreds of years ago. 
Both children, who are unfamiliar with xam, and adults with knowledge and memories of xam, can enjoy listening to and singing xam, playing games with xam songs, and playing musical instruments such as drums, castanets, and the Nhị two-string fiddle. They can also share their memories and emotions with others.
"Xam for families" is part of the Center's long-term program "Xam in the city," which aims to popularize this traditional art genre.
Every Sunday morning, the Centre for the Promotion of Vietnam's Intangible Cultural Heritages welcomes about 30 people, including family members, club members, and individuals, to a xam show organized at the Vietnam Culture and Arts Exhibition Centre. Each person attends the show with a different purpose.
Trung, who works in marketing, said, "I watched a few xam shows on TikTok, and they were very interesting. I've also listened to some xam songs before. I hope to learn more about xam through this show, such as the melodies and performances."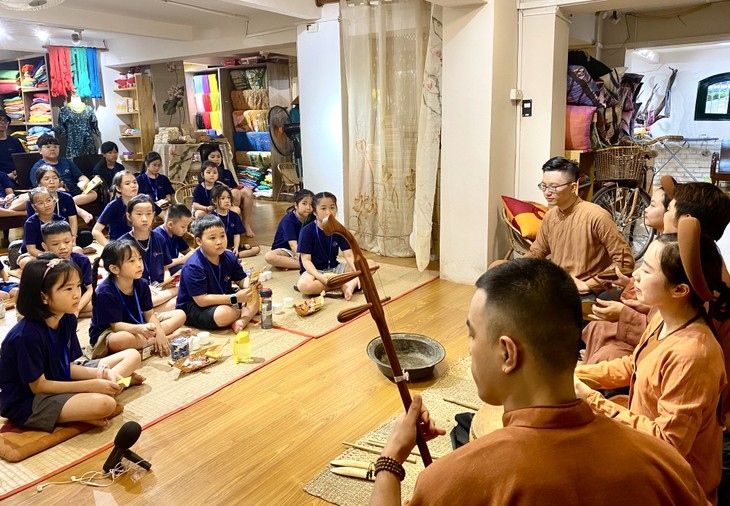 Minh Anh, who works in educational experiences for children, shared, "I have studied communications and education and am currently involved in some projects that aim to promote Vietnam's traditional culture and folk singing genres. I have come here to learn more about xam."
"Xam for families" also welcomes many children. Some children from the FFC Training and Arts Centre said, "I know nothing about xam. I have come here to learn what xam is."
"This is my first time listening to xam. I'm excited to attend the show. I don't know much about Vietnam's folk music," said a little girl.
We take a seat in the performing chamber, where the singers take the audience on a time journey back to Hanoi in the early 20th century. The performing space is small enough for the artists to sing without microphones and interact with the audience as closely as possible.
Deputy Director of the Centre for the Promotion of Vietnam's Intangible Cultural Heritages and a xam artist, Dinh Thao introduces the journey. Every passenger is given a tram ticket and some coins before getting on the imaginary tram to travel on three tramways in Hanoi in the early 20th century.
Departing from the Cocotiers terminus, currently known as Dong Kinh Nghia Thuc square by Hoan Kiem Lake, Line 1 leads southward to Mo market, Line 2 northeastward to a village near the present-day Buoi market, and Line 3, which runs west to the Temple of Literature and then heads southwest to Ap Thai Ha. In 1991, the tram service in Hanoi completely stopped operation.
The xam song "Hanoi is like a fairy land" tells a story about Dong Xuan market in downtown Hanoi, which is the most exciting place that attracts people from all walks of life who come to buy and sell everything.
Nguyen Hoang Hiep, a xam artist who is responsible for the content of the Xam program, said, "We bring the concept of a 'tram' to the show to introduce children to old Hanoi, what it used to be, what has changed, and what has disappeared. For older people, they will have a chance to look back at their youth in the 1970s and 1980s when people mainly rode bicycles and took trams. We are confident that we can bring xam to people of different ages."
Mai Duc Thien, a xam artist and advisor of "Xam in the city," said, "'Xam in the city' combines singing, storytelling, and playing musical instruments to interact with the audience. They engage in the show and have their own experiences. We present folk arts and content in various forms to reach audiences of different ages, giving them a taste of life."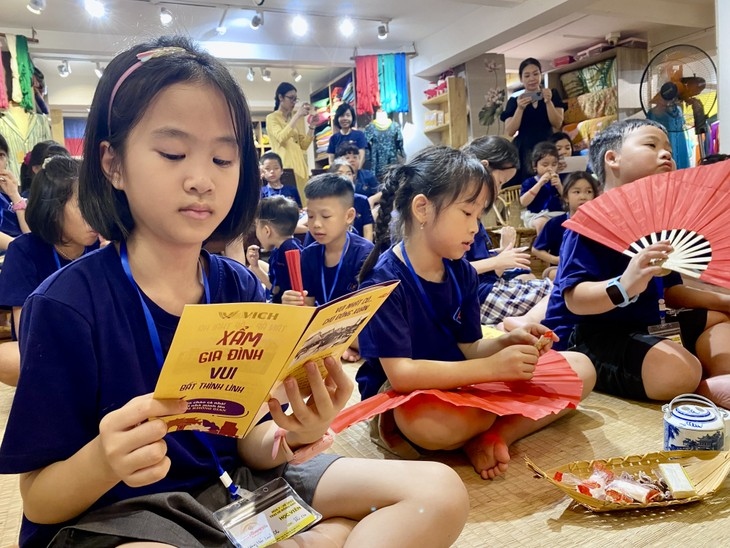 Xam singing originated in Vietnam's northern region about 700 years ago and used to be performed by visually impaired and blind individuals to earn a living. They preferred busy and crowded places to perform, resulting in different xam styles based on the performance space, such as Xam market (Xam cho), Xam chamber (Xam nha tro), and Xam tram (Xam tau dien), which is a unique xam type in Hanoi.
Xam tram refers to the act of singing on a tram. The singers would time their songs to coincide with the duration between stations so that passengers could enjoy the entire song. Many of these singers would also advertise the products they sold, such as balm, bamboo toothpicks, cough medicine, and kerosene lamp bulbs.
After singing a xam song about balm, Thien and Thao guide the children to play a word-guessing game and learn some old words and concepts that are no longer commonly used. For example, "Dau cu la" is an old word for "dau gio" or balm. The children can smell the balm and see photos of xam singers selling balm.
"For children, our goal is to introduce and cultivate an appreciation for xam art so that later in life, when they go to school or to other places, if they hear xam again, they will recognize it as xam. For adults, we aim to evoke memories and nostalgia. If they come with their families, we facilitate activities to bridge different generations, allowing them to share their emotions and memories and bringing the young and old closer together," said Thien.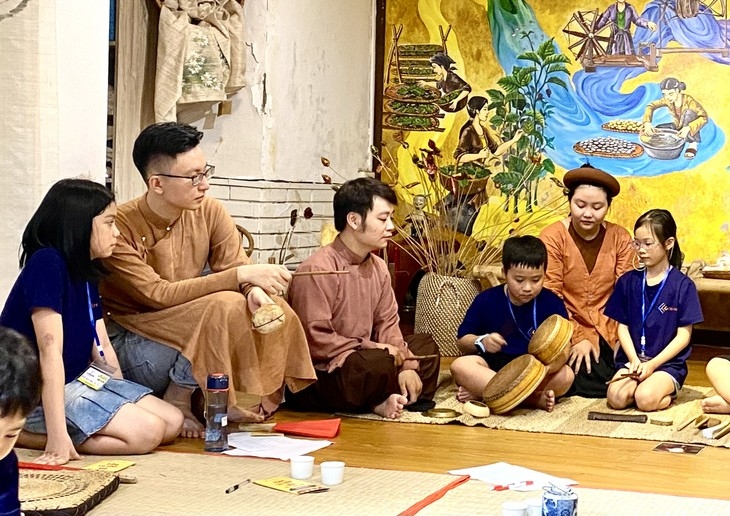 At shows for adults, the audience can request specific songs from the artists. The discussions become more informative and nostalgic as the artists and the audience connect with their emotions.
Artist Hiep added, "'Xam in the city' and 'Xam for families' create a social and joyful atmosphere for people to experience xam with a youthful and modern spirit. Our xam shows take place at HanhSilk showroom, which has a modern yet traditional ambiance. This may be different from some people's memories of xam in the past. Old xam performances didn't have stages because visually impaired xam singers would perform on pavements or trams. Our message is that xam has adapted to the changing times."
A xam song tells the story of a parent's sacrifices and dedication in giving birth to and raising their children. The lyrics describe how a mother endures nine months and ten days of carrying a child, giving her best to the child, and shouldering all the disadvantages.
Le Minh Thang attended a xam show and shared his memory of the first time he listened to xam when he was about 12 years old. After nearly five decades, the memory is still vivid in his mind.
"I'm very moved. You have brought back beautiful memories from my childhood. Xam lyrics and music have touched my soul. I am grateful to my parents, who often took me to our home village in Thai Binh province. I had many opportunities to listen to xam singing at the Hanoi railway station and Tan De wharf," said Thang.
Hoang Hiep explained the Centre for the Promotion of Vietnam's Intangible Cultural Heritages' guidelines for the xam programs: "We don't mix traditional folk music and contemporary music. We focus on interaction and creating an experience that allows the audience to feel closer to the old xam style. The artists wear clothing similar to that seen in photos taken by the French in the early 20th century. We have collected and brought old musical instruments for the performances. The Center strives to balance research, creative concepts, and practice." 
In the past, visually impaired xam singers were always on the move. Although they were unable to see, they had a deep understanding of society and life that they expressed through their songs.
There are famous xam songs about a parent's sacrifice in giving birth and raising children, the role of women in the old society, and family and social relationships. During the revolution, many of these singers worked as messengers, hiding secret documents within their musical instruments as they traveled as blind singers.
Deputy Director Dinh Thao said that the young xam artists are keeping this traditional singing genre alive. "There are many xam groups and clubs. When there are major events or movements in society, they compose lyrics or adapt poems for singing. We sing about the COVID-19 pandemic, the prevention of excessive alcohol consumption, and traffic safety."
Over the course of about two hours, the audience is immersed in the traditional music. The artists' performances touch their souls.
"I am grateful to the artists. We are the younger generation, and we don't know much about the old times of our grandparents. This xam session is valuable and informative," said Loan, an attendee.  
A little boy shared his feelings: "When I go home, I will tell other people that the xam show is interesting and joyful. I will tell my parents that we should come here again."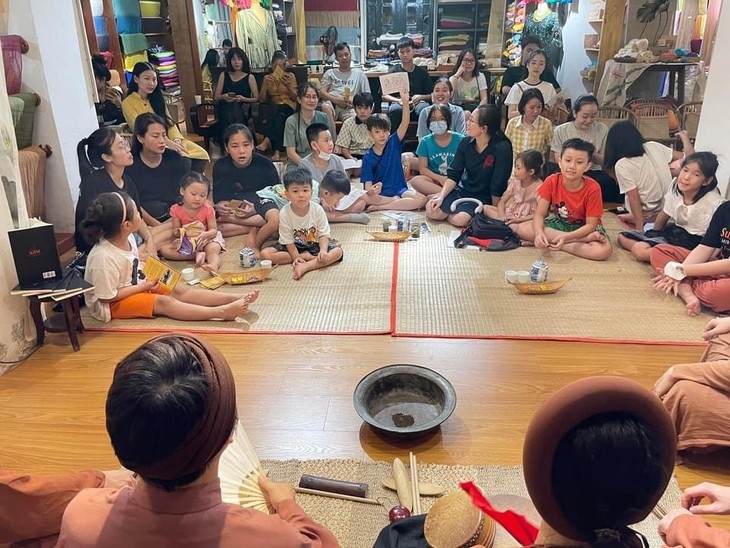 The active engagement and sharing of feelings by the audience serve as the best encouragement for the artists. Parents and children participating in "Xam for families" sing together about the father's profound merit being as great as Mount Thai Son and the mother's merit being like an endless source of water. It is the duty of children to respect and care for their aging parents.
The Centre for the Promotion of Vietnam's Intangible Cultural Heritages has a regular schedule for xam shows every Sunday morning. They can also organize shows at other times during the week with customized content to suit both Vietnamese and foreign audiences.
In addition to xam, the Center also organizes performances of Quan Ho, Cheo, and other folk art genres at No2 Hoa Lu street, Hanoi or at a temple to create an ancient and nostalgic ambiance. You can find more information on their Facebook and TikTok pages, including the timetable and contact details.