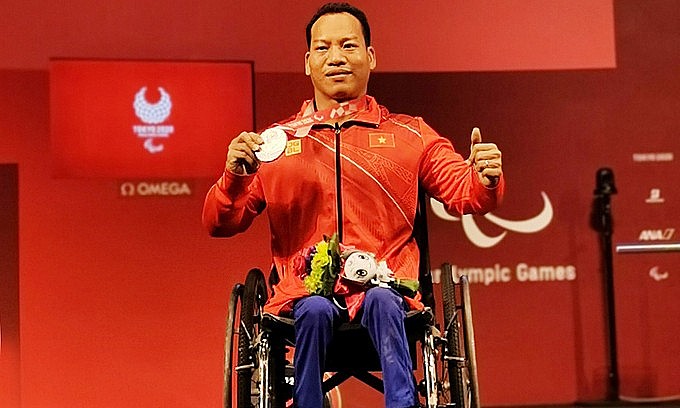 Le Van Cong with his silver medal at Tokyo Paralympics on August 26, 2021. Photo courtesy of Vietnam Sports Delegation
Cong entered the event as the 2016 Rio Paralympics gold medalist and record holder in his weight class, with 183.5 kilograms lifted in 2017.
On his first try, Cong only registered 165 kg, which he easily lifted. His main opponent in this category, Omar Qarada of Jordan, lifted 170 kg.
This made Cong raise the weight to 170 kg on his second try, while Qarada registered 172 kilos. Cong succeeded while Qarada failed, which gave him a great chance to win gold.
In his third and also final try, Cong attempted a risky 173 kg, though still suffering an ongoing shoulder injury. Qarada also chose to lift 173 kg to compete for the gold medal.
Cong was really excited after successfully lifted 173 kilograms to put pressure on Qarada. However, the Jordanian also succeeded.
When two athletes are tied, the winner will be decided by weight. Cong is 100 grams heavier than Qarada so he had to settle for silver.
This is the first medal for the Vietnam delegation at Tokyo Paralympics. Also on Thursday, swimmers Vo Thanh Tung and Trinh Thi Bich Nhu competed but both failed to make it past the heats.