Stage puppetry is a sophisticated art form that entails the manipulation of hollow puppets by skilled individuals to convey expression, gestures, and actions on stage.
There are various forms of stage puppetry, including stick puppets, rod puppets, string puppets, hand puppets, and finger puppets. In Vietnam, the majority of puppetry performances draw inspiration from folk tales or excerpts from traditional theater productions.
"Vietnam's rich tradition of puppetry has long been overshadowed by international acclaim for its water puppetry. However, in 2013, I introduced my show entitled 'Vietnam in Puppets,' marking a significant turning point for the country's puppetry art. With a desire to foster cross-cultural exchange and showcase the diversity of Vietnam's puppetry traditions, I embarked on a mission to participate in international puppetry festivals. Through this global platform, I aimed to communicate to the world that Vietnam possesses a vibrant and dynamic puppetry scene, a legacy that I proudly pioneered and made accessible to audiences worldwide."
Meritorious Artist Nguyen Ho Thuy Tien, known for her exceptional talent in puppetry, recently shared her passion for the art form during an interview with VOV. Tien holds the distinction of being the pioneer in Vietnam to develop a solo puppet show of her own creation.
Thuy Tien was born into a family deeply rooted in the arts, with her father serving as a puppetry director and her mother as a puppeteer. It was during her early years that she discovered her passion for this particular form of entertainment.
After completing her education in a teaching faculty, she made the bold decision to embark on a career in puppetry. With an impressive tenure spanning 25 years, Tien has honed her skills as a performer at the renowned Thang Long Water Puppet Theatre.
In 2008, she was chosen as one of seven individuals from five different countries to participate in a prestigious training course on Asian arts organized by UNESCO's International Association of Theatre for Children and Young People. This event took place in the Republic of Korea.
The puppetry script she developed for the course stood out among the rest and was selected for performance at the graduation ceremony.
The encouragement and accolades from the audience and her colleagues served as a catalyst for her to embark on the creation of a solo puppetry production in Vietnam.
Tien fondly recounts his experience as the creator, writer, and director of his own show. He took on the challenge of enhancing his foreign language skills to perfect his performance overseas. Not only did he showcase his talents on stage, but he also managed all the logistical aspects of the production. Despite the immense difficulty, Tien felt a deep sense of pride as his performance garnered significant acclaim.
She remarked, "Many were pleasantly surprised to witness Vietnam's remarkable puppetry, exceeding their expectations. The essence of my solo act, titled 'Vietnam in puppets', encapsulates the essence of Vietnam's rich culture and its people."
Tien, a solo puppetry performer, has dedicated significant time to creating marionettes and designing control sticks for her performances. According to Tien, she typically goes through a process of developing four or five prototypes before finalizing a marionette.
She stated, "I have gained knowledge about the practice of using lead weights in fishing, which inspired me to incorporate lead weights in my styrofoam marionettes to enhance their stability. Further experimenting, I discovered that this technique could also be applied to bamboo and rattan marionettes. Although I had to discard numerous puppets in the process, I persevered in pursuit of my artistic vision. I am proud of the exquisite puppets I have created, as this is a true reflection of my deep passion for this art form."
Tien has dedicated a significant amount of time to refining her skills, crafting scripts, and carefully selecting music and lighting arrangements for her shows. Her main goal is to captivate viewers from the very beginning with her stunning puppetry.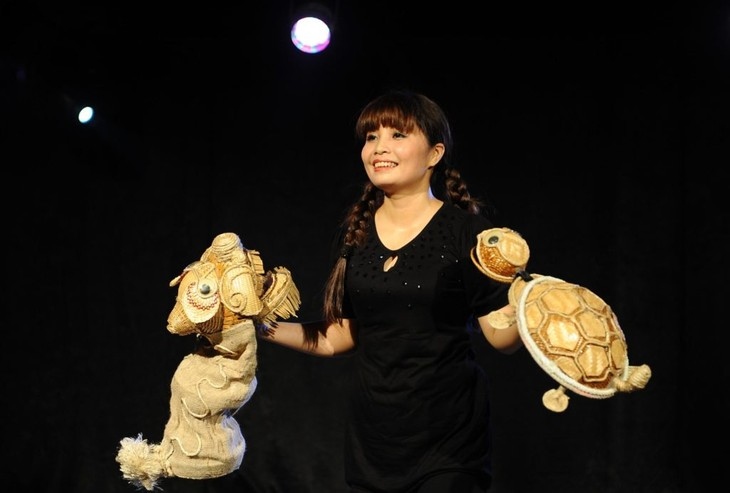 "This exhibition aims to showcase the rich cultural heritage of Vietnam to festival attendees, with a special focus on Vietnamese puppets and puppetry. As a passionate advocate for this traditional art form, I consistently emphasize its significance in Vietnamese culture. Whether I am hosting shows at home or presenting at festivals, my mission remains the same: to educate and inspire especially the younger generation, who may be unfamiliar with iconic items such as the 'four-flapped dress'." – Tien.
Stage puppetry is a captivating and multifaceted performance art that combines various artistic disciplines, including sculpture, painting, architecture, and music. It is recognized as a dynamic form of art, engaging audiences in an immersive experience similar to cinema, singing, dancing, and live music.
Puppetry art is a captivating blend of sculpture and performance. It is an art form that showcases the remarkable creativity of its designers. In the realm of puppetry, the graphic artist plays a pivotal role in bringing these captivating performances to life on stage.
In a solo performance, the puppeteer is faced with the challenge of manipulating multiple puppets simultaneously. They must take on both the roles of director and actor, relying on finely honed technique to captivate the audience through nuanced gestures and facial expressions.
The show 'Vietnam in puppets', curated by Tien, seamlessly combines powerful lighting and captivating music to create a truly engaging experience. This visually stunning production showcases various forms of puppetry, such as rod puppets, marionettes, hand puppets, and more, by incorporating them into different sections of the show.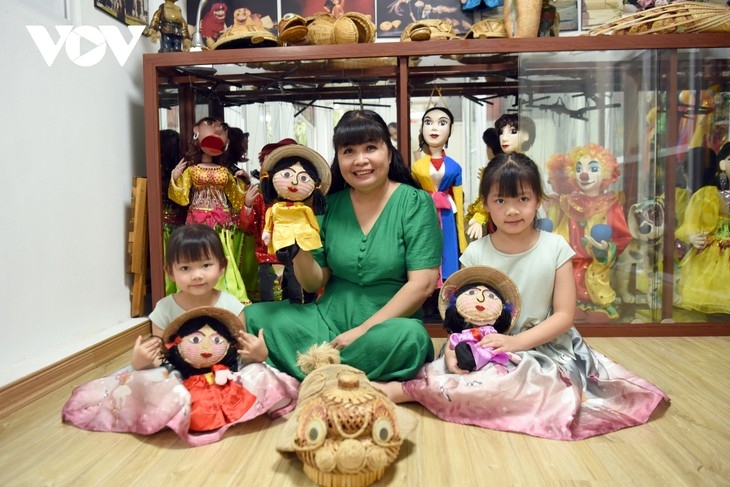 The show offers a captivating experience with exciting elements that include a delightful skit celebrating the arrival of springtime and a captivating performance featuring iconic mascots of Vietnam – the dragon, the unicorn, the turtle, and the phoenix. These mesmerizing puppetry acts unfold against a backdrop of the enchanting Cheo, a traditional theater art form.
The performance received critical acclaim at the International Puppetry Festival in Indonesia in 2013, as well as in Thailand in 2014.
The production also garnered Tien recognition at the International Theatre Festival for Young Audiences in Romania in October 2017, where she was awarded "Best Female Artist."
Tien currently possesses a substantial collection of string and rod marionettes, which she regards as precious heirlooms to pass down to her son, Xuan Duy. At the age of 19, Xuan Duy has already inherited his mother's passion and talent for puppetry, making him the perfect recipient of these treasured pieces.
Duy expressed that his mother's passion for puppetry has enriched his knowledge and appreciation of Vietnamese culture.
"When I am on stage performing, I take immense pride in my ability to share the beauty of puppetry and Vietnamese culture with the audience, particularly the younger generation," stated Duy.
Tien is now offering classes for children in the art of puppetry, with a focus on fostering an appreciation for Vietnamese culture. During these classes, children will have the opportunity to create their own simple puppets and learn how to perform with them. Join us as we embark on a journey of creativity, imagination, and cultural exploration!
She explained, "I host workshops to educate young individuals on the significance of creating simple puppets that represent traditional beliefs and culture. These activities showcase intangible cultural heritage, which holds great importance and is easily accessible to all of us."
While stage puppetry has yet to attract a large audience in Vietnam, Tien remains optimistic that this art form will soon capture the attention of young people and establish itself as an effective means of promoting Vietnamese culture to the global stage.