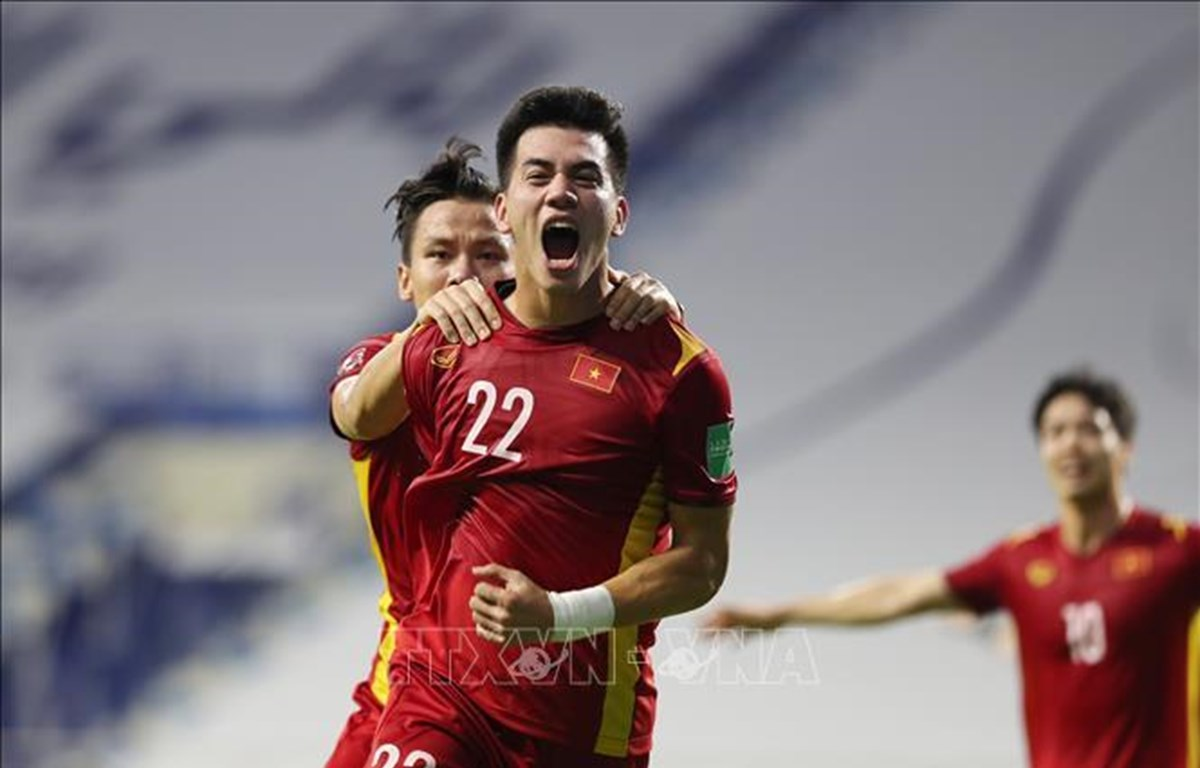 Nguyen Tien Linh secures the first score for Vietnam. Photo: VNA
With the victory, the Golden Star Warriors secured position as the top team of Group G, with only one game to play against hosts the United Arbab Emirates (UAE).
Vietnam's two scores were made by Nguyen Tien Linh and Que Ngoc Hai. In the 27th minute, Doan Van Hau passed the ball for Nguyen Tien Linh by a header, and the striker easily headed it in to score the opener for Vietnam. Captain Que Ngoc Hai converted a penalty with nine minutes to go to hand Vietnam the much-needed victory over Malaysia.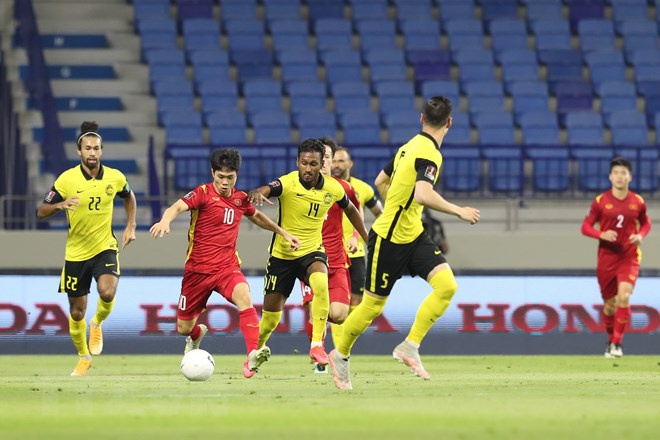 Vietnamese forward Nguyen Cong Phuong (no. 10) in action during the match. Photo: VNA
Line-ups:
Vietnam: Bui Tan Truong, Do Duy Manh, Que Ngoc Hai, Bui Tien Dung, Doan Van Hau, Luong Xuan Truong, Nguyen Trong Hoang, Nguyen Cong Phuong, Nguyen Hoang Duc, Phan Van Duc, Nguyen Tien Linh.
Malaysia: Farizal, Davies, Cools, Aidil Zafuan, Safawi Rasid, Sumareh, Syamer Kutty, Brendan Gan, Lucrecio, Syafiq Ahmad, Corbin Ong.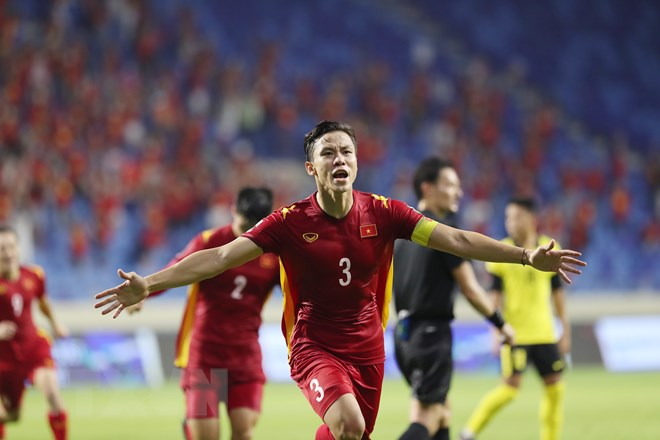 Que Ngoc Hai celebrates with joy after scoring the winning goal for Park Hang-seo's side. Photo: VNA
Vietnam and Malaysia headed into the survival match at Dubai's Al-Maktoum Stadium (UAE) on the back of entirely opposing fortunes: Malaysia lost their last match 4-0 against the UAE, while Vietnam beat Indonesia 4-0 and tightened their strong position with a win.
With the full three points against Malaysia, Vietnam have further cemented their grip at the top of Group G preserving their two-point advantage over UAE who crushed Indonesia 5-0 in another group match the same day.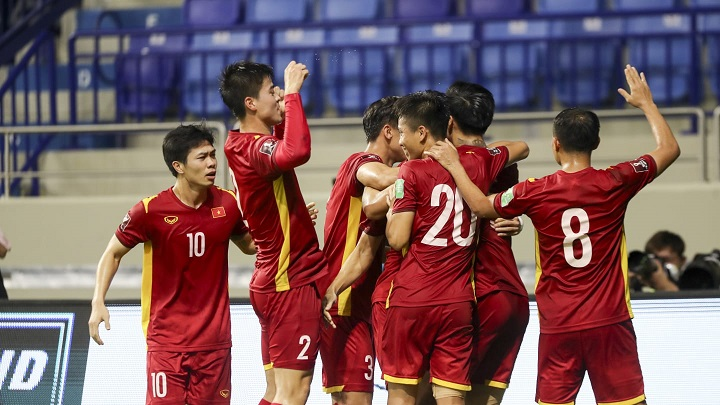 Vietnamese players celebrate their victory against Malaysia. Photo: AFC
The Golden Star Warriors will only need a draw in their last Group G clash against UAE on June 15 to see them through to the last round of the World Cup qualifying campaign for the first time ever.
Meanwhile, with nine points each, both Thailand and Malaysia have been eliminated from the World Cup qualifiers with a game in hand.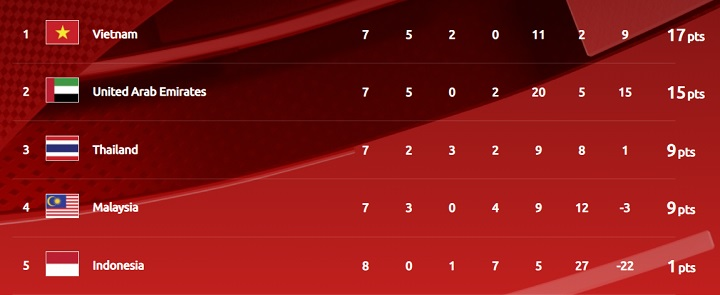 Vietnam have further tightened their grip on the top of Group G with two points clear. Photo: Nhan dan (People) newspaper
After the game last night, Prime Minister Pham Minh Chinh sent his congratulations to the national men's football squad. President Nguyen Xuan Phuc, National Assembly Chairman Vuong Dinh Hue, Deputy Prime Minister Vu Duc Dam, and Minister of Culture, Sports and Tourism Nguyen Van Hung also extended congratulations to the team.
The Vietnam Football Federation (VFF) gave them a bonus of VND2 billion (US$86,876)./.