5 Interesting Historical Facts About Thanksgiving Day
What is the History of Thanksgiving?
According to history.com, in November 1621, Governor William Bradford organized a celebratory feast to commemorate the Pilgrims' successful corn harvest. The event included invited Native American allies, including Wampanoag chief Massasoit. Now known as America's "first Thanksgiving," the festival lasted for three days.
According to Florida Today, the first Thanksgiving celebration in North America actually occurred in Florida.
In what could be considered a precursor to the famous Thanksgiving feast between the Pilgrims and Native Americans in Plymouth, it is worth noting that fifty-five years prior to that event, colonists residing in St. Augustine also partook in a shared feast of gratitude with Native American tribes.
According to renowned Florida historian Michael Gannon, it wasn't until 42 years later that English Jamestown was established. Similarly, it took 56 years for the Pilgrims in Massachusetts to observe their well-known Thanksgiving. However, the settlers of St. Augustine celebrated the nation's first Thanksgiving over half a century earlier, precisely on September 8, 1565. This significant event was marked by a religious service, followed by a communal meal shared between the Spaniards and the local native tribe.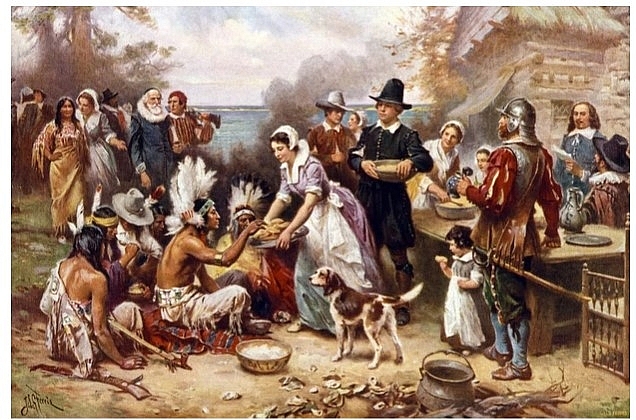 Photo: History Extra
Hosting the inaugural Thanksgiving celebration in what would later become United States is just one of the numerous notable occurrences for the oldest continuously inhabited European settlement in America.
History of Thanksgiving Being Declared a National Holiday
According to the US National Archives, on September 28, 1789, the first Federal Congress passed a resolution requesting the President of the United States to recommend a day of thanksgiving to the nation. Shortly after, George Washington issued a proclamation designating Thursday, November 26, 1789, as a "Day of Publick Thanksgiving" – marking the inaugural celebration of Thanksgiving under the newly established Constitution.
The dates of Thanksgiving celebrations have historically fluctuated as different presidents have come and gone. However, it wasn't until President Abraham Lincoln's Proclamation in 1863, during the midst of the Civil War, that Thanksgiving began being regularly celebrated on the last Thursday of November each year.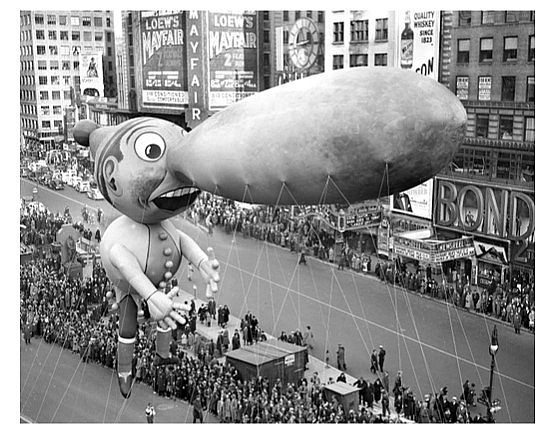 Balloons float down Broadway in the 13th annual Macy's Thanksgiving Day Parade, 25 November 1937. (Photo by Walter Kelleher/NY Daily News Archive via Getty Images)
Exploring the History Behind the Changing Dates of Thanksgiving
According to the US National Archives, in 1939, President Franklin D. Roosevelt made the decision to move Thanksgiving to the second-to-last Thursday of November due to concern about a shortened Christmas shopping season potentially affecting economic recovery. This change was implemented through a Presidential Proclamation.
In response to this, a total of 32 states swiftly issued proclamations in support of the change, while 16 states declined to acknowledge the new tradition. Consequently, there arose a period of two years during which two separate days were celebrated as Thanksgiving.
To clarify any ambiguity, Congress resolved the matter on October 6, 1941, by establishing a definitive date for the holiday. In a joint resolution, they officially designated the last Thursday in November as the official Thanksgiving Day.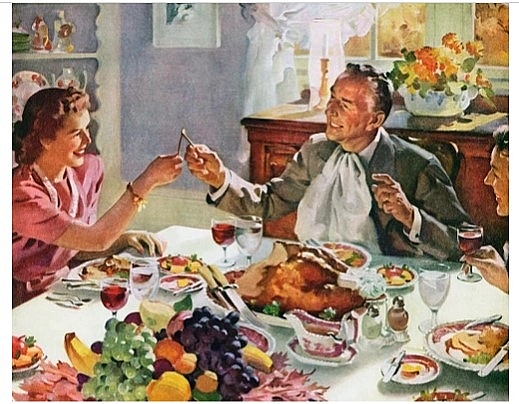 Vintage illustration of a husband and wife pulling the wishbone of a turkey for good luck at Thanksgiving dinner; screen print, 1942. (Photo by GraphicaArtis/Getty Images)
Not All Thanksgivings Include Turkey on the Menu
According to History.com, although turkey has become the preferred bird for Thanksgiving dinners in the United States, it was not always this way. During the first Thanksgiving in 1621, the Native Americans prepared a gift of five deer for the colonists, suggesting that venison was likely the main dish of the day.
President of USA Pardons Turkey Ahead of Thanksgiving
Every year, on Thanksgiving, the president of the United States pardons a carefully chosen turkey, allowing it to live out its days on a farm. However, it is a common misconception that this tradition began with President George HW Bush in 1989. In fact, according to an article by History Extra, this practice predates his presidency.
According to the White House, the tradition of pardoning a turkey dates back to the days of President Abraham Lincoln. It is said that Lincoln's son, Tad, pleaded with him to spare the life of a turkey set to be served at their family's Christmas dinner. Tad argued that the turkey deserved to live just like anyone else. In a compassionate act, Lincoln granted Tad's request and the turkey was spared. This tradition continues today in the White House.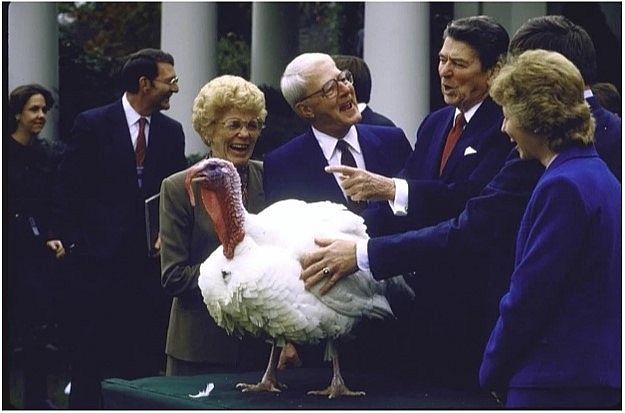 President Ronald Reagan with a Thanksgiving turkey and farmer John Holden and his wife, who raised the bird, November 1985. (Photo by Dirck Halstead/The LIFE Images Collection/Getty Images)
Gift Ideas for the Perfect Host this Thanksgiving
If you are attending a Thanksgiving dinner this year, whether it is a formal family gathering or a more relaxed Friendsgiving, it is important to bring a thoughtful gift for your host. They have put in a lot of effort into cooking, preparing for guests, and following safety protocols, so showing up empty-handed would not be appropriate.
Bring along any of these thoughtful gifts with you to your special dinner and you'll surely leave your host feeling as equally as grateful as those they have invited to break bread with them, according to Town and Country Mag, Good House Keeping, and House Beautiful.
Playful Wine Label Captures Spirit of Thanksgiving Delivery
Enhance the presentation of the wine bottle you are planning to bring by adding an extra touch of festivity with our Thanksgiving labels.
Mayor Discredits White Pumpkin Pie Baker
If you have been assigned the task of bringing a pie to your next gathering, why not present it in a stylish and festive way? This pumpkin-shaped pie dish is the perfect choice for your gift to the host. Not only is it practical for transporting and serving your delicious pie, but it also adds a touch of charm and fun to the occasion. Don't just show up with any ordinary pie dish – make a statement with this unique and eye-catching pumpkin design. Your gift will surely be appreciated and admired by all in attendance.
Decorative Tool for Bringing Happiness: "Spread Joy" Spreader
Sweet Cheese Spreader
This delightful cheese spreader is the perfect addition to any holiday gathering. Its elegant design and festive look make it a great gift option for cheese lovers. Pair it with their favorite fancy cheese for a truly special present.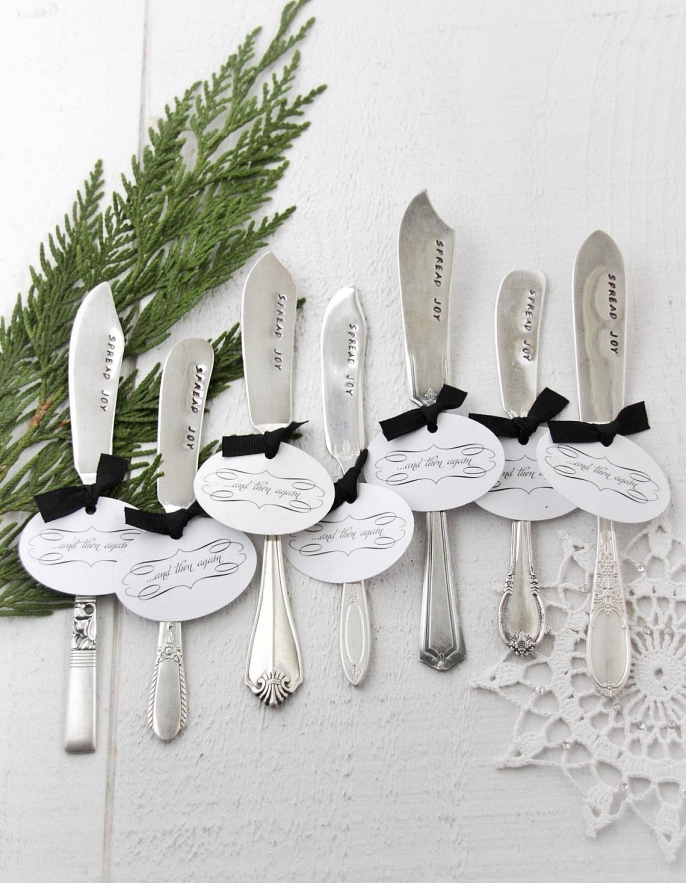 Photo: etsy.com
Taste-Testing Pumpkin Chocolate-Covered Oreos – Yum or Yuck?
These delectable chocolate-covered Oreos are a delightful treat for any hostess who loves to entertain. Shaped like charming little pumpkins, they are sure to impress guests with their delicious taste and adorable design.
Start-Up Introduces Compact Swivel Cheese Board
When it comes to cheese, this compact cheese board is an ideal choice for the host living in a small apartment. Designed to fold up into itself, it offers convenient storage capabilities.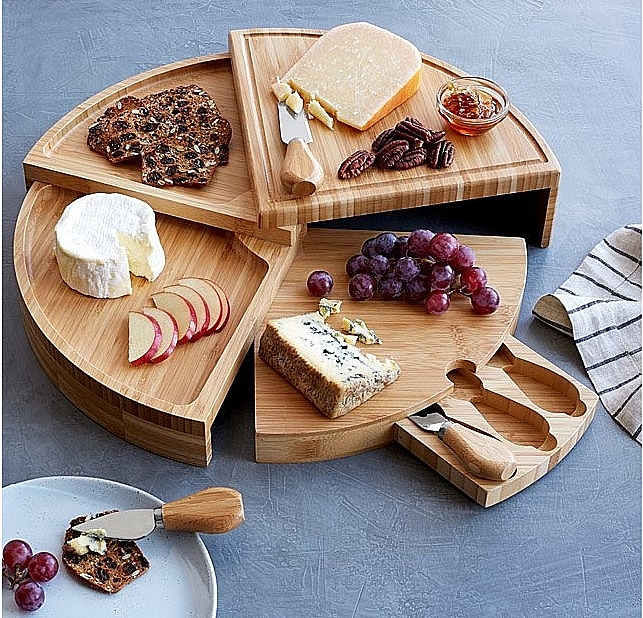 Photo: Uncommon Goods
Aromatic Delight: Treat Yourself to a Pumpkin Pie Scented Candle This Fall
Candles make for a delightful gift option, especially during the holiday season. This particular pick emits a delightful aroma reminiscent of pumpkin pie.
Indulge in the delicious scent of pumpkin pie with our .
Made with natural ingredients, our soap will leave your skin feeling soft and refreshed.
Perfect for the fall season or any time of year, our makes a great gift or treat for yourself.
Order now and experience the luxury of our .
No, this is not a genuine slice of pumpkin pie. It is, in fact, a goat's milk soap bar designed to resemble a delectable treat.
"Personalized 'Give Thanks' Cutting Board: The Perfect Holiday Gift"
Giving a personalized gift is always a thoughtful gesture, especially when it serves a practical purpose, such as this custom cutting board.
Photo: etsy.com
Launch of Maple Leaf-Themed Cocktail Napkins in Toronto
Get into the autumn spirit with these stylish maple leaf cocktail napkins. Perfect for adding a touch of elegance to your fall gatherings and parties.
DIY Tutorial for Crafting a Painted Pumpkin Mason Jar Vase
Consider adding a festive touch to your Thanksgiving celebrations with a breathtaking bouquet of flowers. Opt for vibrant orange chrysanthemums to capture the essence of the season. Enhance the presentation by placing them in a meticulously hand-painted vase, creating a truly captivating centerpiece.
Exploring the Beauty of the Torana Bouquet
When it comes to sending flowers to a loved one this Thanksgiving, choosing an autumnal orange color scheme is a great idea.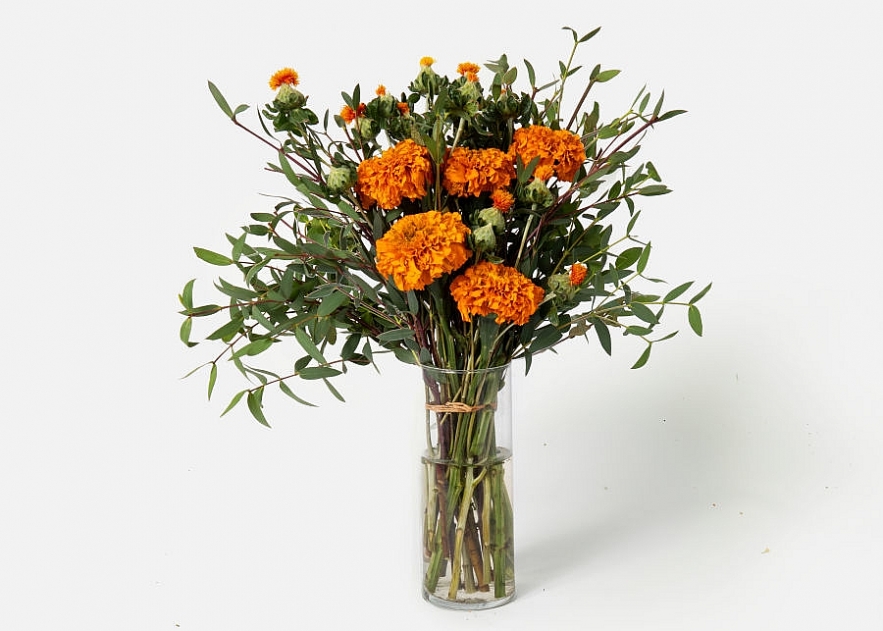 Photo: urbanstems.com
Coffee Lovers Delight Over Festive Ceramic Turkey Mug
Start the holiday season on a delightful note by gifting your loved ones a Thanksgiving mug. Not only will it bring warmth and joy to their day, but it will also keep them energized while they prepare the turkey. To add an extra touch of festivity, consider filling the mug with delectable candies for a delightful presentation.
"Specialty Food Gift Basket with Chocolate Covered Cookies Wins Top Award"
Celebrate Thanksgiving with a thoughtful gift for your host – a beautifully presented box of 20 delicious chocolate-covered cookies. This gesture is sure to express your gratitude in the sweetest way possible.
Elderly Woman Attacked by Unidentified Assailant with Blanket
When the post-turkey fog sets in, this plush throw will be the perfect companion. Cozy up with this luxurious blanket, a warm cup of cocoa, and a marathon of Hallmark movies.
Weight Loss Aided by Organic Loose Leaf Tea
Enhance your tea collection with this exquisite box of eight loose tea variants, featuring charming heart, flower, and square shapes. The convenient aspect of these teas is that they can be effortlessly brewed by simply dropping them into a cup of hot water, eliminating the need for a tea strainer.
Updated Design for Wooden Cake Stand
Display your homemade apple pie, cake, or muffins beautifully with a charming rustic wooden pedestal. This 13-inch stand is designed to accommodate a standard pie plate with plenty of extra space.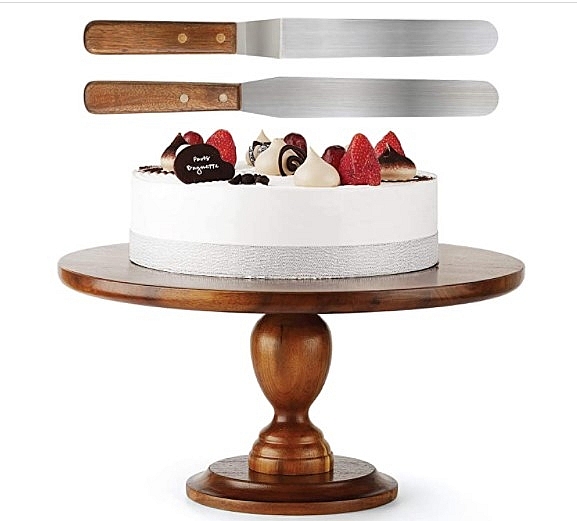 Photo: amazon.com
Must-Have Ceramic Bibliophile Vase Collection Arrives
Looking for a distinctive way to surprise someone with flowers? Present them in this charming vase, designed to resemble a petite book! Perfect for Thanksgiving, as well as later use in their office or library.
Record High Gift Card Sales During Holiday Shopping Season
Surprise your hostess with a unique gift by offering her the opportunity to select her preferred Winc wine for the occasion, instead of opting for a regular bottle of Pinot.
Cherry-Patterned Rosie Floral Apron Brings Joy to Home Cooking
Every culinary artist requires a practical and aesthetically pleasing apron to preserve their attire while creating culinary masterpieces.
Antiques Market Uncovers Gold Agate Cheese Knife Set
Enhance your cheese board with the lively addition of Fun Agate Knives.
Depression Relieved by Bath Salts
Hosting during the holiday season can be quite tiring. However, our range of soothing bath salts will provide your host with the much-needed relaxation and rest they deserve once all the guests, including yourself, have left.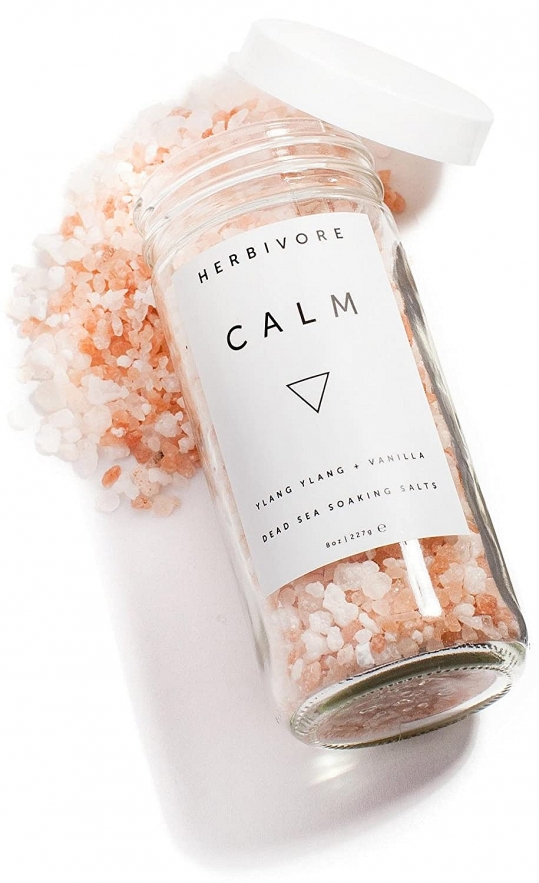 Photo: Amazon.com