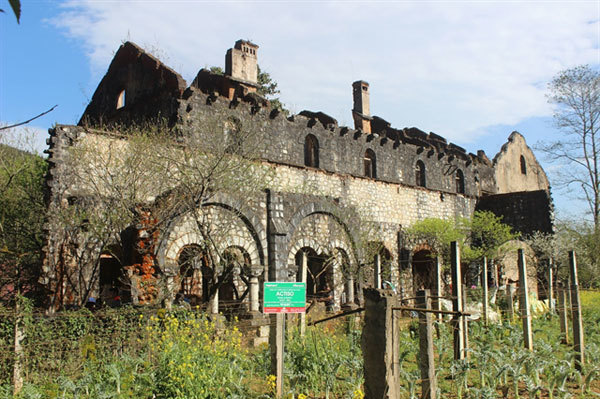 Located in Ta Phin Village, about 12 kilometers away from Sa Pa Town, Ta Phin monastery is easily recognised thanks to its ancient French architecture. — Photo suckhoedoisong.vn
The monastery is situated in Ta Phin Village, approximately 12 kilometers from Sa Pa. It is notable for its distinct French architectural style.
The monastery, which was built in October 1942, was later abandoned by the nuns in 1945 and subsequently fell into disrepair.
At present, Ta Phin Monastery is a dilapidated and secluded structure shrouded in mist. Its ethereal charm is enhanced by the presence of lush vegetation, evoking enchanting stories.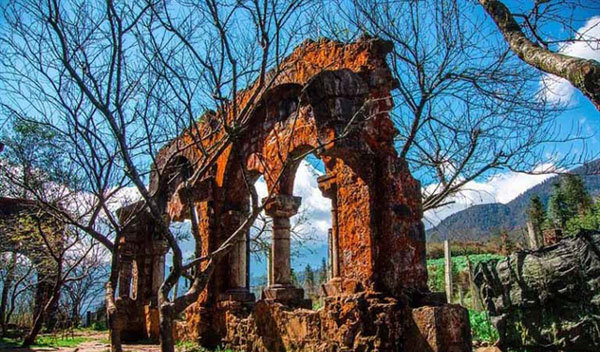 Despite being abandoned for a long time, Ta Phin monastery still retains the ancient features and quiet space. — Photo emdep.vn
The ancient monastery exudes a captivating blend of beauty, nostalgia, and mystique. Its time-worn charm conjures up images of bygone eras, evoking memories of being transported into the enchanting world of an old European film.
One cannot help but be in awe of the remaining portions of this ancient religious building. Its architectural features, reminiscent of old European styling, are a testament to its rich history.
The entrance of the monastery is constructed with high-quality stellar stone, featuring a beautifully arched gate in the elegant French style. The outer wall is comprised of a durable laterite layer that extends deep within the premises. Upon entering, visitors will be greeted by a series of wall structures adorned with layers of mossy windows, which despite their age, remain sturdy and dependable. These walls and bricks stand as a testament to the passage of time.
The monastery consists of three levels, including a basement, a west-facing horizontal house with five chambers, and a staircase. Furthermore, on the right side of the monastery, there is a vertical house that is connected to the horizontal house. This area served as a storage space for food, furniture, and the monastery's kitchen.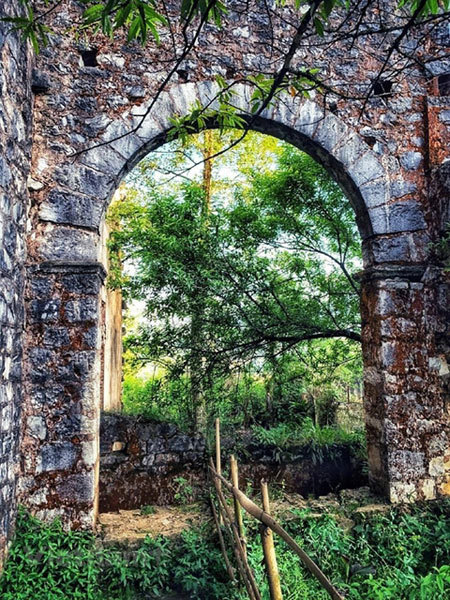 The gate of the monastery is built of stellar stone with an arched gate in French architectural style. — Photo vietnamplus.vn
Currently, the entire structure stands without a roof, with only the weathered, moss-covered walls remaining. Situated at the front of the monastery is a grand and extensive corridor, albeit in a state of disrepair.
The monastery, despite being abandoned for an extended period, still remains highly appealing due to its distinctive attributes and tranquil environment.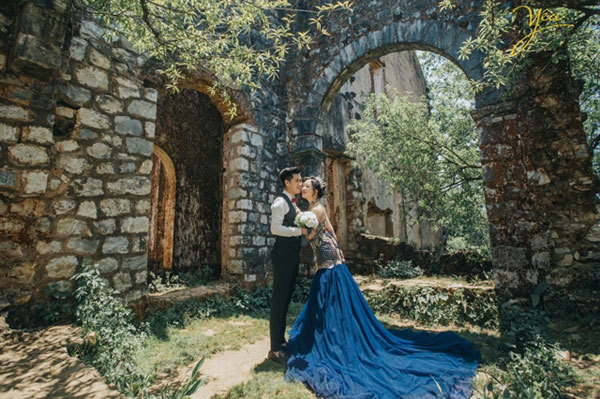 Ta Phin monastery is likely to be an ideal place to take wedding photos. — Photo yeumedia.vn
Visitors to the monastery will be delighted by the unique scenes they can capture from any angle and location. The photos showcase a beautiful blend of old and new, with a touch of nostalgia. It's a paradise for photography enthusiasts.
If you desire a touch of understated nostalgia in your wedding photos, our venue is the perfect choice for you.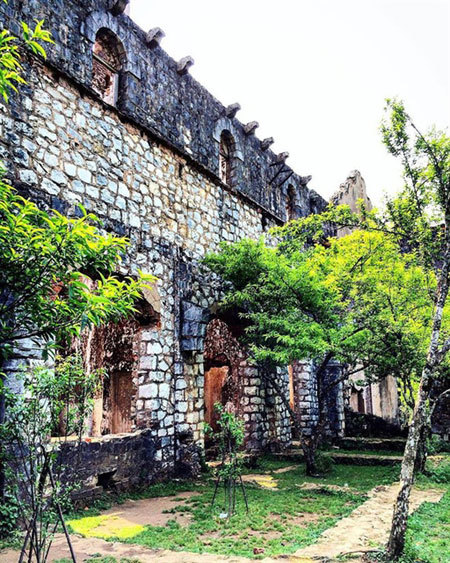 Through the ups and downs of history, this place has become mysterious, creating a unique beauty compared to any places in Sa Pa. — Photo emdep.vn
Upon concluding our visit to Ta Phin Monastery, we were delighted to stumble upon Ta Phin Village, a captivating destination that is renowned for showcasing the distinctive cultural ethos of the Red Dao ethnic group.
The Red Dao ethnic group differentiates itself from the Mong and Giay people due to its comparatively smaller population and lesser recognition. Typically residing in secluded valleys and mountainous slopes, their villages exhibit a more remote setting.
There are numerous villages in Sa Pa that have undergone modernization and have lost their natural charm. However, Ta Phin Village stands out as a unique exception, as it has managed to preserve its regional cultural identity among the changing times.
The journey to Ta Phin Village encompasses a meandering road that showcases breathtaking mountain vistas, enchanting cloud formations, and an awe-inspiring array of terraced fields displaying vibrant hues. The amiable inhabitants of this locale often extend warm invitations to their dwellings, exemplifying the genuine hospitality of the region.
Located in the scenic mountains of Vietnam, Ta Phin village is renowned as a hub for exquisite, handcrafted brocades created by talented ethnic minority artisans. These intricate products cater to a wide range of customers, from local shops in bustling cities like Hanoi and Ho Chi Minh City to international markets abroad. With their exceptional quality and unique designs, Ta Phin's brocade offerings serve as a testament to the rich cultural heritage and craftsmanship of the region's indigenous communities.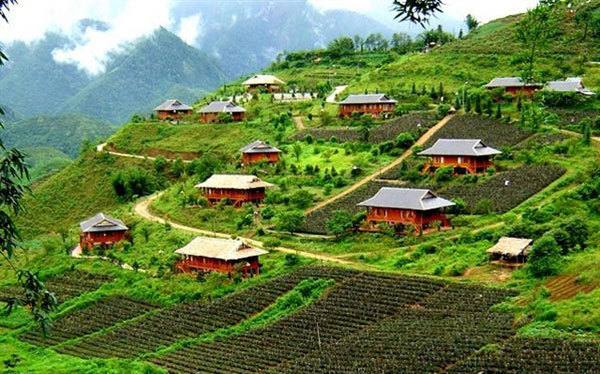 Ta Phin Village is probably the only village in Sa Pa that still retains the regional cultural identity. — Photo tago.vn
The Red Dao people in Ta Phin possess a wealth of knowledge and experience when it comes to plants, thanks to their geographical location in the valley and at the base of large mountains. Their bath remedies, which consist of hundreds of plants, are highly regarded. However, there are 10 core medicinal plants that hold particular importance and form the foundation of the Red Dao people's esteemed medicine brand in Ta Phin.
Red Dao herbal baths have become more than just a cultural tradition within the Dao ethnic community. They have gained popularity all across the country and have earned the trust of numerous individuals. Visiting Ta Phin Village to experience a Red Dao herbal bath is a compelling reason due to its status as the origin of this valuable medicinal practice.
Lam Giang