Bánh da lợn (literally Pig skin cake) has recently been highlighted in a list of the 100 Most Popular Cakes in the World by popular cuisine website TasteAtlas.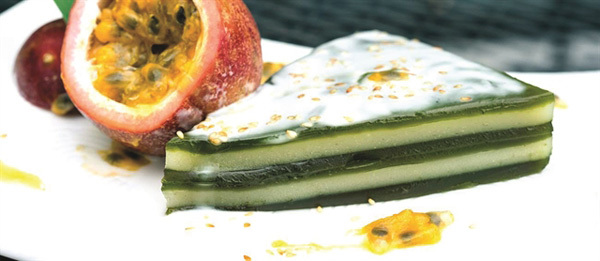 The cake on the TasteAtlas website. Photo tasteatlas.com
"The traditional Vietnamese dessert consists of chewy layers that are typically made with puréed mung beans, tapioca starch, rice flour, and coconut milk or water," according to the site.
"Traditionally, each cake has a pale yellow layer made with mung beans and a green layer that is flavored and colored with pandan leaves, while optional ingredients include durian or taro. Once steamed and chilled, the cake is usually cut into diamond shapes."
The site's criteria for voting are based on the popularity of dishes among food lovers around the world.
Pig skin cake ranks 85th on the list and received 3.9 stars out of five.
Many Vietnamese left their comments on the site.
"The taste is flawless. You can combine it with a cup of green tea as dessert," wrote reader Hoai Anh Sa.
Another commented: "I have already eaten it, of course. Such a delicious dish that you can eat as snack or dessert. Each layer will bring you different feelings but are strangely compatible. This cake can be made by a variety layers and will not disappoint."
The cake can be made and enjoyed all year round thanks to its cheap and easy-to-find ingredients. It is simple enough for even a junior cook.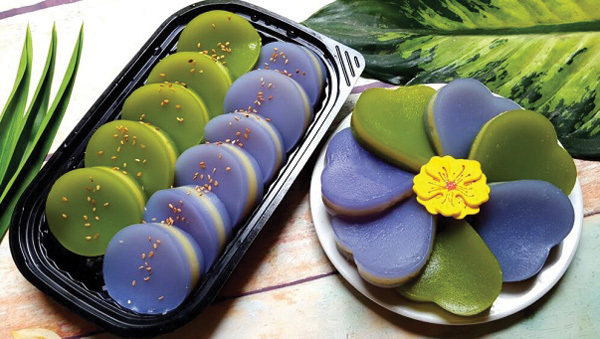 Modern cakes have many colours from natural ingredients. Photo Facebook Góc Bếp Nhỏ
Chef Le Thanh Tung based in HCM City said the cake should feel soft to the touch and have a smooth surface while being slightly chewy.
"Its name Pork skin cake might stem from the way the texture is," he said.
Many say the dessert is like a layered jelly with a slight mochi feel.
The green layers are flavored with lá dứa (pandan leaves), which are popular throughout the country.
"The leave offers a special fragrance similar to that of vanilla," Chef Tung said.
Chau Kim Thuan, 68, an experienced cake maker in the southern city of Can Tho, told Việt Nam News that the traditional cake often had two colours: milky white and green.
The white colour is brought by coconut milk while the green is made using panda leaf extract.
Modern cakes have other colour layers, which are made by mixing rice flour smashed with mung beans, or taro with durian and tapioca starch mashed with lá cẩm (the purple leaf of the magenta tree).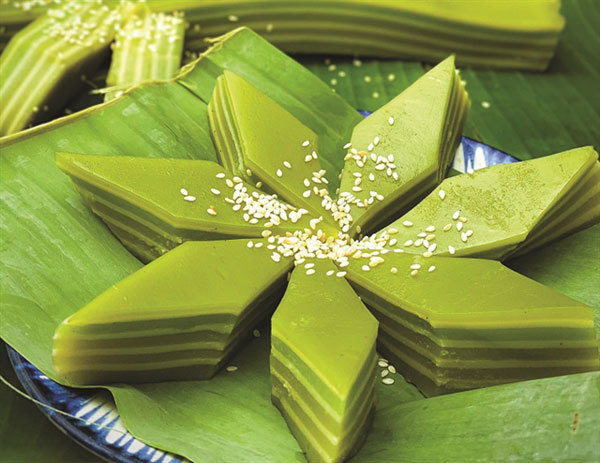 The jelly like cake is a favourite traditional dessert. Photo hoteljob.vn
Other natural ingredients can be used to create various colours, like butterfly pea flower for purple, beetroot for red, coffee for brown, and passion fruit for yellow.
"The more colours, the more attractive it is to children and even adults," Thuan said. "My family has handed down its recipe for five generations."
A popular recipe widely shared online contains coconut milk, tapioca starch, glutinous flour, sugar divided in half, with one half mixed with green bean and the other with pandan leaf, which must be filtered through a sieve.
The cakes are steamed in a small heart-shaped, leaf or flower mold, or in a bigger mold and cut into small square pieces.
Chef Tung said that before steaming, one should cover an oil layer inside the mold so that the ingredients do not stick.
A layer of pandan leaf mixture is poured into the mold, with the mung bean paste coming right after. The process is repeated in the right order until the dough becomes harder.
"When the last layer is finished, we should wait for the cake to cool down before removing it from the mold," Tung said.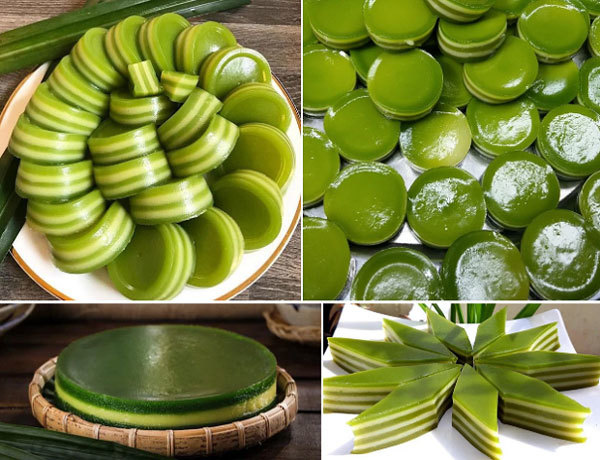 The cakes in various shapes. File Photo 
Chef Tung added that the cake should not be cut with a knife as it may be break or stick to the metal surface.
"We are better using a string of thread to cut the cake gently and quickly," he said. "The fragile surface will be kept intact while the cake is divided into smaller pieces as we want."
TasteAtlas put several other Asian cakes on the list, including Bublanina and Kue putu (Indonesia), Kuih lapis (Malaysia), Bibingka rice cake (the Philippines), and Japanese cheesecake.
Source: Vietnam News