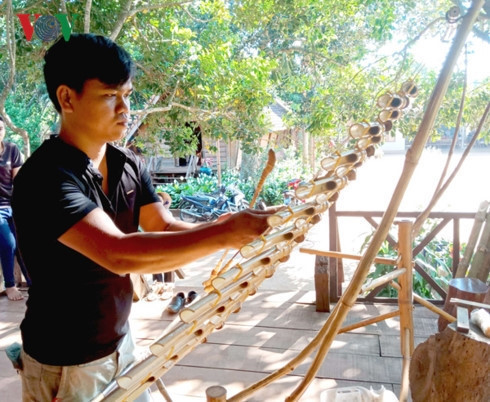 Tis is working on the T'rung.
Tis was born in 1993 in Ea Ui commune and has lived in the Teresa charity house since he was young. Recognizing Tis's talent for music, nun Nguyen Thi Thuan let him play with musical instruments of the Central Highlands.
"Tis could play the guitar and accompany any song with it when he was very young. So, we have created the best possible conditions to encourage him to play music," said Thuan.
By studying with experienced artisans, Tis learned to make such musical instruments as the T'rung, the stone xylophone and the flute. Tis said he is teaching himself music theory so he can teach music to local children
"It took me more than 1 year to learn to make musical instruments. I first made a stone xylophone. After my first success, I continued making other instruments. I had a lot of difficulty getting the tones right," said Tis.
Through Tis's efforts, the music group of Teresa charity house has become popular and performs at local events.
Ngan Van Chien, one of Tis's students, said, "I was first inspired to learn music when I saw Tis play a musical instrument. I hope one day I can play music as well as Tis and make musical instruments".
Ms. Mai Nhiem, an overseas Vietnamese ordered 7 musical instruments made by Tis and took them to Australia to promote Vietnamese traditional music.
"I first visited the Teresa charity house 3 or 4 years ago and became immediately interested in the music of the Central Highlands. I also learned how to play a traditional instrument," she said.
VOV5