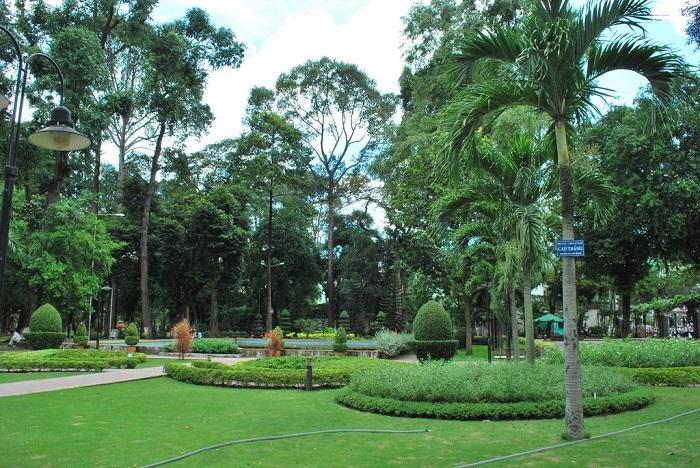 Tao Dan Park, HCM City.
Travel + Leisure wrote: "Over 24 acres of gardens make Tao Dan Park look like a paradise, but at night, locals have reported that the space takes on a different feel. Rumors say that the ghost of a young man who was killed in an attack still wanders the park, looking for his lost love."
Several years ago, UK travel guidebook Rough Guide also published a list of the world's 27 most haunted places that includes Tao Dan Park.
However, such information surprises locals who have never heard of this scary happening at this park.
It can be said that the above information is just a rumor. In fact, Tao Dan is a green and safe public spot that is loved by local people.
Tao Dan Park has a long and storied history. During the 19th century, the French christened the space as the "Jardin de la Ville" and incorporated a tennis court, pool, and soccer field, which was perhaps the first in the country.
Following the departure of the French in 1954, the park was renamed Tao Dan Park and has since gone on to become an integral part of life in the city. So important is its function that the locals lovingly dubbed the space ''the lungs of Ho Chi Minh City'', due to the abundance of trees and greenery.
Tao Dan Park is no ordinary public garden. In addition to the blooming flora and scenic atmosphere, the park is home to its fair share of fascinating cultural exhibits.
The following destinations are also listed by Travel + Leisure as the most "haunted" destinations in the world, but it is not clear how accurate the information is.
Raynham Hall, Norfolk, England
The mysterious "Brown Lady," rumored to be Lady Dorothy Walpole, was reported to be one of the apparitions captured on film in the December 1936 edition of Country Life. 
Poveglia, Venice, Italy
A short trip from Venice, the beautiful island of Poveglia was once a quarantine zone for people suffering from the plague. In addition, the island was used as an insane asylum in the early 20th century. Ghost hunters claim this spot is a hotbed of paranormal activity, but visits are currently prohibited.
Bhangarh Fort, India
Two hundred miles from Delhi, this abandoned fortress sticks out in the middle of the desert. Legend has it that a sorcerer cast a curse on the area after being rejected by a local princess. Guests can still visit the fort's impressive ruins today.
Ancient Ram Inn, Wotton-under-Edge, England
This 12th-century inn is one of the oldest in the Western world. It is believed to have once been a pagan burial ground, and boasts that it is haunted by more than 20 spirits, including ghost children and a pagan high priestess. Fearless travelers can at the inn in hopes of experiencing the spirits themselves.
Port Arthur, Australia
There are many ghost tours around Port Arthur to satisfy worldly ghost hunters. Formerly an 18th-century convict settlement, the Tasmanian town is now a hotbed of paranormal activity.
The Queen Mary, Long Beach, California, USA
This beautiful ocean liner spent 30 years at sea before permanently docking in Long Beach and becoming a tourist attraction. During her tenure, she logged more than 50 deaths, which makes her a truly haunted ship.
Burg Wolfsegg, Wolfegg, Germany
This 800-year-old castle is apparently haunted by a woman who scares off any visitors who pass. She is rumored to be the ghost of Klara von Helfenstein, who was reportedly murdered by her jealous husband.
Lizzie Borden House, Fall River, Massachusetts, USA
This allegedly haunted bed-and-breakfast is the sight of a gruesome and highly publicized murder that occurred in 1892. Although she was acquitted, Lizzie Borden was suspected of killing her father and stepmother with a hatchet in the unassuming home. Since then, guests have reported all manner of strange sightings in the house.
Casa Loma Castle, Toronto, Canada
Completed in 1914, this Gothic Revival-style house is filled with corridors and secret passageways. Tales of ghosts have been whispered around the property for decades. The home hosts throughout the year, and there are two restaurants on the grounds, too.
Château de Brissac, Brissac-Quincé, France
This towering building is famously known as the place where Charlotte de Brézé was murdered. According to the legend, Charlotte, the illegitimate daughter of King Charles VII, was killed by her husband after discovering her affair. Visitors claim to have seen a "Green Lady," named for the color of her dress, roaming the halls. Y
Stanley Hotel, Estes Park, Colorado, USA
This famous Rocky Mountain destination is known as one of the inspirations for Stephen King's "The Shining," but it also has its own spooky past. Allegedly, staff members have encountered ghosts, such as a maid from Room 217 who is known to pack away guests' clothing when they aren't looking. 
Tao Dan Park in photos:
Do An 
Source: Travel+Leisure