But this is seen as an opportunity for Vietnamese tourism to increase resistance and develop more sustainably on the basis of restructuring the tourist market.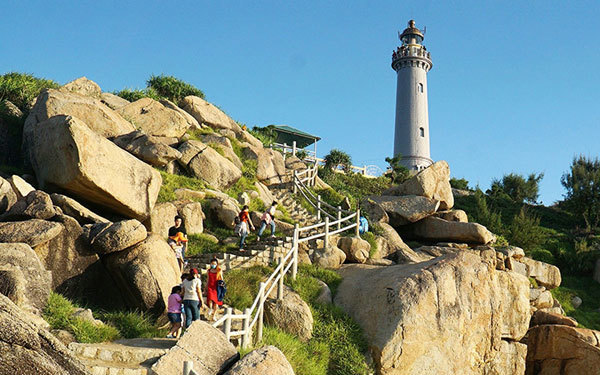 Tourists visit Mui Dien Lighthouse (Phu Yen). Photo: Duc Anh
Attaching importance to domestic tourism
In the period 2015 – 2019, Vietnam witnessed rapid growth steps in the tourism industry. The number of international visitors increased nearly 2.3 times (from 7.9 million to 18 million); domestic arrivals increased 1.5 times (from 57 million to 85 million); total tourism revenue increased 2.1 times (from VND355 trillion to VND755 trillion); Vietnam tourism competitiveness index increased 12 places (from 75th to 63th).
But right after the record increases, the COVID-19 pandemic broke out, causing Vietnam's tourism to fall into crisis. From March 2020, Vietnam temporary stopped welcoming international tourists. The domestic market has also been affected by social distancing in April 2020 as well as the second outbreak in August 2020. Although the whole industry and most localities have organised many stimulus programmes to promote tourism, it is forecast that by the end of 2020, international visitors to Vietnam will have decreased by 80% and the domestic market will have decreased by 50% compared to 2019. 95% of international travel businesses were forced to stop operating, many hotels closed, room occupancy rates of many accommodation establishments in big cities and tourist areas only reached 10-15%,
In the context of the COVID-19 pandemic across the world, Vietnamese tourism can only rely on domestic tourists to gradually recover. This fact requires the tourism industry to re-recognize the importance of domestic tourism in sustainable development, as international visitor growth indicators seem to be paying more attention to in recent times. According to experts, Vietnam is a country with a large and young population with a high need to explore and experience. Every year, nine to ten million Vietnamese people travel abroad, so this is a potential number of tourists for domestic travel.
Developing domestic tourism in the right direction will bring a stable and sustainable source of income for tourism and many other industries in general, due to the interdisciplinary and inter-regional nature. Statistics on the structure of the tourist market over the past five years show that the number of domestic tourists in Vietnam accounts for more than 80%, nearly five times higher than the number of international visitors, but the revenue from domestic tourists accounts for only about 45% of the total. This partly shows that Vietnam tourism has not really had attractive products to stimulate spending among domestic tourists.
In addition, tourists are still concentrated in a few large tourist areas, the number of tourists is irregular and stable at times of year. This situation requires solutions for stable growth of domestic tourists and balanced distribution in regions. General Director of Flamingo Redtours Company Nguyen Cong Hoan said that when all move to domestic tours, domestic tourists will become more strict in choosing products as well as service providers. Discounts are no longer the leading attractive factor, but more importantly, the novelty of the product, the ability to bring a unique experience to visitors. 
Diversifying international tourism market
In recent years, the number of international visitors to Vietnam has continuously increased, but revealed an imbalance in the structure, when in fact nearly 70% of the total number of visitors came from the Northeast Asia market (China, the Republic of Korea (ROK), and Japan). Visitors from Europe, America, and Oceania account for only a modest proportion. The situation alarms the great dependence of Vietnam's tourism on certain markets. As a tourism research expert, Tran Minh Hoa, who is Vice Rector of the University of Social Sciences and Humanities said that the tourism is a sensitive industry, vulnerable to external factors such as natural disasters and disease. Therefore, the dependence on some dominant markets is risky because if something happens, it will severely affect Vietnam's tourism industry.
In fact, Vietnam has had to bear the risk of the sudden drop in Chinese tourists. Reliance on a number of markets also leads to the risk of "hot" growth in tourism, putting pressure on infrastructure, tourism human resources, and local cultural identity; at the same time causing difficulties for the management, affecting the quality of tourism services and national tourism brands. The appearance of foreign "underground" guides, or the disturbance of cheap tours in recent times, is the result of the hot growth in the number of tourists from some dominant markets. In addition, this is the influx of tourists with a low level of spending, so it has only brought Vietnam's tourism growth in quantity but not quality.
According to statistics, the total number of international tourists to Vietnam in the period 2015 – 2019 increased by an average of 22.7% per year, but the total revenue from international tourists in this period only increased by an average of 20.9% per year. For example, an international tourist stays for nine days and spends US$ 1,565 on a trip in Thailand. While in Vietnam, the average length of stay of an international tourist in 2019 was only 8.1 days and the average spending was US$1,074 per trip. These figures show that the number of tourists is large, but the value earned from tourists is not high. This is an issue that requires the whole industry to take a direction towards attracting high-spending tourists, for long-term stays, while ensuring sustainable development in the quality of Vietnamese tourism.
In order to find a solution to the problem of imbalance in the structure of tourists, the Vietnam National Administration of Tourism (VNAT) has just held a conference on restructuring the tourist market within the framework of Vietnam International Travel Mart (VITM) – Hanoi 2020.
According to Deputy Director General of the Vietnam National Administration of Tourism Ha Van Sieu, in order to ensure stable growth of both domestic and international tourism on the basis of market diversification, thus reducing dependence on certain markets, Vietnamese tourism needs to focus on implementing five groups of solutions. The first is the group of solutions for tourism product development. It is necessary to focus on the segment of high-spending tourists, with long-term stays, to build suitable tourism products, increase the number of tourists coming from low proportion markets such as ASEAN, or other markets such as Western Europe, North America, visitors from potential markets such as India, the Middle East.
It is necessary to encourage the development of several forms of tourism that Vietnam has advantages in, such as healthcare tourism, MICE (meetings, incentives, conferencing and exhibitions) tourism, cultural tourism, and sports. For markets with a high proportion of the number of visitors, such as China and the ROK, it is necessary to focus on developing products and services to exploit high-income, high-spending and long-stay segments.
The second is a group of solutions for policy mechanisms. It is necessary to continue to adjust to create more open visa-related mechanisms and promote destinations for international tourists in high-quality tourist markets. Third is the group of solutions for promotion. It is necessary to focus on promoting the image of Vietnam as a safe, friendly and attractive destination for international friends and tourists. It is necessary to eliminate the psychology of domestic tourists' fear of travel, especially focusing on accessing the market of Vietnamese tourists who have travelled abroad and diverting them to domestic travel.
Fourth is a group of digital transformation solutions to develop tourist markets. It is necessary to coordinate with major technology firms in the world to research the market and build a digital database on the tourist market, with the linkage of the database as well as tourism products and services from central to local. It is necessary to support and encourage tourism businesses to quickly implement digital transformation in tourism business. Fifthly, it is necessary to focus on developing high-quality human resources towards a new market structure, meeting the requirements of digital transformation and developing smart tourism.  NDO