This talented young artist possesses a special destiny. After contracting severe pneumonia and forced to take high doses of antibiotics, Long was left permanently deaf. In addition, he was also diagnosed with attention deficit hyperactivity disorder that requires special care from both parents and caretakers. The boy also suffered physical problems, including congenital muscle paralysis in both legs which made walking extremely difficult.
Whilst enduring these difficulties might make most people surrender to their fate, the dedication and boundless love of his mother and an innate talent for painting helped the boy overcome hardship and become a promising young artist.
Long has been showing off his talent for painting since he was small. Even as a youngster, he could draw anything accurately through memory, with painting classes later helping him to sharpen and cultivate his skills.
Typically, he prefers drawing sketches and can sit down all day sketching buildings, trees, or any object in front of him in detail. His mother, Phung Hieu, travels with her son to alleys throughout Hanoi to indulge his passion.
Due to his hearing impairment, Long attentively gives his whole mind to drawing without being distracted by any external factors. Whilst most people would see this as a challenge, Long has overcome the issue and uses it to his advantage. Looking at his sketches, anyone can see the vividness and attractiveness of the pieces, while their emotions are fully conveyed. This is something that is not easy to achieve for professional painters.
The Hanoi native is very serious about his artistic work. He works hard every day that he sometimes forgets to have meals. Entering his house, there is nothing but paintings that are arranged on a shelf, hung on the wall, or placed on a cabinet or a sofa.
He has joined many art groups and painting competitions, as well as recording impressive achievements that motivate him to become a professional painter and organise solo exhibitions.
This year, the 18-year-old artist plans to play host to an exhibition in March, a feat that is rarely done by an artist at the same age. He has drawn hundreds of paintings over the past two years, with nearly 80 of them having been selected for the display.
His artworks are divided into two categories: paintings and sketches. For paintings, Long uses acrylic, a material that he has been familiar with for years, as well as oil which he has used for a year. He masters the technique in a professional manner, meaning that it's difficult to distinguish between an acrylic painting and an oil painting. This indicates that Long is not dominated or overwhelmed by materials themselves, but by his emotions.
By mastering the perspective rules, Long draws a large street in detail without deviation in space, from an eatery with many pots and pans to bicycles and motorbikes parked on the sidewalk, or the glossy picture frames still wrapped in paper at a painting shop. For his good imaginary ability, every object in his paintings, from a window frame to a staircase in a close-up corner, is portrayed so beautifully. Viewers can even feel a bit of morning sun falling on the door or the old musty smell of each stair.
In this series of paintings, viewers can view the art of a contemporary painter. It is undeniable that Long still has his own perspective with a young and energetic mindset that makes his compositions full of enthusiasm, joy, and cheerfulness.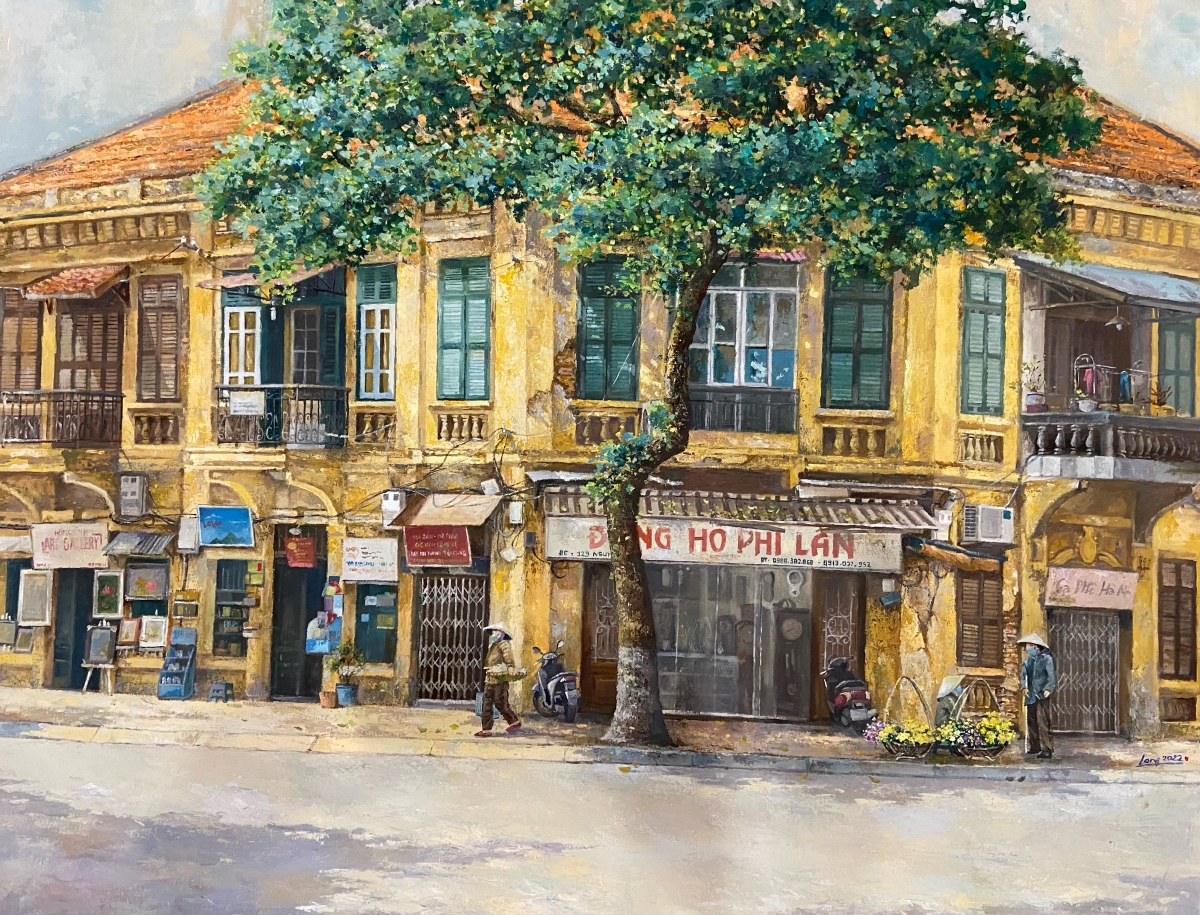 At the age of 18, Long works hard to achieve his goals. He has traveled the length and breadth of the capital, drawing the city's famous architectural landmarks, including age-old Phuong Mai living quarters to famous villas on Nguyen Thai Hoc and Tran Hung Dao streets, the former Hanoi University building, and the Opera House. Most importantly, through his paintings the city's architectural buildings not only exude their cultural beauty, but also contain historical events and stories within them.
For the exhibition, Long is showcasing all of his artworks he has done for the past few years. Visiting the exhibition gives viewers an endless source of inspiration about the will to live, the passion for creativity, and the vibrations for nature and people. Viewers love his paintings, not only for his courage to overcome hardship, but for the beauty and artistic value he demonstrates in the paintings.
The exhibition themed Hanoi Street: Then and Now is scheduled to take place from March 2 to March 6 at the Exhibition Hall, 29 Hang Bai street, in Hanoi.