According to Vietnam Discovery, Vietnam is a highly sought-after and beloved destination in South East Asia. This reputation stems not only from its stunning natural landscapes, but also from its rich tradition of skillful craftsmen in various villages.
These villages have been meticulously preserved for generations, standing as enduring testaments to centuries of existence. Their products boast widespread recognition in both domestic and international markets. Through these products, one can glimpse the rich tapestry of Vietnamese customs, traditions, and cultures. Photographer Cao Thi Ngoc Diem has skillfully captured the timeless beauty of these traditional craft villages, leaving a lasting impression on viewers.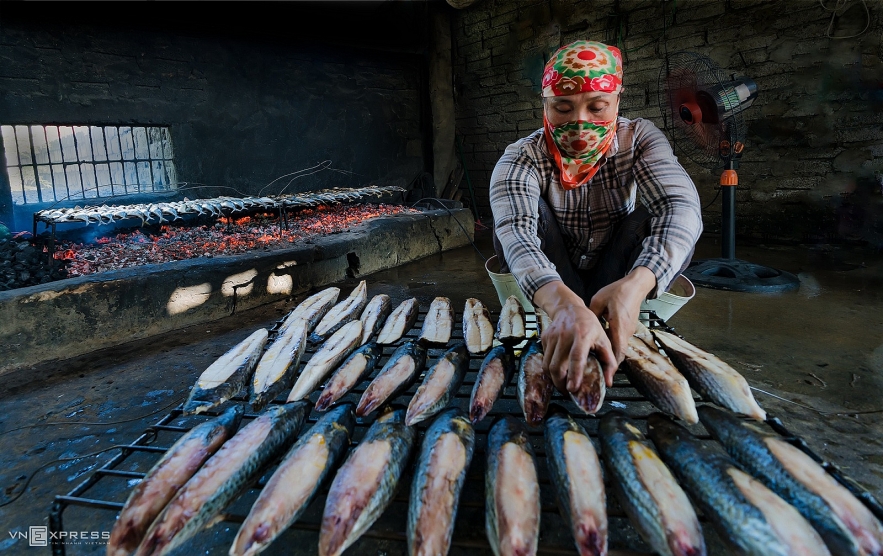 A woman prepares grilled fish in Quynh Luu District of central Nghe An Province, home to about 50 fish baking households. Photo: VN Express.
Fresh mackerel and herring are meticulously sourced, cleaned, and thoughtfully arranged on grills, awaiting a meticulous charcoal baking process. Every batch of fish undergoes a precise grilling duration of 10 to 15 minutes.
Residents in our community are skilled at grilling 100-300 kilograms of fish each day, generating an impressive income of nearly VND200,000 (8.7) per person.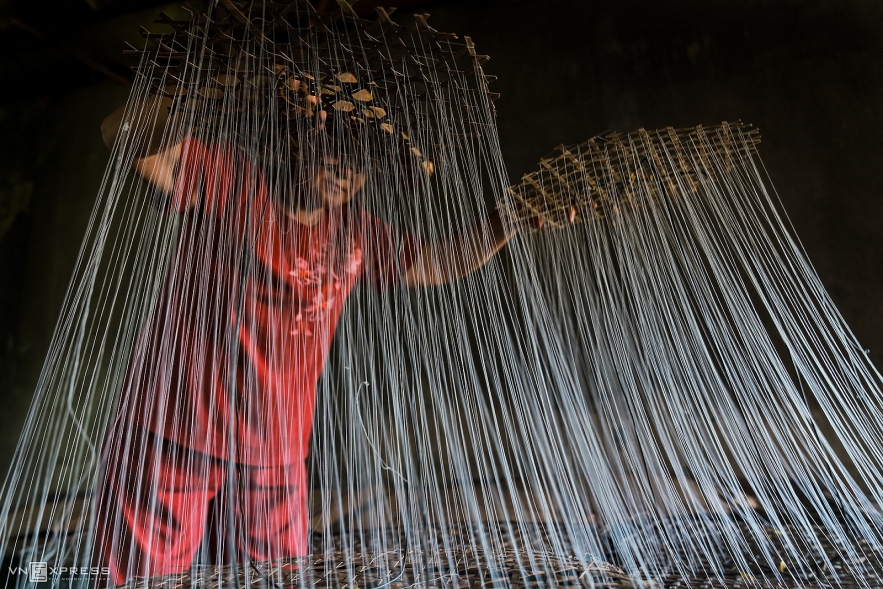 The profession of making sugar candy, a famous specialty of Nghia Duong Commune in central Quang Ngai Province. Photo: VN Express.
According to a report by Vn Express, the profession of producing sugar candy is a renowned specialty of Nghia Duong Commune located in central Quang Ngai Province. The sugar candy produced in this region is known for its crystallized form resembling bars of quartz.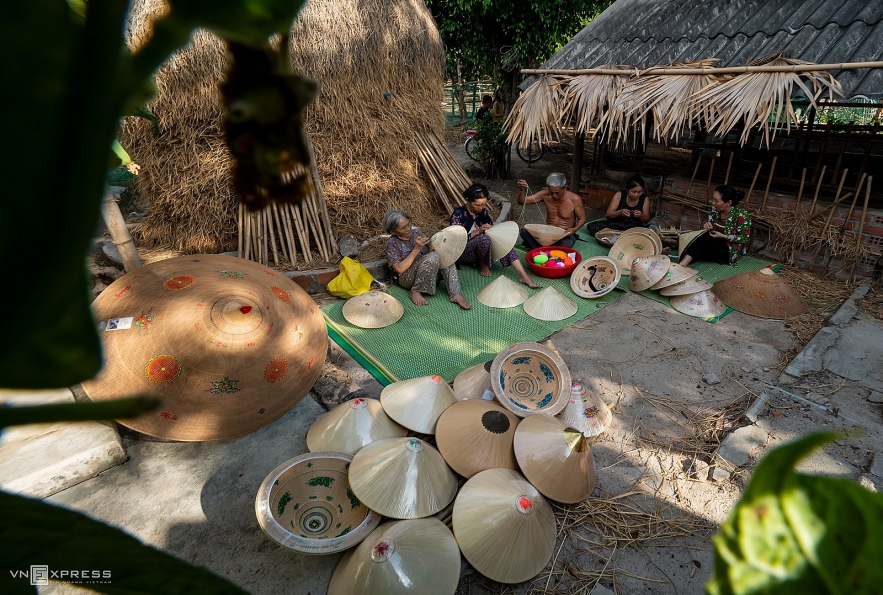 Photo: Vn Express.
In the historic Phu Gia Village, situated in the Cat Tuong Commune of central Binh Dinh Province, a community of approximately 320 households consisting of 700 members specializes in the craft of producing horse hats. These hats held significant importance as an essential accessory for court officials in bygone eras, reflecting a tradition that has been passed down through generations for over 300 years.
Creating a horse hat entails a series of meticulous processes, spanning from constructing the ribs to tying them and finally, embroidering intricate patterns. Skilled artisans meticulously embroider patterns inspired by various themes such as dragons, unicorns, mandarins, phoenixes, plum blossom, orchids, chrysanthemums, bamboo, and poetry.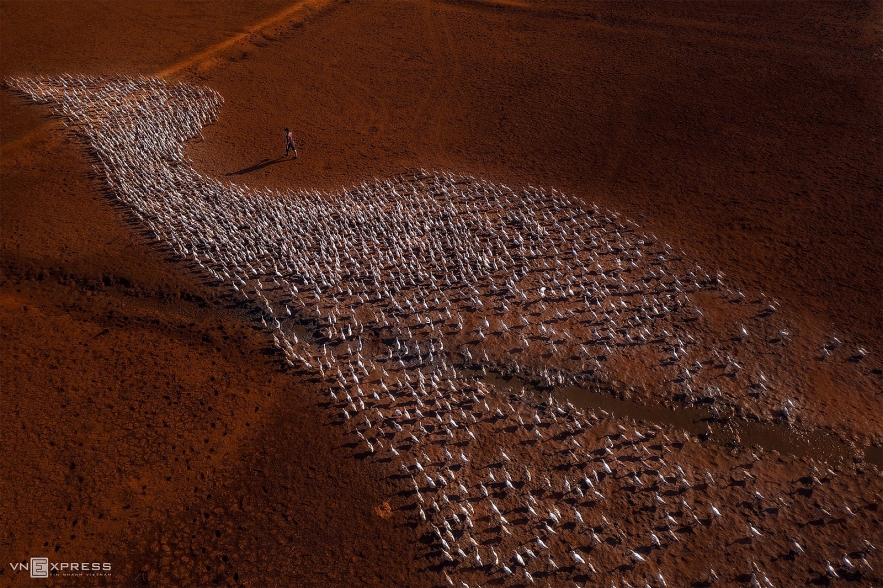 Duck herding at Tra O Lagoon in Binh Dinh, home to popular beach town Quy Nhon. Photo: Vn Express.
Raising ducks on fields for their eggs has become a popular practice in rural areas of the country. This method helps many households save on the cost of purchasing food supplies, ultimately boosting their profits.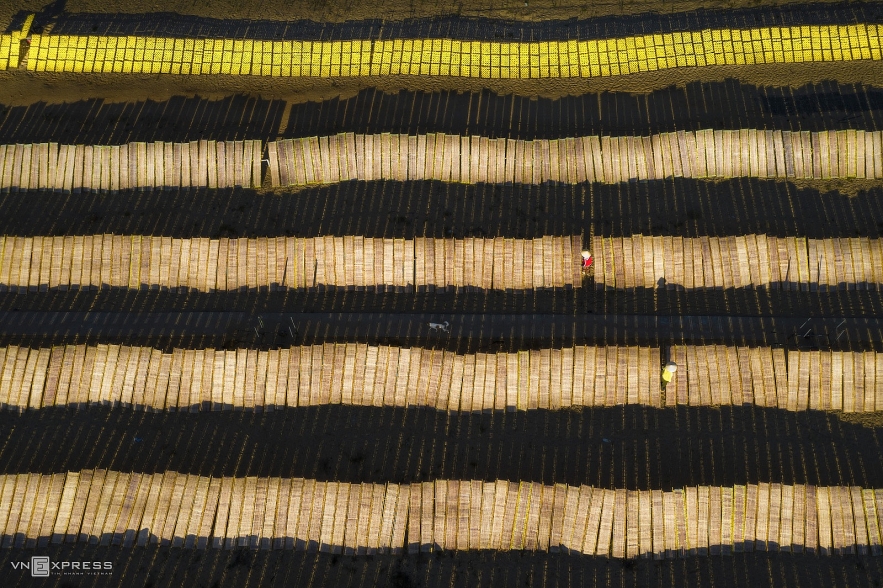 Photo: Vn Express.
Binh Dinh, a region in central Vietnam, is renowned for its dried noodle production in An Thai Commune. These noodles stand out for their unique flavor and exceptional nutritional value, as they are crafted primarily from peas. Additionally, a German company has announced plans to construct an offshore wind farm in this area.
As Tet, Vietnam's largest holiday, approaches its peak on February 12th this year, the village is bustling with activity as it strives to meet the increasing demand.
Photo: Vn Express
Located in Quy Nhon, there is a historic fish-steaming village that has been thriving for over 50 years. Situated near the bustling fish market on Ham Tu Wharf, this village is known for its tradition of steaming fresh fish. The boats transporting the fish are often operated by families deeply rooted in the steaming business.
After being cleaned and preliminarily processed, the fish are carefully placed in an oven filled with boiling water. The steaming process involves the use of specially formulated water to enhance the rich taste of the marine fish. The duration of steaming is thoughtfully adjusted to guarantee the meat's desired texture and delectable flavor.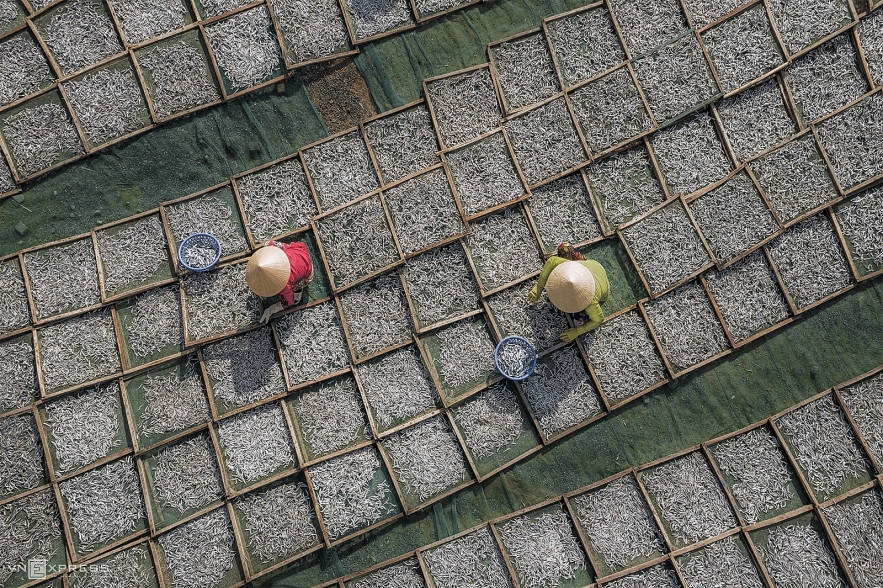 Besides salt harvesting, central Ninh Thuan Province is famous for anchovy-making in Ninh Hai District. Photo: Vn Express.
Central Ninh Thuan Province is renowned for its salt harvesting and anchovy-making industry, particularly in Ninh Hai District.
This village is situated along the road leading to Vinh Hy Bay – Binh Tien, just 20 kilometers east of Phan Rang-Thap Cham, the capital of the province. As visitors travel along this road, they will come across rows of anchovy blisters, a unique characteristic that is synonymous with the local area.
The anchovy harvest season occurs annually from April to August. During this time, the fish are carefully caught and subsequently immersed in a briny solution. Following this, they are briefly baked in the oven for approximately five minutes before being subjected to a drying process. This drying phase entails four to five hours of exposure to sunlight, during which the anchovy blisters are carefully selected and separated. Ultimately, the anchovies are weighed and packaged for sale.
Visitors to Ninh Thuan can experience salt harvesting in Ninh Hai District. Photo: Vn Express.
Ninh Thuan offers visitors the opportunity to immerse themselves in the traditional practice of salt harvesting in Ninh Hai District. This demanding occupation involves various challenging tasks. Workers must commence by storing water, preparing the ground, and facilitating the drying process before introducing saltwater into the fields.
During the annual salt making season, which occurs from January to June, dedicated workers begin their day promptly at 4 a.m. in order to complete their tasks efficiently and avoid the harsh rays of the sun.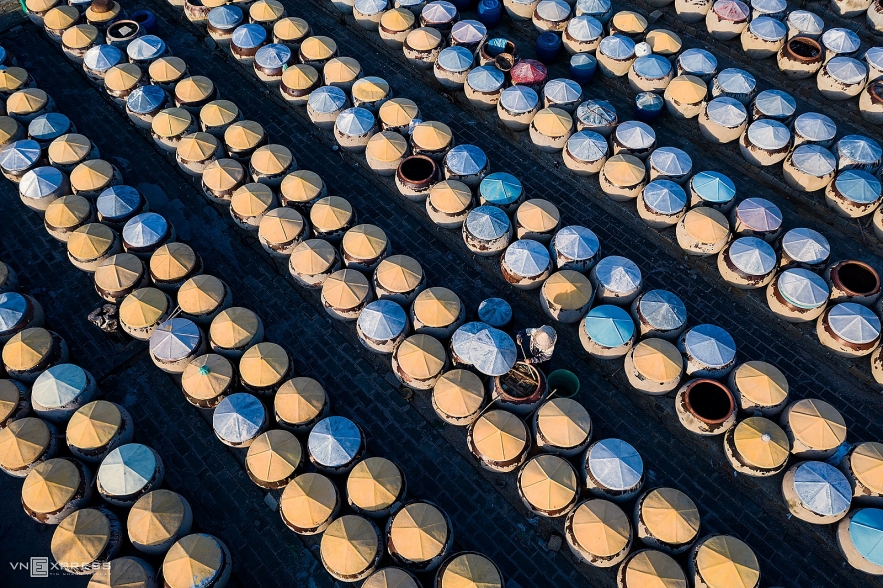 Photo: Vn Express.
Phan Thiet fish sauce, known for its production in both tents and jars, is famed for its high quality. The fish sauce is made in coastal villages such as Thanh Hai, Phu Hai, Duc Thang, and Ham Tien in Phan Thiet, Binh Thuan Province. Anchovies, a key ingredient, are combined with Phan Thiet salt, which boasts high purity and salinity levels, preventing fish from spoiling and ensuring the production of top-notch fish sauce.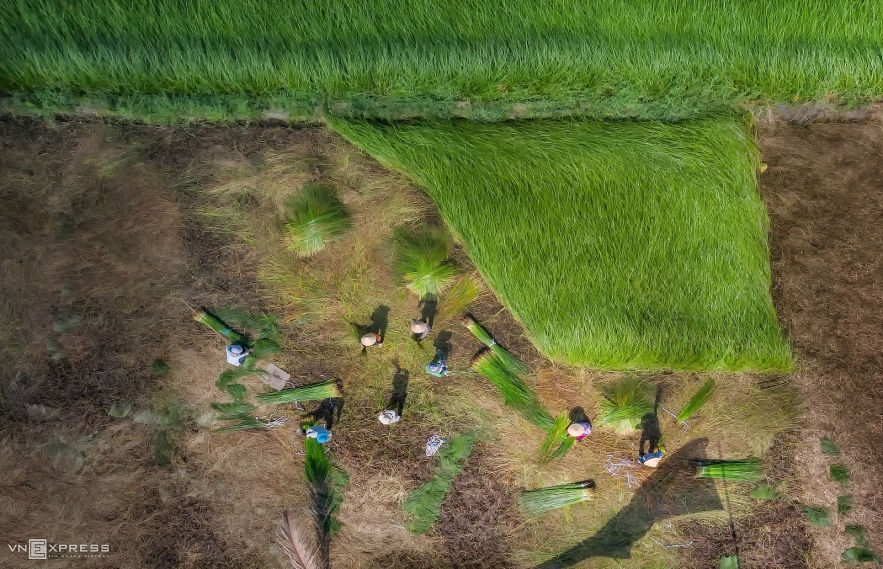 Workers harvest Lepironia articulata grass on a field in Vung Liem District of Mekong Delta province Vinh Long. Photo: Vn Express
Workers are currently harvesting Lepironia articulata grass on a field located in Vung Liem District, which is a part of the productive Mekong Delta province of Vinh Long. This specific type of grass has gained popularity among local farmers as an alternative to the traditional cultivation of wet rice in the region.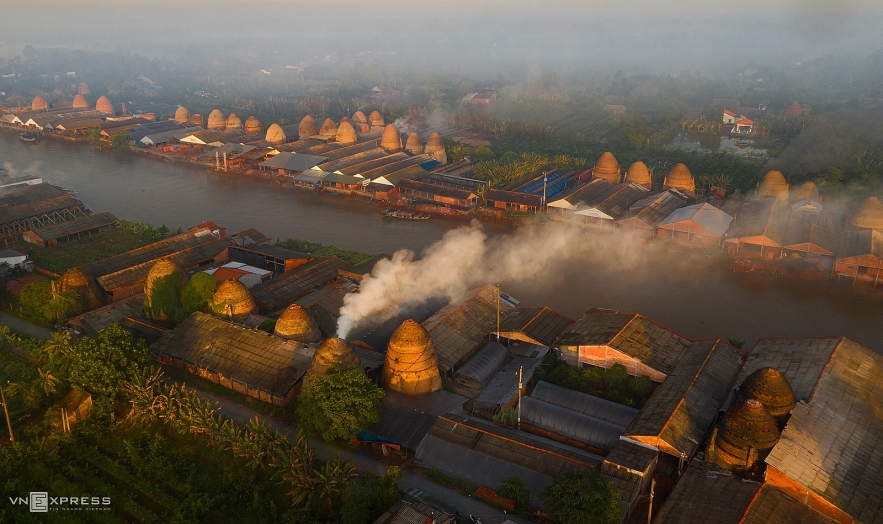 Photo: Vn Express.
Located in Mang Thit District of Vinh Long Province, this century-old village is renowned for being the largest and most renowned brick manufacturer in the Mekong Delta. With a total of 1,300 operational kilns covering over 3,000 hectares, it is a true testament to the village's importance in the brick manufacturing industry. Visit and witness the impressive scale and craftsmanship of this historical site.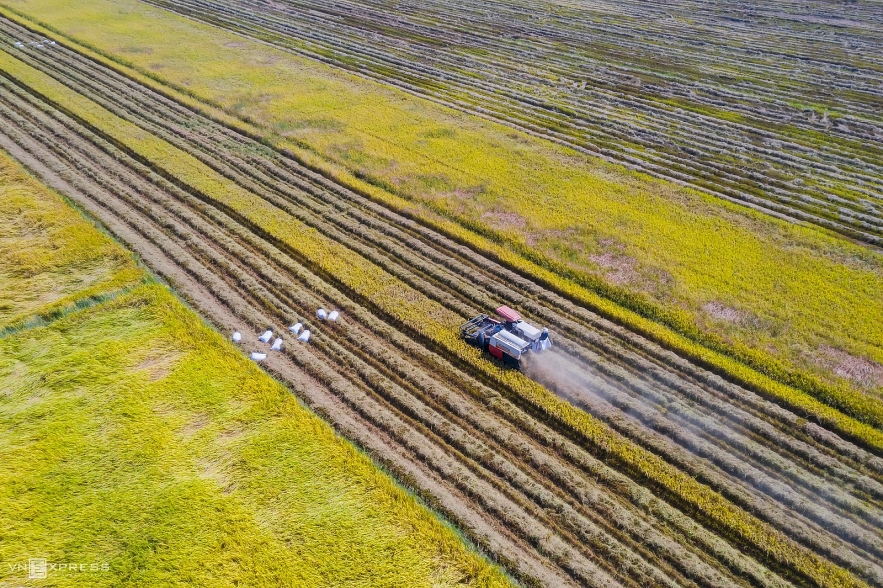 Rice is harvested using a combination reaper in a Co Do District field to the west of Can Tho City in the Mekong Delta. Photo: Vn Express.
Rice is efficiently harvested in the Co Do District field, located west of Can Tho City in the Mekong Delta region. Widely recognized as the most fertile area in Vietnam, the delta is renowned as the nation's major rice producer and has rightfully earned the title of Vietnam's rice basket. Additionally, it serves as a thriving aquaculture center for the country.