Embark on a remarkable expedition through the stunning landscapes of Vietnam, Laos, and Cambodia. Prepare to embark on an unforgettable journey as you meticulously pack your vehicle, curate a captivating playlist for the in-car stereo system, and embark on an enthralling adventure across the borders of Indochina. Discover the awe-inspiring sights and cultural treasures of these magnificent destinations, creating lasting memories that will undoubtedly leave an indelible mark on your soul.
There are several benefits to being in control of your own journey. Firstly, you have the freedom to stop whenever you desire and dictate the pace of your travel to meet your personal needs. Furthermore, when you come across a captivating scene that you'd like to capture, there are no constraints on pulling over and seizing the moment with your camera.
Preparations needed include a "passport" for your car to cross the border gates.
To obtain the Vietnam-Laos-Cambodia Cross-border Transport Permit, please visit your local Department of Transport at least three working days prior to your departure. This permit is available at no cost.
There are various border gates between Vietnam and Laos to choose from, depending on your first destination, either Vientiane or Luang Prabang.
After conducting research on travel times, road conditions, and safety, we have decided to take the Ho Chi Minh Road to Huong Son, a central province in Ha Tinh. From there, we will cross the Cau Treo-Nam Phao Border Gate to reach the capital city, Vientiane.
Another option is to take National Highway 1, which is more convenient and shorter than the Ho Chi Minh road. However, please note that this option will require payment of toll fees amounting to a few hundred thousand Vietnamese dong.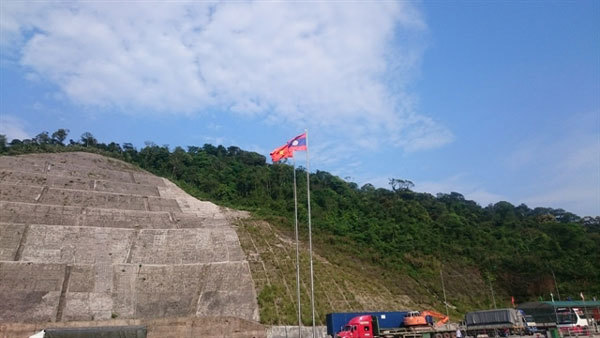 Vietnamese and Lao flags at the middle point between the border gate of Cau Treo-Nam Pao between Vietnam and Laos.
We opted for the more cost-effective route as we weren't in a rush.
It took approximately one hour to complete all customs procedures at the border gates, and then we were ready to embark on our journey along the open roads of Laos.
Driving in this area is convenient with the help of Google Maps or other offline navigation apps. The journey from Laksao to Vientiane spans a distance of 334 kilometers, with 120 kilometers on Highway 8 and 214 kilometers on Highway 13.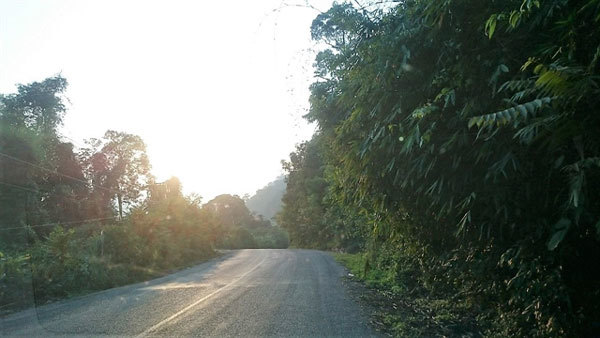 The road in Laos near the border gate. Roads in Laos are normally small and not crowded.
During our visit to Vientiane, we had heard rumors of the tranquil traffic and the remarkable silence that encompassed the city. However, it wasn't until we witnessed this phenomenon firsthand and experienced the minimal noise ourselves that we fully grasped the reality of the situation.
There were no more incessant honking of horns and the blinding headlights that used to distract us. It was evident that we had left Vietnam behind.
In the capital city of Vientiane, the traffic has noticeably increased, with a greater number of pick-up trucks on the roads. However, it is worth noting that these vehicles serve specific purposes and are essential to the functioning of the city. Despite the narrow streets, the traffic in Vientiane remains organized, with cars consistently respecting the right of way for motorbikes.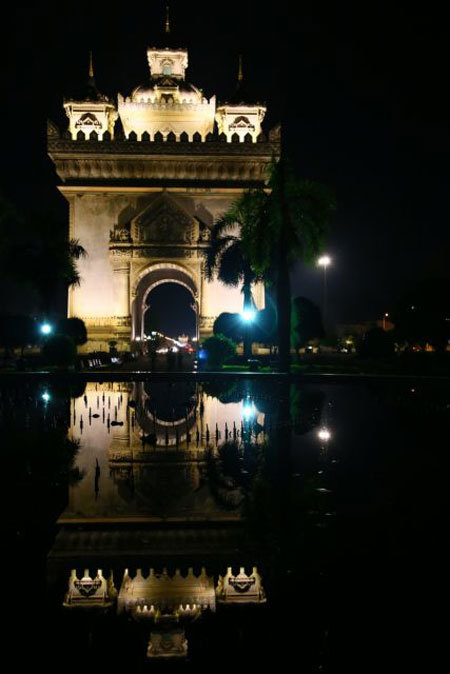 Patuxay or the Arc de Triomphe gate is a must see destination in Vientiane.
Travelling by personal car offers both cost-effectiveness and convenience, particularly in Vientiane. A trusted source informed me that taxis can be challenging to hail in this city due to a lack of modern communication systems.
Our destinations were easily located using map apps by inputting the address. With just a tap, a route was quickly planned out.
Once you arrive, prepare to be captivated by the multitude of incredible sights that await you.
Laos boasts an array of remarkable relics, including temples and pagodas. Among these, Wat Si Muang stands out with its magnificent statue of King Sisavang Vong. Wat Si Saket is also a notable site, adorned with thousands of remarkable Buddhist statues. A visit to Haw Phra Kaew is a must, as it houses ancient copper statues. Lastly, we cannot forget the iconic symbol of Laos, Pha That Luang, a grand Buddhist stupa covered in shimmering gold.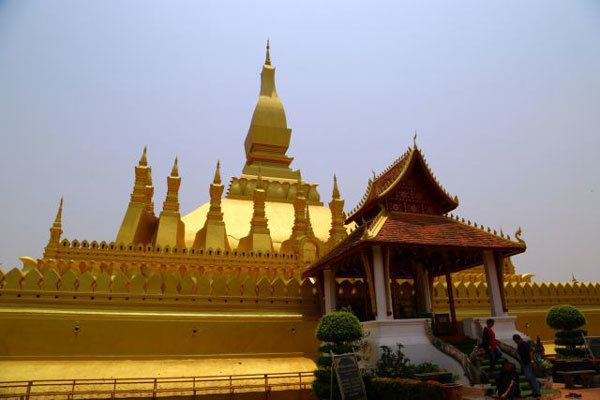 Pha That Luang is regarded as the most important national monument in Laos and a national symbol.
Experience the breathtaking beauty of Vientiane as the sun sets, with a leisurely stroll along the picturesque Mekong River. Immerse yourself in the vibrant atmosphere of the riverside night market, showcasing a rich array of local treasures. Admire the architectural wonder of the Arc de Triomphe gate, standing majestically in the heart of Vientiane's central square. Unforgettable memories await you in this enchanting destination.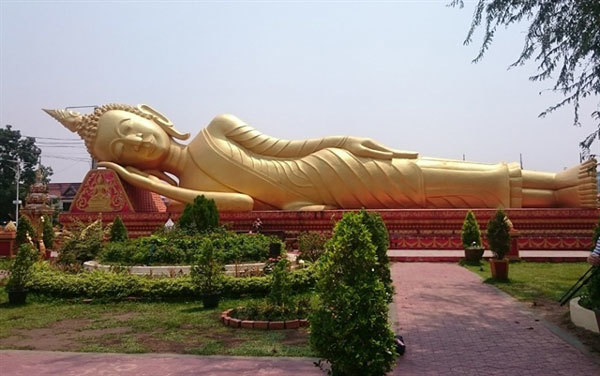 A Buddhist statue in Vientiane.
If you are planning a visit, these places are a definite must-see.
When exploring unfamiliar destinations, it is undeniable that the local residents play a significant role in shaping one's experience. Beyond the captivating attractions and ambiance, it is the individuals who truly leave a lasting impression.
In Vientiane, the locals exhibited an exceptional level of friendliness, readily welcoming us with open arms in a traditional gesture called "Nop", accompanied by a warm "Sabaidee" (Hello) and friendly smiles.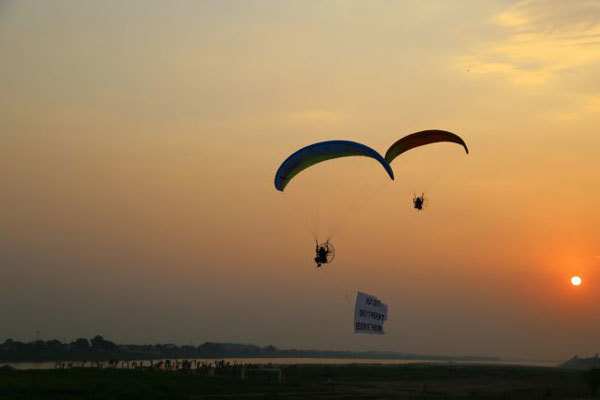 Sunset at Mekong River in Vientiane. VNS Photos Hong Minh
We were delighted to arrive in Laos and thrilled to receive such a warm welcome. Our initial impression of Vientiane was absolutely delightful, and we are eagerly looking forward to exploring the rest of the country. We can't wait to hit the road again and discover all the amazing experiences that await us.
— VNS