which took about half an hour walk and a ride in a cable car.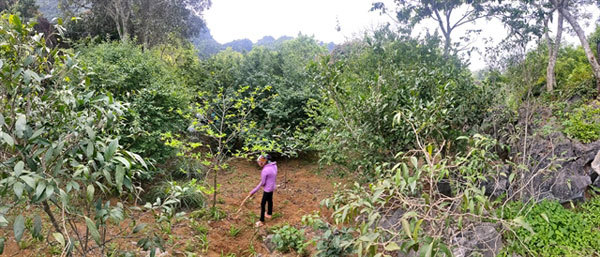 TRANQUILITY: Secluded and serene, farmer Vinh tends to her family's 2ha of land in the deep forest near the Perfume Pagoda. VNS Photo Doan Tung
The Perfume Pagoda has become a generic term to include the picturesque limestone mountains some 50 kilometres from central Hanoi set among long emerald lazy rivers and natural foliage dotted by apricot orchards, a local fruit that has been used in traditional medicine for centuries. 
"We have been trying to recreate our family's orchard," says Nguyen Cong Tinh, 60, pointing to their green orchard. "These trees are six years old and have given fruits for the second season."
Reviving the orchards
Tinh says his family has a 2ha-orchard and employs five or six gardeners to help clear grass, add fertiliser to the trees and pick fruit during harvest.
His wife, Dinh Thi Vinh, 58, is responsible for planting, taking care of and harvesting the family orchard.
"We have planted more than 300 trees of local Tuyet Son apricot," Tinh says, hoping to revive the legendary apricot orchard of the region, that has long been abandoned. 
The Vinh-Tinh family (the wife's name always come first) are one of the new families that have been reviving the land around the Chua Valley in Tuyet Son area. 
Hanoi's forest management authority oversees more than 4,000ha of apricot orchards, capable of producing more than 2 tonnes of local apricots each year. 
Among the limestone mountains, the orchards are small and scattered, with the largest orchards located in the Chua valley of about 70ha. 
In the vast limestone mountains of north Vietnam, apricots can be categorised into two groups: one planted in the lowlands and the other grown or planted up in the mountains. They are different in size, yield, aroma and minerals. A great number of apricots are grown each year in Son La, Dien Bien, Lai Chau and Lao Cai provinces, but apricots grown near the Perfume Pagoda are best because of their rarity and quality. 
The fruit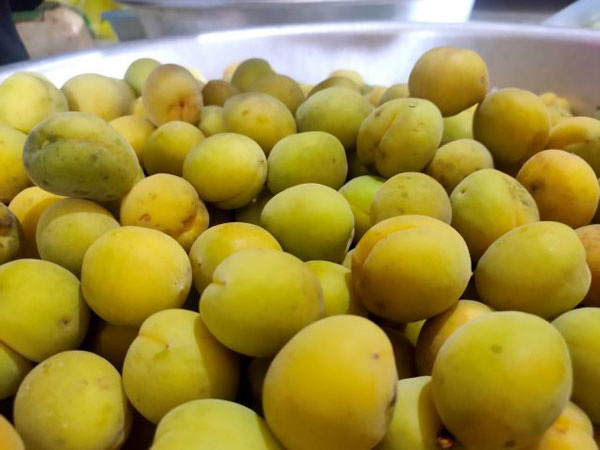 NATURE'S BOUNTY: The early harvest gives relatively large fruit, while older trees give smaller but more fragrant fruit. VNS Photo Doan Tung
For a month from mid-March to mid-April, the streets and green markets of Hanoi are full of bamboo mats with yellowish little fruit the size of a thumb. The fruit has a fine fur-like velvety layer and a rosy cheek. Though it looks nice, if you try to taste it by biting it, a strong sour flavour may surprise you. 
This is not Apricot Armeniaca, the world-famous apricots from old Armenia and the ancient land of Middle Eastern countries, where you can have fresh and dried apricots that taste sweet.
You have likely only tried Japanese apricots or Japanese or Chinese plums, or so they are called internationally. The apricot tree, or prunus mume, belongs to the Rosaceae family. Like any fruit that is subtle and can be of various use, the apricot must be cultured and marinated to extract its minerals and aroma to make summer drinks, wines or snacks, it cannot be just eaten raw. It's an acquired taste. 
In China, apricot drinks are made from sugar-marinated apricots, while in Korea and Japan, green apricot juices are made to soothe the summer heat.
China has more than 300 apricot varieties, wild and cultivated, so the use of the fruit is as varied.
In Japan, umeshu, or apricot liquor, has come to Vietnam in recent years, where a bottle of Choya umeshu with gold flakes is a valuable gift.
Whether or not the gold flakes add any value to your health, it's quite fun for the eyes to see the sparkling gold flakes flowing up and down the bottle giving drinkers the false impression of wealth. 
Another use of umeshu in Japan is the salted apricot, which ties the famous Japanese bento box together. Umeboshi, or the salted apricot, was created by the Japanese with shiso, or the purple basil. Its strong salty-sour taste adds an indispensable flavour to the Japanese bento food box. 
According to Japanese food experts, salted apricot skin helps prevent the hardening of the arteries. The umeboshi contains an abundance of natural antioxidants, which are vital for protection against common diseases and slows the ageing process of your skin.
By adding the umeboshi to your bento box, the Japanese believe it helps your liver process food, helps your body detox and also metabolises fat.
The apricot fruit and umeboshi have been found to be rich in potassium, manganese and fibre. They help reduce common digestive problems including dyspepsia, bloating and constipation.
Last, but not least, having umeboshi may help inhibit gastric ulcers by discouraging the growth of H.Pylori bacteria, the main cause of intestinal inflammation.
The juice from the umeboshi making process, called umeboshi vinegar, also has a very strong sour and salty taste and can be used as vinegar for cooking or salad dressing. 
The age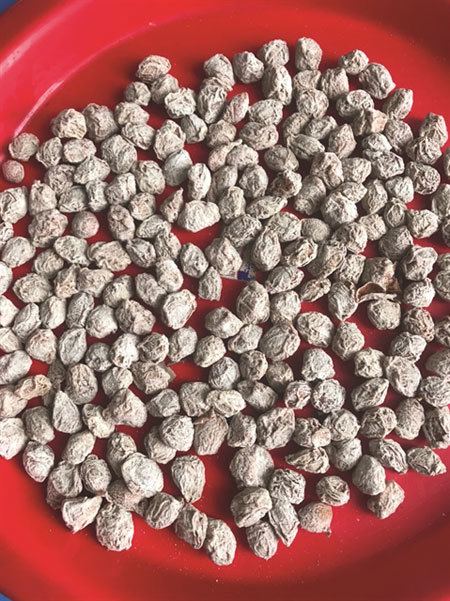 HEALING: Bach mai, or dried apricots, ready to be the main ingredients for a throat soothing concoction. VNS Photo Cong Tinh
In her lush garden under the early summer heat near the Perfume Pagoda, Vinh picks the yellowish fruit from her trees, saying she's going to let them ripen with the full aroma and flavour for a couple of days, then soak them in terracotta jars with salt.
"They are going to exude the juice, which can also be sold to make sour soups," she says. But she wants the fruit, which shall be soaked in salt for two weeks, then sun-dried and marinated under the cool shades of banana leaves until the tiny crystals of salt from a fine white cover of each fruit. 
This is called bạch mai in Vietnamese. But the general term, ô mai, or black apricot, is often used for all dried marinated apricots, and for other fruit made by the same method. 
Another way is the freshly picked method, where near ripe apricots are harvested, steamed until half done, then sun-dried three or four times. They are then soaked in kitchen-dried ash on bamboo, then sun-dried again. This process must be done nine times. When finished, the apricots should be pitch-black with scattered salt crystals on the fruit. 
Then a wide range of flavours are added to the fruit by simmering them with crushed ginger, or added with liquorice powder, to make varied flavours. 
Hanoi has a whole street dedicated to the making of traditional preserved fruit and sweets: Hang Duong, or Sugar Street. Take a walk on this small street on the same stretch from Hang Dao and Hang Ngang toward Dong Xuan Market, dip into a shop and you'll be lost in a world of hundreds of traditional sweets and ô mai.
Though precious and loved by Vietnamese and other Asians, when we tried to offer an American friend an ô mai back in the 1990s, he was so shocked by the tart taste and said he thought we were trying to do him harm!
"It's an acquired taste," he later said after gathering himself. "Don't ever try to get me to have your favourite snack again!" 
But for Vietnamese going overseas for a study or work, offering a package of ô mai can be a gesture of love and gratitude.
According to traditional Vietnamese medicine, ô mai has a mild effect that can cure a sore throat, encourage new fluid to keep your throat damp, or even help cure losing your voice. You can have it in your throat or drink a mixture of herbal medicine simmered for three or four hours.
If you get a cold, or your throat gets infected, a traditional drink of warm apricot juice with crushed ginger and a pinch of salt may soothe your throat.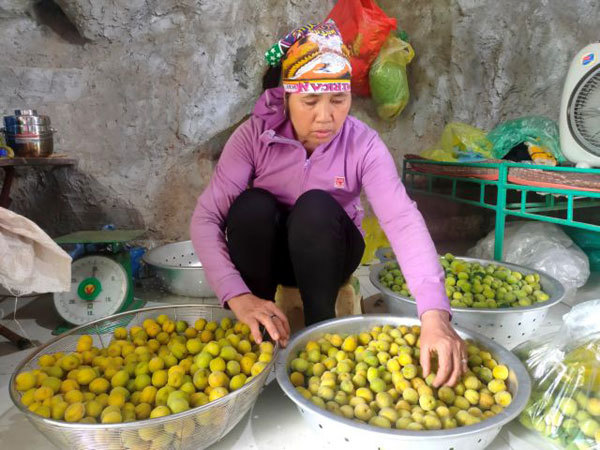 ARRANGING APRICOTS: Dinh Thi Vinh sorts the newly picked apricots. The new fruit is still big with plenty of flesh. VNS Photo Doan Tung
Vietnam's most acknowledged traditional doctor in the 18th century, Hải Thượng Lãn Ông Lê Hữu Trác, wrote in his medicinal book: "The throat is the gate into one's body. It's like the umbrella, the parasol to protect other organs inside the body, it cannot stand any other things staying on its path. The respiratory system is the pivotal gate to the body, so when your body produces phlegm, then you need to treat it right away. Ô mai has its sour taste, which can help regulate the system and thus reduces the amount of phlegm accordingly to keep your throat clean and clear."
Ô mai can be used to make traditional salted sour preserved fruit for gourmet shops in Hanoi or for traditional medicines. 
As well as this, ô mai has also left its imprint on local literary and musical heritage.
The apricot of the Perfume Pagoda has also become a literary icon with the famous poem, Cô hái mơ (The apricot picking maiden), by Nguyen Binh, the beloved country-style poet. A tune was later added to the poem to turn it into a popular song by musician Pham Duy.
"I remember tending to my family's orchard during my teenage years," says 50-year-old Thanh, who lives in the region and works in a local restaurant and homestay. 
In Vietnamese, the tender age of teenage years has always been called tuổi ô mai, which means most young girls of this age love chewing tiny bits of salted apricot, sauteed with crushed ginger, sugar or liquorice.  
Land of apricot
COOL OFF: An icy glass of apricot sweet and sour drink. VNS Photo Doan Tung
In his studies, Nguyen Tai Can, one of the country's most notable linguists, noted that the word "mơ" belongs to the ancient Han-Viet word of "mai". The large land of the Thăng Long Citadel was once called Kẻ Mơ, or Land of Apricot, where numerous apricot trees used to call home. 
The names of smaller neighbourhoods in this area all have the word "Mai" in them, which still stay until today: Bach Mai, Hong Mai, Tuong Mai, Hoang Mai, and Mai Dong.
In the Han-Viet dictionary by Monk Thieu Chuu Nguyen Huu Kha, a well-learned man of letters in the 20th century, he wrote: "Traditions have it that in ancient Han script documents, there was jargon using the apricot flowers or fruit. When it's the flower, then we translate as 'mai', but for fruit, we would use 'mơ'."
He then cited an expression, saying that: "Upon viewing an apricot forest, one feel less thirsty!"
Golden apricots are grown near the Perfume Pagoda's valleys and limestone slopes as Hanoi tries to bring back one of its valued medicinal crops. Photo dienmayxanh.com
This is a cliché, used by an ancient general, who had to lead his thirsty battalion across a long road. He was reportedly telling his soldiers to try their best to keep going because an apricot forest was ahead.  
Upon hearing about the apricot forest, the soldiers' palates were swollen with saliva, and they became even more motivated to travel, determined to get to the destination as fast as they possibly could. 
Now all the apricots of this season have been harvested and the juices to quench summer heat are ready to drink. 
Get yourself an icy salty apricot, or hot ginger apricot drink, have a salted umeboshi with rice lunch box or a sip of apricot flavoured liquor, and the chances are that you can maintain a clean and healthy throat.
VNS