National Parents' Day: History
In May we celebrated mothers, and in June we celebrated fathers. It follows that in July we can bring all our parents together and show them some appreciation all at once.
While Mother's and Father's days were first officially celebrated in the early 1900s, (and National Grandpa Day is already approaching its 40 year anniversary); National Parents' Day wasn't established until 1994. That's when President Bill Clinton signed a Congressional Resolution "recognizing, uplifting, and supporting the role of parents in bringing up their children."
According to Nationaltoday, President Bill Clinton established the holiday in 1994 by signing the Congressional Resolution that approved National Parents' Day by law. Republican Senator Trent Lott introduced the law, with the aim of "…uplifting, and supporting the role of parents in the rearing of children."
It makes sense that National Parents' Day is celebrated in July, seeing as how Mothers' Day and Fathers' Day celebrations fall in the months of May and June. National Parents' Day is observed on the fourth Sunday of July every year, with participation from citizens, educational institutions, federal- and local governments, legislative bodies, and organizations. Activities and events take place to recognize, uplift, and support the role of parents in raising their children.
The Parents' Day Council essentially promotes the holiday through ceremonies. An example is the Parents of the Year award, which honors those who set an outstanding standard for positive parenthood at local, state, and national levels.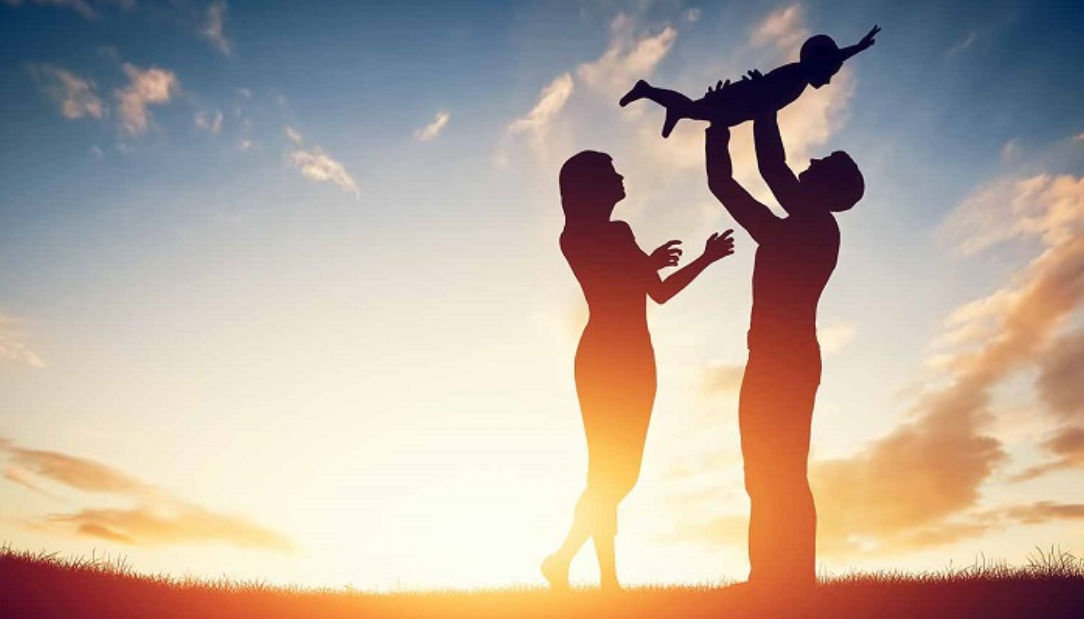 Photo: thedayspring.com.
National Parents' Day: Significance
Parents are the greatest gift of nature we have. There is nothing that comes close to taking their place in our lives. The role of parents is integral in the development of a child's life. The aim of National Parents' Day is to promote responsible parenting and encourage positive reinforcement by parents for children. It goes the other way as well, as the day also celebrates the sacrifices of parents and the unparalleled bond of love between parents and their children.
In today's society, observing Parent's day is not only meant to celebrate parenthood, but has a special significance as well. As we look around us, we can notice rapidly changing society where divorce takes place as frequently as weddings. In such a scenario where families are breaking down fast, celebrating Parent's day put forward the importance of parents in society. It also upholds the idea that a child should be raised together by both the parents. The day also helps us understand the importance of parents in a family and in the society. According to the Congress resolution, Parents Day is celebrated to "recognize, uplift, and support the role of parents in the rearing of children."
Here are importance of Parent's in our life mentioned by Jagranjosh and Nationaltoday:
– Parent's play a tremendous role in the development of child. However, their roles can't be defined and they play so many. Parents provide everything that a child need at the time of development.
– Parents help us to make educated. Parents admit us in schools, colleges for better education. For the future of their children parents do all sacrifices and reduce their own living cost.
– They provide unconditional love to their children's.
– They provide financial and moral support.
– Support of the family is an integral part of everyone's life. Family means parents, grandparents. Parents are home.
– Parents teach children the value of discipline and relationships.
– Parent's are the best friends.
– Parents are always ready to catch you when you fall.
– Parents do everything for us: When we're helpless babes in swaddling clothes; our parents feed us, burp us, and clean up our messy bums. When we're up all night crying, they hold us close to their hearts and walk around the living room singing to us. They bandage our booboos. They give us someone to rely on, shoulders to cry on, and advice about kids in our classes who bully us—then say they have a crush on us. There's nothing our parents haven't done for us. We owe them everything.
– Parents deserve a separate holiday: Moms have May, and fathers have June, so it seems appropriate that the very next month of the calendar has a day just for parents. While a relative newcomer to the slate of American familial holidays, National Parents' Day has evolved into one of our favorites. Remember that even if the person or people who raised you with love aren't biologically-related to you, they have been there during good times and bad. Let's honor them all.
– Parents are our biggest fans: Parents think we're beautiful little miracles when we're kids — and even after we've grown up. They cheer for us when we step up to bat during Little League and they encourage us while we learn to play trumpet or even, drums. Our parents mark our growth on door jambs and walls. They celebrate us every day and now it's our chance to return the love on this special day.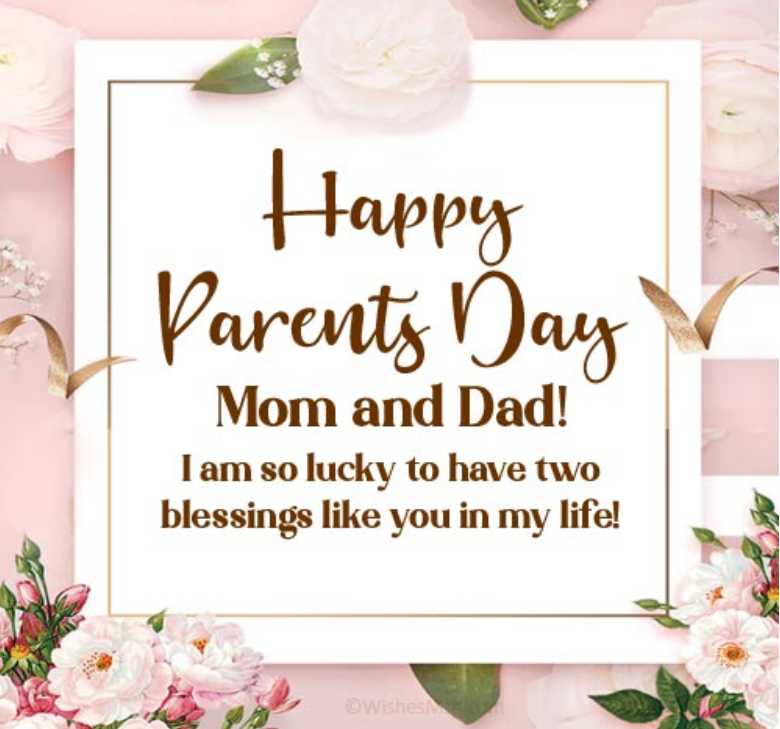 Photo: wishesmsg.com.
National Parents' Day: Celebration
Parents play a vital role in the lives of children. From our birth, parents protect, teach, provide, and serve as role models. As part of a family, we look to them for guidance. We mirror their behavior and learn to be a core part of our communities.
Throughout our lives, our parents lead us to be independent thinking individuals. As many of us know, those efforts can be challenging. The world is changing as quickly as they grow. Often the sleepless nights and worry seem endless. On this particular Sunday, we honor all parents who do everything to raise and protect their children.
Spend some time with your parents or visit someone who was like a parent to you. For those with small children, give yourself a pat on the back. Set the laundry aside and go to the park. Find a moment alone with each of your children and show them how glad you are to be their parent. Post on social media using #NationalParentsDay and encourage others to celebrate the day.
According to Gatheredagain, it isn't only in the US we celebrate Parents' Day, though. In Vietnam, it is celebrated by buying gifts and giving cards, usually customized to give it a personal touch. In India, families celebrate the day together. Children would show their gratitude by organizing a special program and giving gifts to their parents. Some schools also organize events for families to bond and play.
Parents' Day is often compared to Mother's Day and Father's Day. Although the three events are similar in honoring an important role in a family, there are still differences. For starters, Parents' Day is a day to honor the role of a parent. So on this day, we celebrate everyone who is like a parent to us. Whether it's an aunt or uncle, grandparents, adoptive parents, or biological parents, as long as they take on a role in raising us up, this is their day.
To support and celebrate this day annually, a National Parents' Day Council—scaling on a national and local level—was even formed. Local committees, made up of community volunteers, sponsor programs for the holiday. They also gather nominations for the Parents of the Year Awards hosted in Washington, D.C. Every year, the Universal Peace Federation sponsors a Parents of the Year Banquet, wherein state nominees are invited, together with Congress members and other dignitaries. The award is given to parents who embody parental love, service, and dedication not only within their family but within their local community as well.
Aside from these, families also celebrate Parents' Day based on their interests. There are those who celebrate it by joining their community's celebration while others prefer to stay at home.
Photo: wishupdate.com.
National Parents' Day: 5 Interesting Facts
Here are 5 facts about parenting that you aren't prepared for as lisetd by Nationaltoday:
You will wonder if you're cut out for this
No matter how much you prepare for it, there is no guaranteed way to accomplish parenting successfully — there will be days when you will wonder whether parenthood was the right choice.
Your kids are a reflection of you
Your quirks and mannerisms will be mirrored by your children — you'll start to see more and more of yourself in them as time goes on, and it will really make you think and want to be a better person.
You will become your parents
It's a hard pill to swallow, and it is a slow progression, but you'll find yourself saying the same things your parents did when you were younger.
Kids shows will become your favorite
Your Netflix will be full of kids' shows and cartoon movies, and you won't really mind.
Parenting can be downright heartbreaking
Whether it is a milestone your child reached or a setback, everything that your child feels, you will feel tenfold.
NATIONAL PARENTS' DAY TIMELINE
February 17, 1897: PTA Formed
The National Parent Teacher Association is originally formed as the National Congress of Mothers in Washington, D.C.
1987: "Parenting" Magazine Debuts
Its circulation reaches more than 2.2 million before its final issue is released in 2013.
August 5, 1994: National Parents' Day Resolution Introduced
The U.S. House of Representatives introduces a resolution establishing the fourth Sunday in July as National Parents' Day.
October 4, 1994: Resolution Passes
The House and Senate both sign the Parents' Day resolution.
October 14, 1994: National Parents' Day is Official
President Bill Clinton signs the resolution and National Parents' Day is born.