Banh Tom, (fried shrimp cake)
,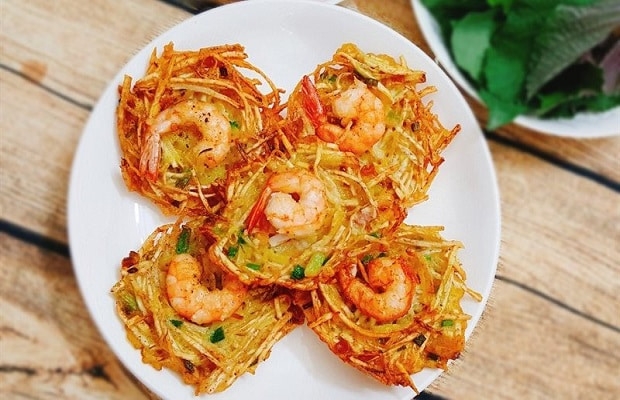 (Photo: Huong Nghiep A Au)
Overlooking Hanoi's peaceful West Lake, eponymous restaurant Banh Tom Ho Tay (West Lake Shrimp Cake) sports a no-frills setting, filled with plastic green chairs. But you're not here for grand interiors. The historic restaurant is famous for its namesake dish, made fresh daily using a special family recipe.
"Our shrimp cake is special because the recipe has been passed down through several generations, from my grandmother, to my mother, to me," Ngoc Lan Ha, owner of Banh Tom Ho Tay, tells CNN Travel. "And we've been continuing the legacy that our parents left behind."
Shops: Hang Bo street (Hoan Kiem district), West Lake (Thanh Nien street), Co Am (Dong Xuan, Hang Chieu street), Ba Loc (Nguyen Hong street).
Price: VND10,000 (US$0.4) per piece.
Banh duc nong (hot rice flan)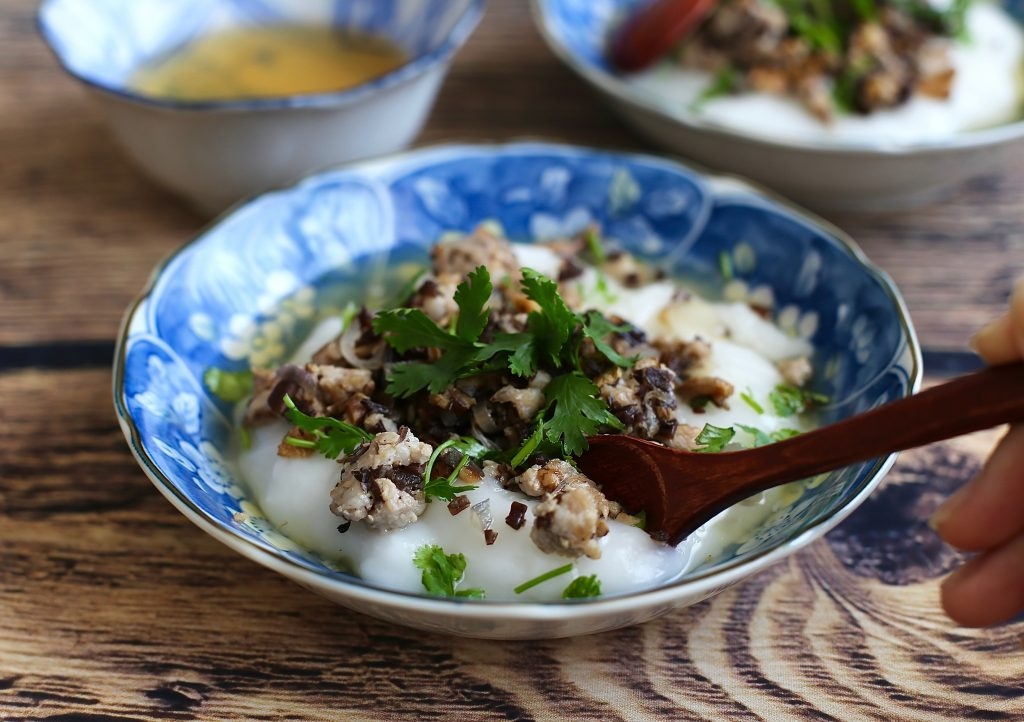 (Photo: Dien May Xanh)
Plain rice flan (Bánh Đúc) is a popular dish in the north of Vietnam, particularly in Hanoi cuisine. This rustic and simple cake is made in many places, which is served either cold or hot, commonly with soy sauce. This dish comes in various types, such as plain rice flan with coconut, pandan leaves, or peanuts. Each type has different methods of making and enjoying. All bring you a delicious dish in hot or cold days, according to Vina.
Shops: Le Ngoc Han street, Nghia Tan market, Hang Be street, C2 Trung Tu apartment
Price: VND10,000 – VND15,000 (US$0.4 – US$0.6) per bowl.
Ha cao chien (fried dumplings)
(Photo: Huong Nghiep A Au)
A bite of fried dumplings would definitely make your day. A sweet and sour dipping sauce makes the crunchy fried dumplings more flavorful and balanced.
Shops: Goc Da (Ly Quoc su street), Hien Hao (Hoe Nhai street), Trung Tu street, Oanh Oanh (De La Thanh street), Nguyen Luong Bang street.
Price: VND20,000 – VND40,000 (US$0.8 – US$1.7).
Chao suon sun (pork rib cartilage porridge)
(Photo: Top10 Diachi)
In Hanoi, it is not difficult to find a stall where porridge is sold. It might be inside a local market, in front of school gate or hidden in old dormitories with a very cheap price (from half a dollar/bowl). Porridge is usually served with pork rib cartilage, pig flock and herbs which is called "cháo sườn sụn" in Vietnamese. The cartilage is brewed until it is melted in the porridge and the savory taste of pig flock makes the whole dish become more harmonized and you will definitely be unstoppable to eat another bite, as reported by Dino Food.
Shops: Bach Khoa (Ta Quang Buu street), Dong Xuan market, Doi Can, Luong Su C.
Price: VND10,000 – VND20,000 (US$0.4 – US$0.6).