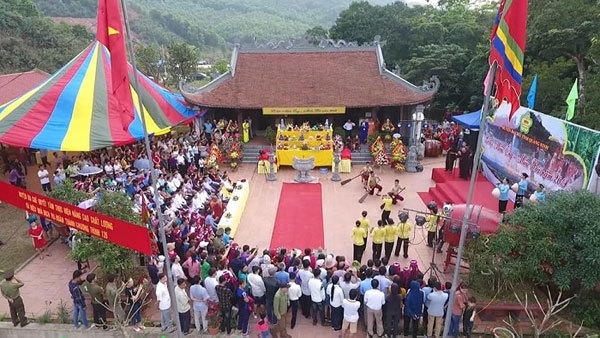 Visitors at the Mieu Ong – Mieu Ba Festival 2019. Photo: dulichbache.vn
Sitting on the bank of the beautiful Ba Che River, Mieu Ong temple was built in worship of General Le Ba Duc, who made great contributions to the historic victory against Yuan-Mongol invaders in the 13th century.
Located opposite Mieu Ong Temple is Mieu Ba Temple, which commemorates Mau Thuong Ngan (Mother Goddess of Forest), who, according to legend, is said to be the daughter of Saint Tan Vien and Princess My Nuong– the daughter of the Hung King XVIII. Mother Goddess of Forest was believed to teach the local people on rice cultivation, tree growing, and treating diseases with medical herbs.
The Mieu Ong – Mieu Ba site is a historical evidence of Vietnamese people conquering nature and expanding the territory to the north as well as the national struggle against foreign invaders.
It is now established as a popular site of religious pilgrimage for visitors to Quang Ninh Province.
The Mieu Ong – Mieu Ba Festival is held annually on the first day of the third lunar month to pay gratitude to General Le Ba Duc and the Mother Goddess of Forest as well as those who made credits to the national construction and defence.
The festival features a water procession from Ba Che River to the two temples, a statute bathing ceremony, an incense offering, and exciting folk games such as stick pushing, duck catching, and boat race.
The festival aims to promote the historical and cultural value of the site while providing an opportunity to strengthen solidarity in the community.  Nhan Dan