Four restaurants in Vietnam have been honored with a star from the renowned French guidebook, Michelin Guide. Gia, Hibana by Koki and Tam Vi in Hanoi, and Anan Saigon in Ho Chi Minh City, have been rewarded for their high-quality cooking and remarkable culinary experiences. Gia, a Vietnamese contemporary restaurant in Hanoi run by chef Sam Tran, was given the award in recognition of its menu which varies with the seasons and is inspired by Vietnamese gastronomy. Sam Tran has also been granted the Michelin Young Chef Award, which acknowledges a young chef with exceptional talent and a great potential working in a Michelin-selected restaurant. This honor will elevate Vietnamese cuisine to even greater heights around the world.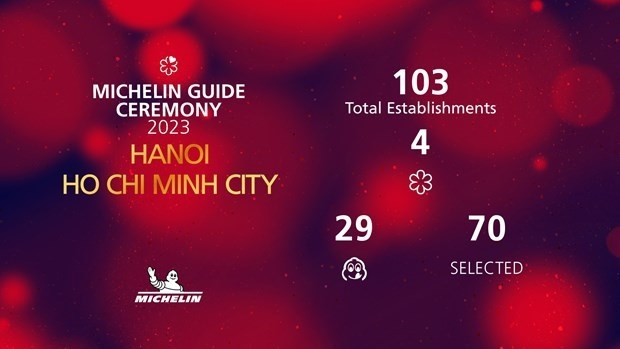 Hibana by Koki (Hanoi) is offering a unique theatrical experience with its 14-seat counter in the basement of Capella Hotel. Here, chef Hiroshi Yamaguchi skillfully and precisely cooks teppanyaki dishes that are rich in complex flavours.
Tam Vi (Hanoi) is a vintage tea house with a charming collection of traditional furniture and hand-written calligraphies. The menu is comprised mainly of northern Vietnamese dishes but also offers some central and southern options.
Anan Saigon (HCM City) is a Vietnamese contemporary restaurant with chef Peter Cuong Franklin applying modern cooking techniques to street food recipes to create enticing flavours. The restaurant was recently recognised as Vietnam's best restaurant in 2021 and 39th in Asia by the website theworlds50best.com on the 'Asia's 50 Best Restaurants' list. Cuong Franklin expressed his appreciation for the recognition, noting that it was a difficult journey to get to where they are now.
At the Michelin Guide Awards Ceremony, 29 establishments with 13 in Hanoi and 16 in HCM City were awarded a Bib Gourmand (Inspectors' Favourites for Quality Cooking at Moderate Prices). The list of establishments highlighted the popularity of street food in Vietnam, with more than half offering Vietnamese cuisine or street food. 70 other eateries (32 in Hanoi and 38 in HCM City) were also included in the Michelin Guide Hanoi and HCM City 2023 selection, featuring a mix of French, European, Japanese, Italian, Spanish, Latin American or Mediterranean restaurants.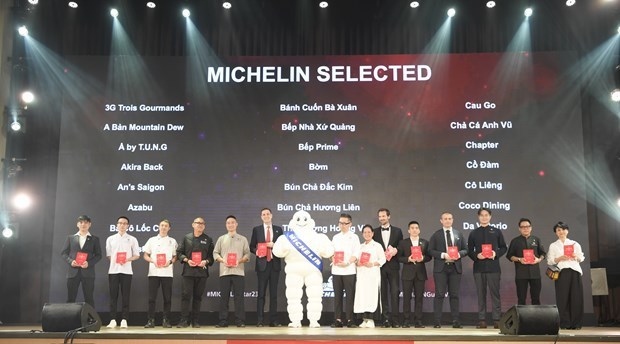 The Michelin Guide has announced its first restaurant selection for Vietnam, featuring 103 restaurants in Hanoi and Ho Chi Minh City. These include four restaurants awarded with one Michelin Star: La Badiane in Hanoi, a charming French restaurant with fusion cuisine; Truffle in Ho Chi Minh City, a French contemporary restaurant; T.U.N.G Dining in Hanoi, The Monkey Gallery Dining in Ho Chi Minh City, both with European contemporary cuisine; and Akira Back in Hanoi, serving Japanese cuisine. Other recommended restaurants include Octo in Ho Chi Minh City, serving Spanish cuisine, and Quan An Ngon in Hanoi, with its traditional Vietnamese delicacies. The Michelin Guide also presented awards to recognize talented individuals who contribute to enhancing the gastronomic dining experience, such as the Michelin Young Chef Award to Chef Sam Tran, the Michelin Service Award to Nguyen Thi Nu from Vietnam House in Ho Chi Minh City, as well as the Michelin Sommelier Award to Yu Yamamoto from Lua in Ho Chi Minh City. Gwendal Poullennec, International Director of the Michelin Guide, commented, "We're very proud to finally present the first restaurant selection in Vietnam, with a total of 103 restaurants in the Guide, highlighting four restaurants awarded with one Michelin Star. The first selection in Hanoi and Ho Chi Minh City highlights the differences and variety in what these two cities have to offer. This is just the beginning of the Michelin Guide's journey in Vietnam, and our inspectors have been more than pleased to have discovered many gastronomic spots in Hanoi and Ho Chi Minh City, and I am sure, many more in the coming years."