She proudly wears a graceful headdress and skirt she made whenever she heads into town, and she certainly stands out from the crowd.
She is one of many Lu ethnic minority women trying to preserve the age-old tradition of weaving. The Lu people in northern Lai Chau Province have long earned a living from growing cotton, raising silkworms, spinning yarns, and weaving fabric. Their sophisticatedly woven skirts are a source of pride, but the technique used to make them is in need of protection and development.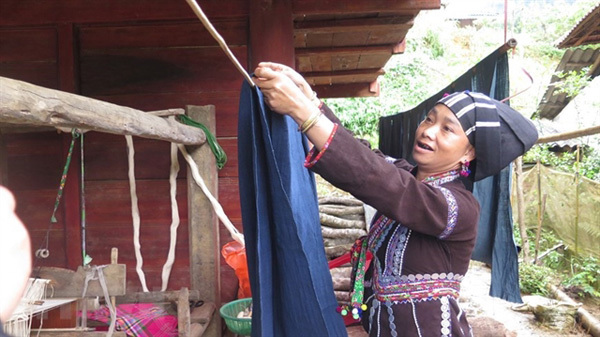 PASSED DOWN: Lo Thi Dam learned how to weave from her mother and now teaches her own daughter. VNA/VNS Photo Viet Hoang
Ancient tradition
The Lu people live mostly in Lai Chau's Tam Duong, Phong Tho and Sin Ho districts. They have developed wet rice cultivation, alongside planting maize, potatoes, and cassava. And they also grow their own cotton for the weaving trade.
Lu women have skilled hands, embroidering and weaving clothes, especially dresses, headdresses, and scarves, for the whole family. With a unique handicraft as well as their own music, folk games, rituals and festivals, a number of Lu villages around Lai Chau have become popular eco-cultural tourism destinations for foreign visitors over the last few years.
Ban Hon Commune, 10km from the provincial capital, Lai Chau City, counts among them. With more than 100 stilt houses along with a weaving trade and special cultural identity, the village attracts thousands of local and foreign visitors each year. Its population stands at about 3,000, and all families have a least one loom and are involved to some extent in preserving the craft.
The traditional costumes worn by Lu women are sophisticatedly woven and embroidered with colourful patterns depicting trees and flowers, adding to the beauty and charm of the wearer.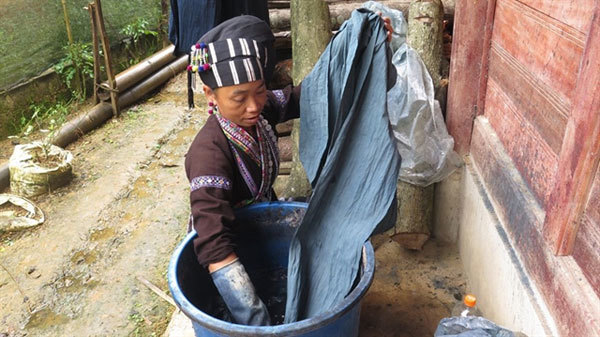 COLOUR ADDED: Cloth is dyed in natural substances before weaving. VNA/VNS Photos Viet Hoang
Lu women always wear two or three skirts, with each protruding 3 to 4cm below the one above. Each is sewn from three separate pieces of cloth: the waistband, the body, and the trim around the bottom. The waistband is woven from brown cotton, with no decorations added, while the body is woven from silk, using complicated weaving techniques, and the trim from cotton cloth dyed black with a fringe of flowery patterns.
Women's blouses are tailored in a hand fan shape, with six pieces of cloth joined together into flaps. The Lu women use embroidery, coins, or beads to decorate the shirts. Their traditional costumes are all quite colourful, but the primary theme is indigo.
Their headdresses are made of cotton and dyed indigo, and can stretch more than 4m in length and 30cm in width, with a 20-cm fringe on each end. The ends are woven with 18 alternating black and white stripes of varying sizes and decorated with yellow tassels.
When worn, the headdresses are folded into quarters lengthwise and wound around chignons (made from knotted hair) on the left side of the head. The belts are made of white cotton, and are doubled over and tied on the left side.
Men's costumes are much simpler yet still delicate, with patterns embroidered at the cuff and on the sleeves. Clothes worn every day are made of cotton and linen, while special occasions like festivals call for dressing up in silk.
The costumes of the Lu are often said to be among the most sophisticated and unique in the country.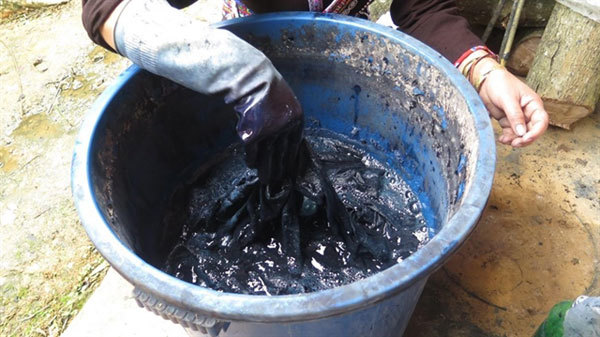 SHARED PRACTICE: Dying cloth in tree sap is a common technique among ethnic minority people in the northern mountains.
Dam said she began learning how to sew and weave from her mother at the age of 14 or 15, weaving cloth and spinning yarn at night after field work in daytime.
"We grow our own cotton so we can weave," she said. "To make our skirts, we raise silk worms. We weave white silk, dye it black and navy blue, and then cut it into pieces to make our traditional clothes. It takes a long time to make a set of clothes, because of the embroidery. The patterns in use today have been handed down over the generations."
The Lu's embroidery techniques require patience and care. A young woman's talent is noted by all, especially if she's of a marrying age. If her weaving is considered lacking, her efforts will not be appreciated by the local community. Her skill in weaving is also used to assess her role in the family in particular and in the village more generally. 
Promoting heritage
A young Lu woman used to learn how to make beautiful costumes and accessories as gifts for her groom's family. Despite the importance it has played, however, the traditional handicraft is at risk of being lost, according to 63-year-old Tao Thi Én.
"The trade has been very important for us over the years, and all Lu women used to know how to weave and embroider," she said. "Nowadays, sad to say, young people just aren't interested."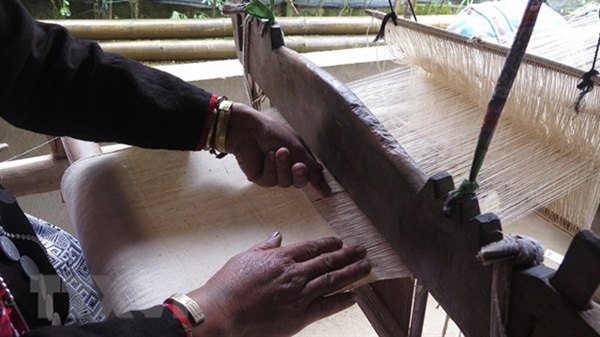 HAND-CRAFTED: Visitors can admire the weaving skills of local people. Photo vov.vn
Fabric of all types are now readily available at markets, she explained, so people don't need to grow their own cotton and follow the many steps involved in weaving an outfit from raw cotton.
Other items like blankets, scarves, and pillowcases are also easily bought, so the young locals don't care for the old trade, which takes a great deal of time and effort to do properly. A wedding dowry nowadays may include a TV set or other pieces of furniture, with hand-woven clothing no longer insisted upon, according to village elder En.
"All of this could lead to our traditional trade disappearing altogether, which would sadden many," she said.
Aware that the traditional trade is at risk, the Lai Chau Department of Culture, Sports and Tourism has introduced community-based tourism products involved with the weaving trade in Ban Hon Commune.
Local authorities have hosted training courses honouring old artisans and encouraged young people to learn the trade by providing financial support for looms or other equipment.
Tourists to Ban Hon will have the chance to learn about the history of weaving, watch artisans at work, and try their hand at weaving on the loom. They can take home what they make, as a memorable souvenir.
"The weaving trade has potential within local tourism activities, and could help develop the local economy and improve people's lives while also being preserved," said Lo Van La, deputy chief of Ban Hon Commune.
"We have established local art troupes who regularly promote traditional singing and musical instruments. We believe that together with the traditional art of weaving, other unique cultural features such as music, rituals, and food can make a trip to Ban Hon an interesting experience for tourists."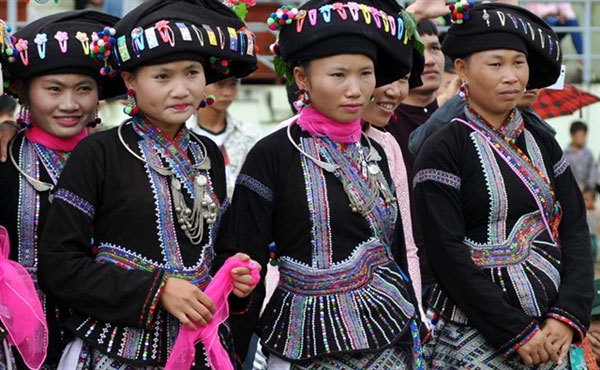 DISTINCT OUTFITS: Lu women's clothing includes headdresses, blouses, skirts, belts, and necklaces. Photo vov.vn
Deputy chief La estimates that about 70 per cent of Lu women in the commune can weave. To encourage people to preserve the traditional heritage, the local government has called on them to wear their traditional costumes every Monday.
Tao Thi Nang, 17, is one of only a few young girls who know how to weave, having begun to learn at the age of 13.
"When I was a little girl, it was exciting to watch my mother and grandmother working on the loom," she said.
"The shuttle ran so fast and the cloth gradually appeared. I'm so happy to be able to make my own dresses. I want my friends to learn how to weave as well, so we can preserve our traditions." VNS