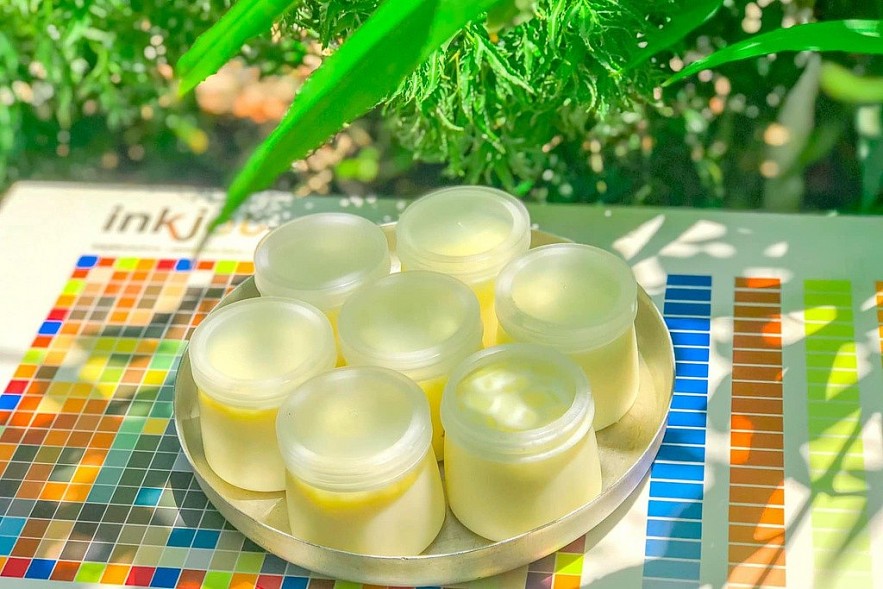 Photo: Zing News
Aloe vera yogurt
Ingredients
380g of condensed milk (one can)
440ml of plain fresh milk (two bags)
400-500gr of fresh aloe vera (one medium leaf)
314ml of lukewarm drinking water
1 bottle of store-bought plain yogurt
Small cups or bowls with caps to contain the yogurt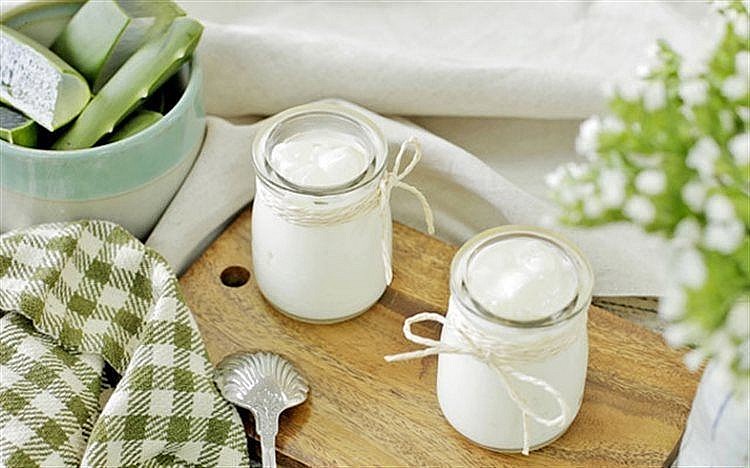 Photo: Thuc Than
Instruction
Pour boiling water over the cups and bowls to disinfect, then leave them out to dry
Peel the aloe vera, cut its meat into small cubes, wash with cool water to get rid of the gel.
Boil a big pot of water, put in some salt then pour the aloe vera meat in. When the aloe vera cubes float, put them into a bowl of cool water for 15 minutes. After 15 minutes, take them out to drain.
Mix condensed milk, lukewarm water, fresh milk, yogurt well, then add aloe vera to the mixture.
Pour the mixture into dry small cups or bowls, put the caps in.
Heat a pot of water to 60-70 Celcius degree, put yogurt cups in, make sure the water level are lower than the cups. Cover the pot and leave it for eight to ten hours.
Put the yogurt cups in the fridge.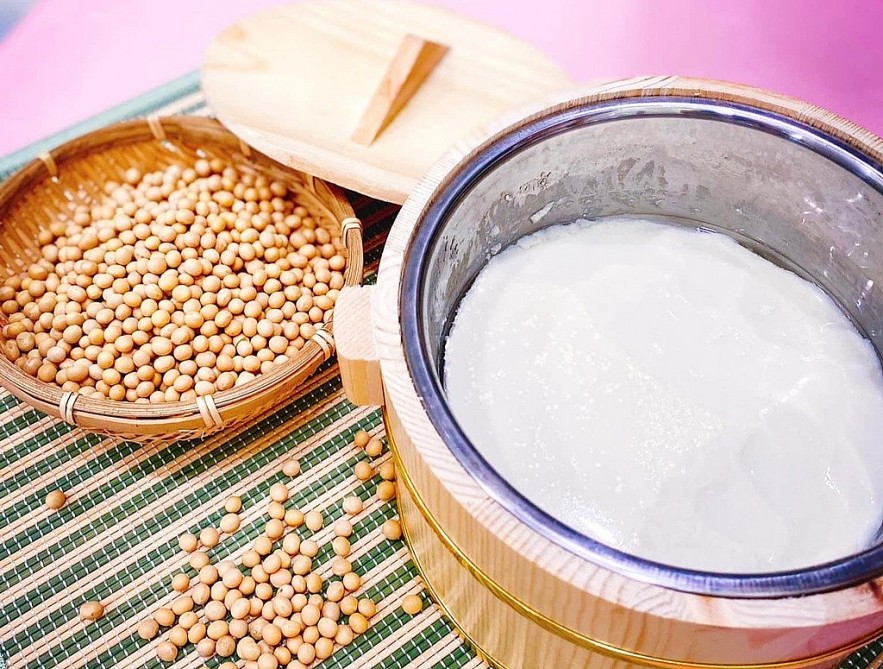 Photo: Zing News
Tao pho (Beancurd)
Ingredients
100g of soybeans
2-3 pandan leaves
1 teaspoon grape sugar
2 tablespoons rice flour
Jaggery or brown sugar (to taste)
2-4 slides of ginger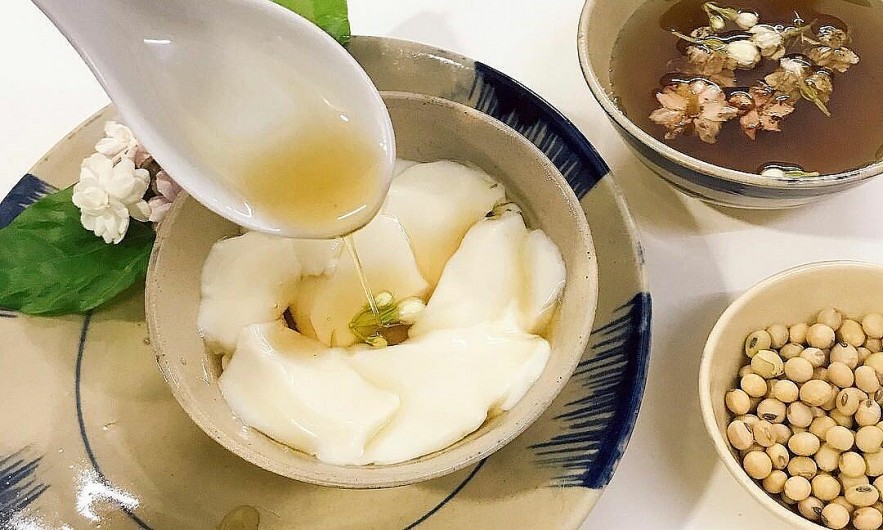 Photo: VN Express
Instruction
Wash and soak soybeans in water overnight.
Drain the beans, remove their skins
Grind the soaked beans with 1 liter of water, well filter to get the soybean milk, then boil the milk with pandan leaves.
Stir well so that the bean milk does not burn or foam.
Once the mixture boils, lower the heat and continue to cook for about 5 more minutes.
Mix rice flour with a little water, stir to dissolve, pour into the milk pot. Continue stirring until it comes to a boil again and then turn off the heat.
Dissolve 1 teaspoon of grape sugar and 5 teaspoons of water in another pot, shake the mixture to coat the bottom of the pot. You should do this step quickly because grape sugar produces a sour taste if exposed to the air for a long time.
Pour grape sugar in the pot of cooked soy milk, gently remove the foam. Put the cap on. Soy milk will become beancurd after 45 minutes to 1 hour
To make ginger sugar sauce, put jaggery, sliced ​​ginger, and drinking water in a pot, boil the mixture for 2-3 minutes or until you can smell the aroma of ginger.
Scoop beancurd into a bowl, pour the sauce all over. You can add coconut flakes or jelly to the bowl.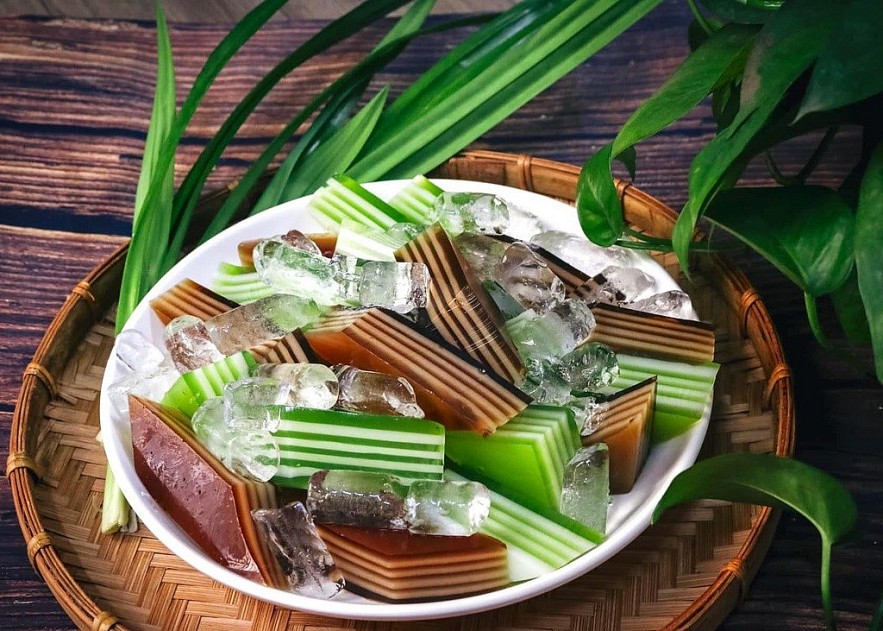 Photo: Zing News
Scrunchy jelly
Ingredients
25gr of scrunchy jelly powder
Coconut milk
500g sugar
1.6 liters of drinking water
Instant black coffee powder or brewed black coffee (to taste)
Juice of 1-2 pandan leaves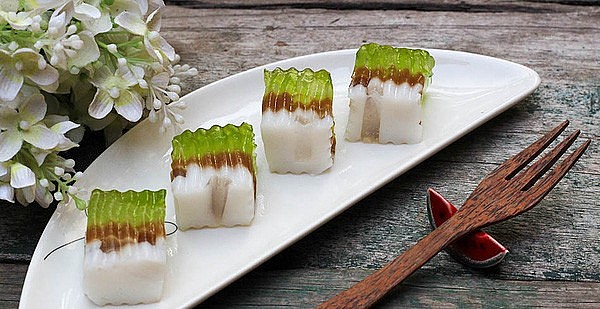 Photo: Gia Dinh
Instruction
Pour jelly powder, sugar, water into a pot, leave it there for at least one hour. Stir occasionally.
Cook the jelly mixture on medium heat for about 30-45 minutes. Stir until the mixture starts to become dense, reduce the heat.
Coffee, pandan leaves juice, coconut milk are used to create the jelly's colors. Divide the mixture into three parts, mix each part with one of those three mixtures.
Pour a layer of jelly of each color into a mold. Wait for the jelly to cool then slice it into small cubes.