When the 25-stringed Koto, a traditional Japanese instrument, was performed by artist Miwa Naitou, a Japanese model in traditional Jùnihitoe costume appeared to open the show.
is considered to be the pinnacle of traditional Japanese fashion, and is over 1,000 years old. The costume weighs about 20 kg and is one of Japan's most expensive and sophisticated costumes, largely found in museums.
In addition, innovative kimono and ao dai costumes were also introduced at the show, under different themes showing the change of costumes according to history.
Designer Kobayashi Eiko said that the similarity between the two costumes was that they both use many longitudinal cuts to enhance the graceful and elegant beauty of Asian women. At the same time, ao dai and kimono both use hand embroidery techniques to make the costumes more delicate and luxurious.
"I always try to explore and create improvements in my kimono design so that I can combine it with many modern accessories such as large necklaces and high heels. In addition, I also try to create different cuts such as fishtails, and tight waists, among others, contributing to making the kimono more suitable for modern times," Eiko added.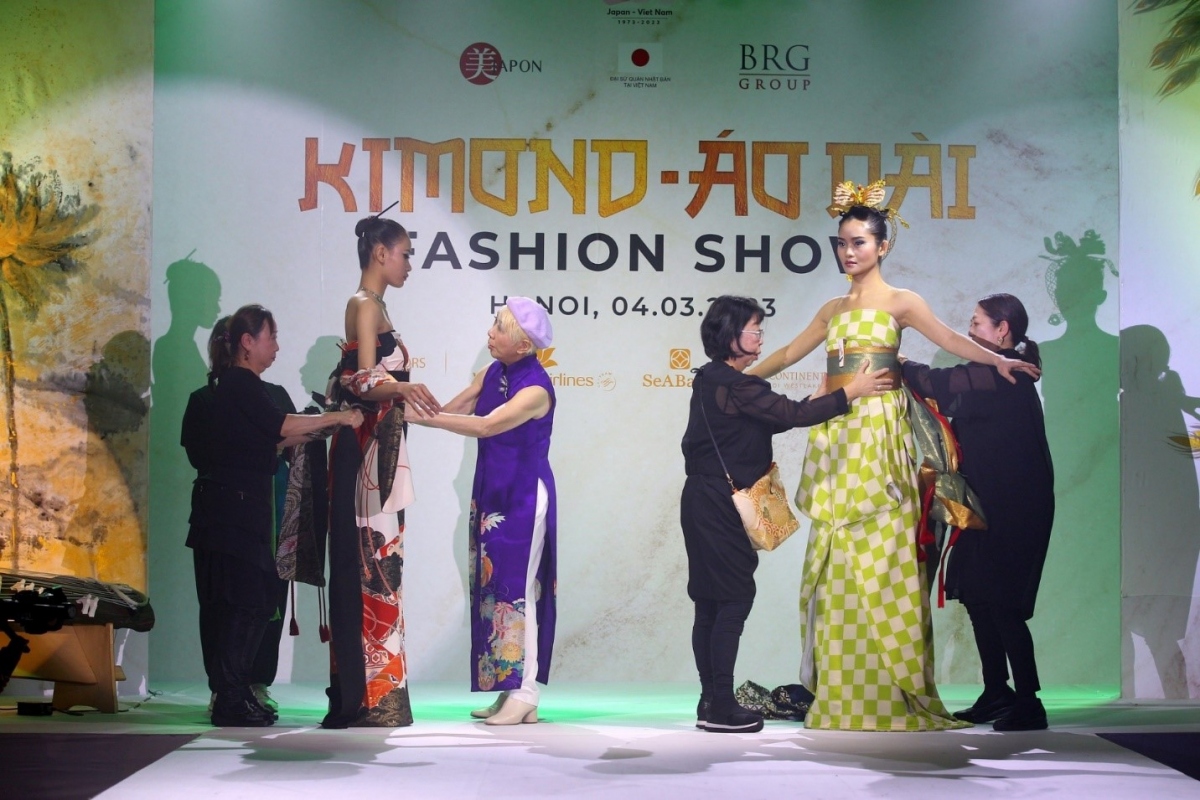 The highlight of the show came from the impressive and creative ao dai designs sewn from ancient kimono fabric that is more than 100 years old. Ao dai is made by Eiko from long-standing Japanese materials such as Japanese silk fabric from the Meiji period, Taisho period or Tatero woven fabric, combined with traditional Vietnamese silk pants.
"The ao dai collection performed on stage is made entirely of several antique kimonos. These are huge assets and valuable to my career," the designer said.
Innovative kimonos are also transformed into modern dresses, showing the diverse transformations of traditional costumes. Some designs were hand painted by Japanese artisans.
Chiharu Iseri, a Japanese woman at the show said, "It was amazing. I never expected kimono to change outside like this. It was very beautiful. The most impressive part of this show is that they put on kimono in the opposite way. I wear kimono, but I've never thought of doing it that way."
The "Kimono – Aodai Fashion Show" was part of a programme of special cultural and art exchange events to celebrate the 50th anniversary of diplomatic relations between Vietnam and Japan (1973-2023), organised by non-profit organisation Be – Japon in collaboration with the Embassy of Japan in Vietnam and BRG Group.
"Diplomatic relations between Vietnam and Japan have achieved impressive development over the past 50 years. In addition to the economy, investment, and trade, the factor that forms the foundation for the development of Japan-Vietnam relations is the understanding and sympathy between the two nations through extensive exchange activities, in which fashion is an important field", says deputy ambassador of Japan to Vietnam Watanabe Shige.
Le Huu Bau, general director of BRG Group believed that the programme will contribute to creating the foundation for Vietnam-Japan relations with an equal position, mutually benefiting each other, with Vietnam and Japan continuing to stand side-by–side, moving towards the future, and reaching out to the world.