You can purée the pumpkin or turn it into balls.
This tasty soup provides a variety of vitamins, and is sweet due to the addition of palm sugar block and creamy from coconut milk or cream. Plus, it's easy to make and the leftovers taste even better the next day.
Ingredients
– Pumpkin: 300 gr
– Tapioca flour: 150 gr
– Roasted peanuts, lightly pounded (or roasted sesame) to taste
– Coconut milk/cream: 200 ml
– Palm sugar, white sugar or rock sugar to taste
Instruction
– Peel and chop the pumpkin, boil or steam it for 20 minutes or until the pumpkin is tender, then take it out and leave to cool.
You can mash the pumpkin or cut into bite-size pieces, about one-inch cubes.
– If you want to make pumpkin tapioca balls, slowly mix the tapioca starch into the mashed pumpkin, mix well, kneading until it becomes a smooth non-sticky dough.
– Divide the dough into small even balls, round or shape as you like.
– Pour enough water to use in the pot, add sugar, and then bring the pumpkin balls to a boil. When the pumpkin balls appear to be cooked, turn off the heat.
– When serving the dish, put a few pumpkin balls and soup into a bowl, and pour a few teaspoons of coconut milk in, add shredded coconut and roasted peanuts or sesame on top. The dish can be served hot or cold.
– Instead of using tapioca flour, you can skip several steps above and just add sugar and salt into the pot. Cover the pot with the lid. Cook for 20 minutes or until the pumpkin is tender.
Open the lid, gently stir until all is mixed well. After the sugar has dissolved, turn off the heat.
Serve the soup in a bowl, garnish it with roasted peanuts or sesame (optional) and coconut cream. Your pumpkin coconut sweet soup is ready to serve.
Note
You can substitute pumpkin with kabocha squash or butternut squash. Then adjust the duration of cooking according to the tenderness of the pumpkin.
Let leftover soup cool completely before transferring it to a proper storage container and refrigerating for up to 3 days.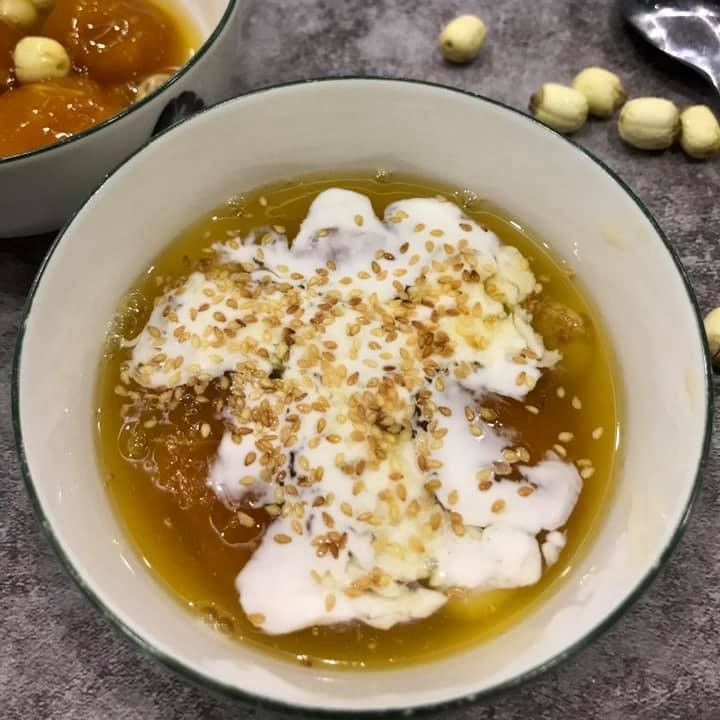 Your pumpkin coconut sweet soup is ready to serve.
How to make the coconut cream
– Pour 200 ml of canned coconut milk into a small pot, then add 2 tablespoons of sugar, 50 ml of drinking water, one tablespoon of tapioca flour, and a pinch of salt.
– Dissolve all the ingredients in the mixture, then boil gently. Turn off the heat, leaving it to cool down.