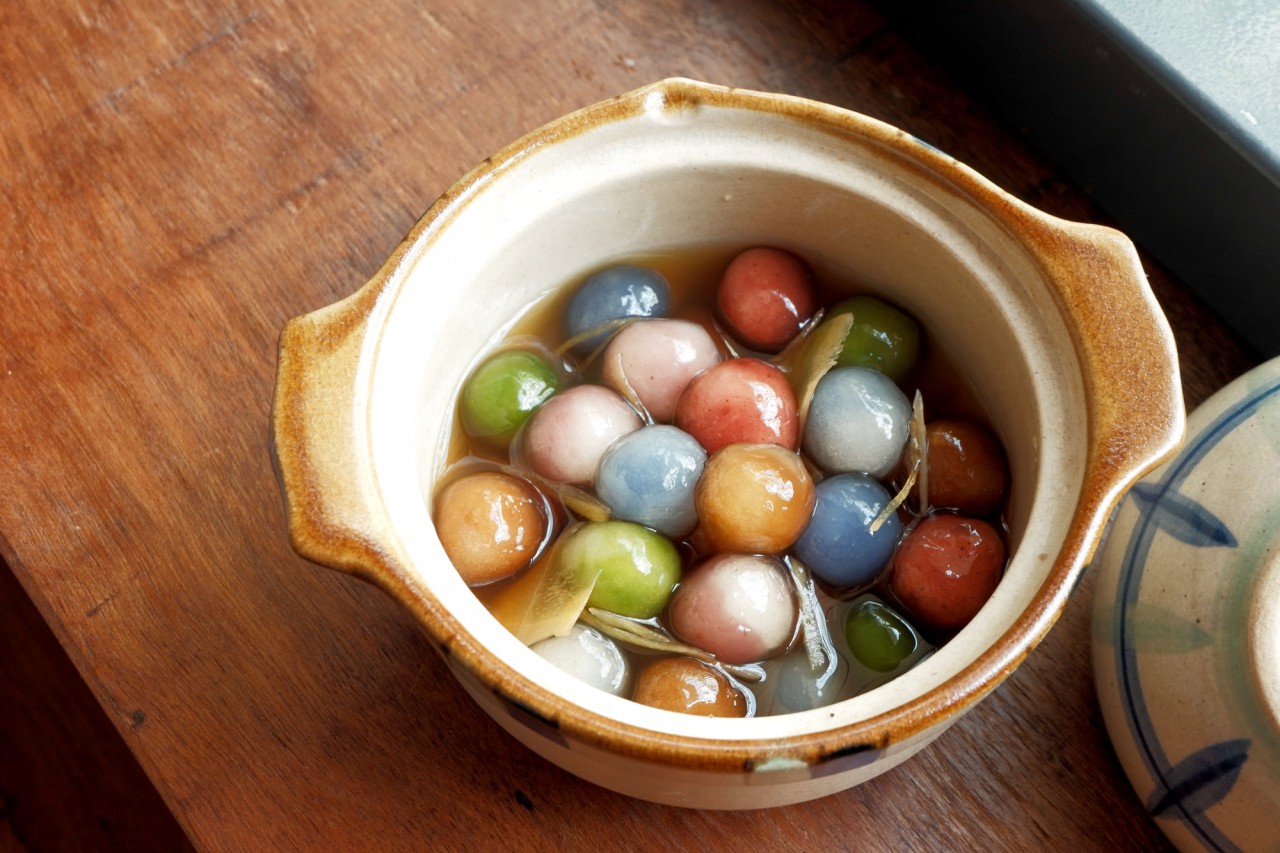 Ombre marble tapioca balls soaking in the sweet ginger syrup.
These so-called balls are made of tapioca dough, and soaked in a syrup made of water, sugar, and grated ginger root. It is best served warm and garnished with sesame seeds. Here's a simple recipe on how you can make colorful che bot loc on your own.
Bot loc is a clear-looking, chewy dumpling made of tapioca or rice flour. The dish's name is believed to have come from its clear, dumpling-like appearance, as the term bánh bột lọc loosely translates to "clear flour cake." In Vietnamese, the word bánh can mean "cake" or "bread," but can also be used as a general term for foods that are made from any type of flour, the most common being rice or tapioca.
Tourists in Vietnam can easily spot ladies selling unwrapped bot loc on sidewalks throughout the ancient town in central Vietnam. Common fillings include shrimp and mung bean. The dish is served with a sweet and sour fish sauce, crispy fried shallots, coriander, pork rinds, and chili oil.
However, today we will introduce another version which is most suitable for those craving for sweet and colourful treats.
The article used the informations and photos from a post of Huong Thao contributed to the Facebook group Yeu Bep (Esheep Kitchen Family).
Ingredients
For the ombre tapioca balls
500g tapioca flour or tapioca starch
Boiling water 100 degrees C
For the fillings: fresh coconut hard meat, rinsed with water and pat dried; and roasted peanuts
Natural food coloring:
– 1 teaspoon purple sweet potato powder
– 1/2 teaspoon beetroot powder
– 1/2 teaspoon of green tea powder
– 1/2 teaspoon of butterfly pea powder
– 1 small cup of black coffee
For the ginger syrup
3 medium slices of fresh ginger, peeled
2 pandan leaves knotted, optional
Several large pieces of rock sugar or brown sugar, to taste
500ml water
Instruction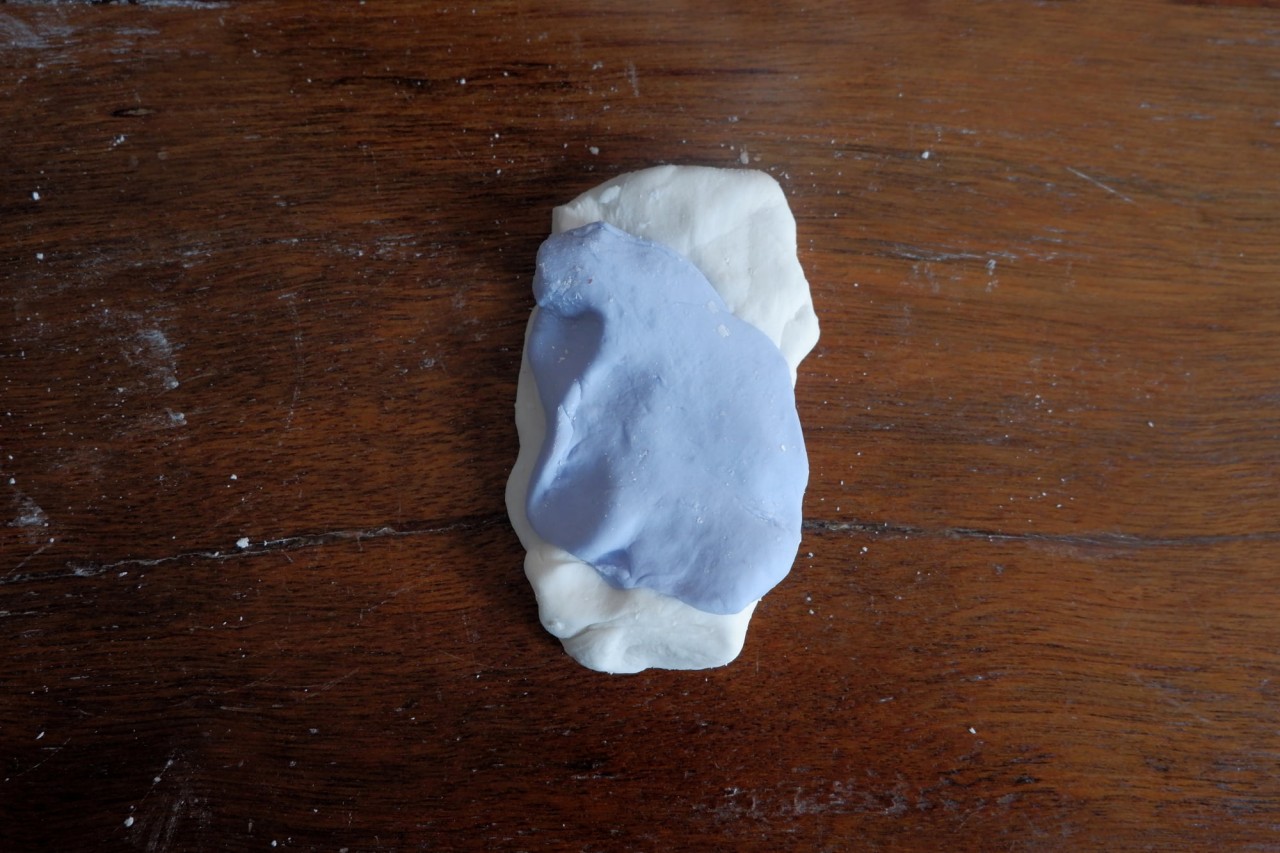 Once you have the color powder, stuff it with 50g plain white dough.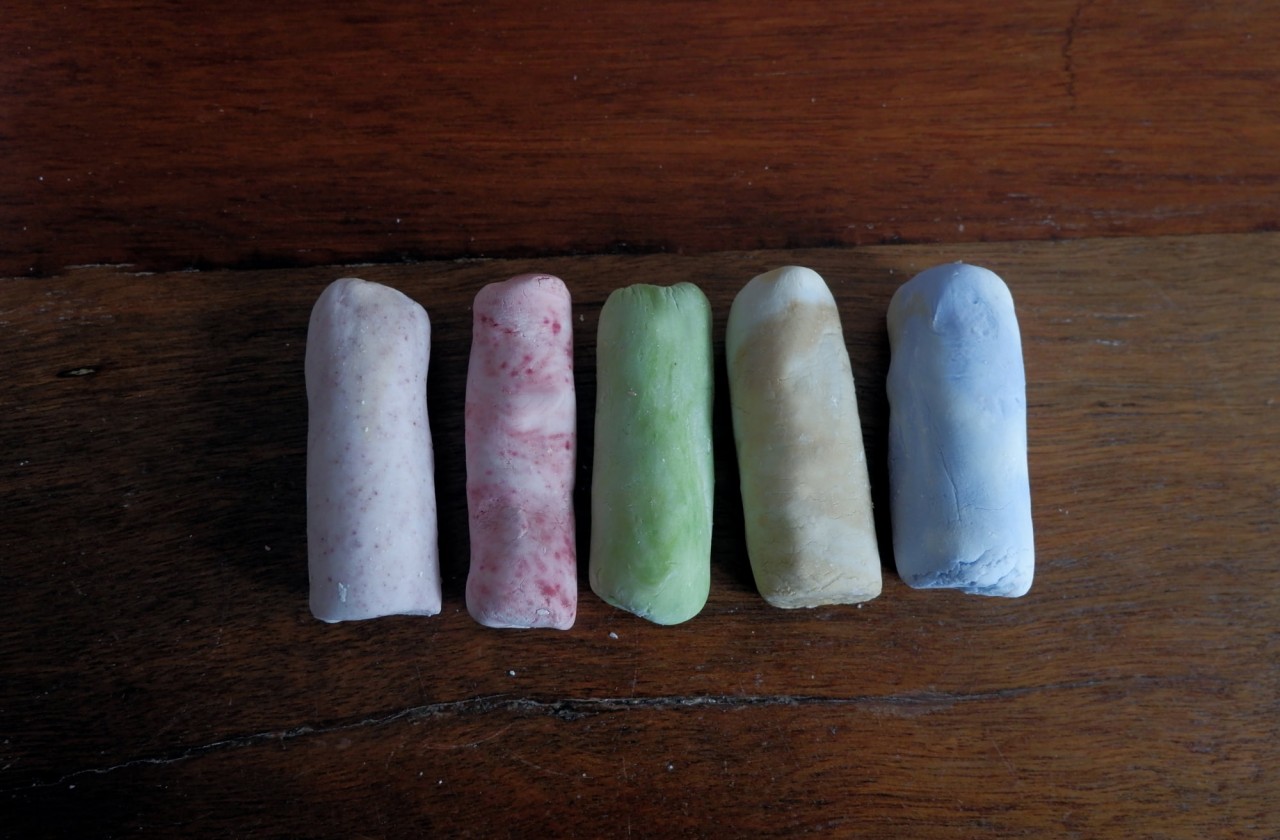 Separate the dough into 5 equal parts and add colored dough to create different ombre effect.
-Place 250g tapioca flour into a round mixing bowl.
-Pour 150ml water over the flour. Knead the dough till it has a firm yet malleable consistency (similar to play dough), adding more water by the teaspoons if necessary.
You must use boiling water, not warm water, or else the dough will not be flexible enough and will break during shaping.
-How to create an ombre color for the dough
• With powder color: mix the powder with 50g of tapioca flour, then pour 30ml boiling water in and mix well, put on the kneading table to make a smooth dough.
• With watercolor: Put 50g of tapioca flour in a bowl. Stir watercolor with 30ml water and bring to a boil (you can add a little water to reduce evaporation), then pour into a bowl of tapioca flour and knead as above.
• Once you have the color powder, stuff it with 50g plain white dough. Knead lightly to get the ombre effect, do not thoroughly knead into a monochromatic dough.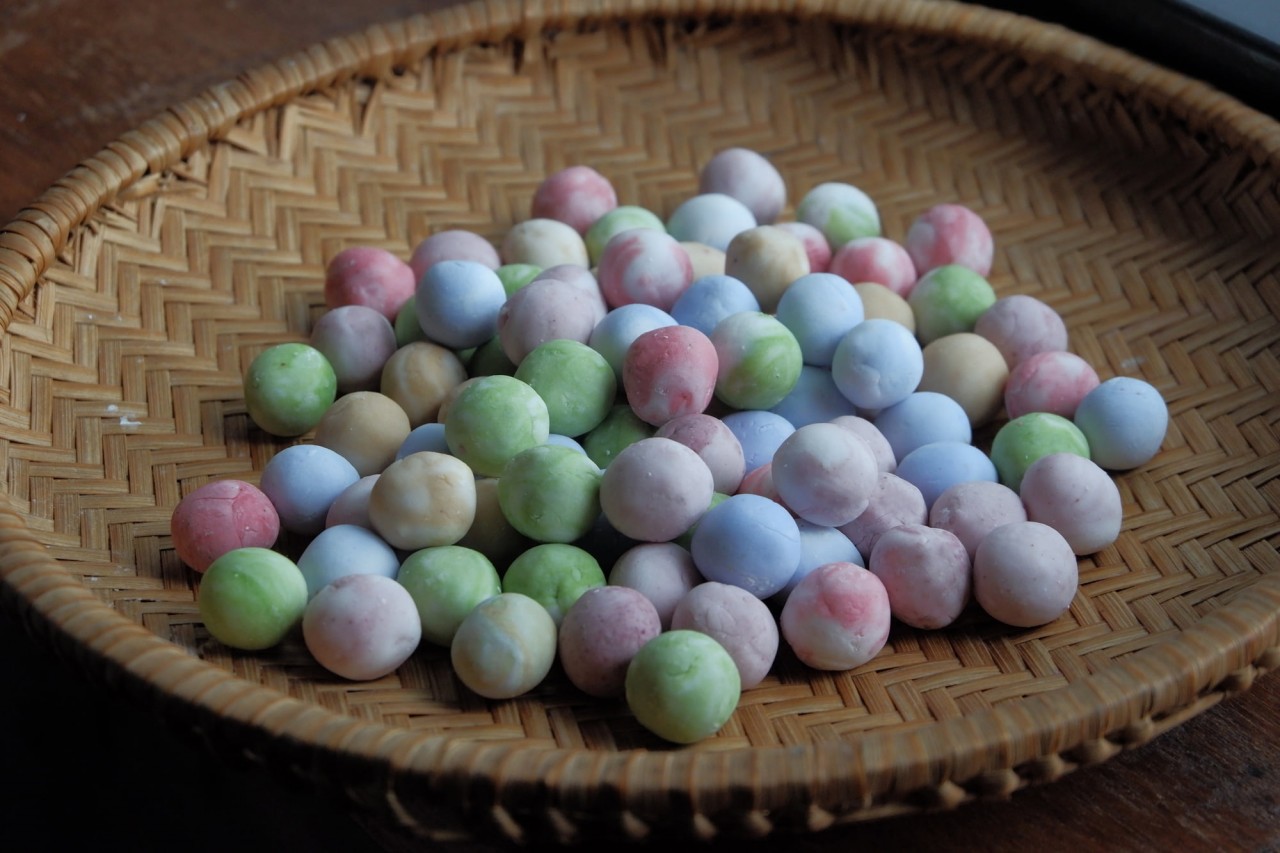 Flatten the ball into a large circle, place a piece of the prepared fillings in the centre. Wrap the dough around it, seal it well, then lightly roll into a ball with both palms.
-Dice the coconut meat into 3mm pieces.
-Divide the dough into small parts of 4g (or bite-sized pieces as you like) and flatten it into thin, round circles. Place prepared fillings in the center and wrap the dough around the ball gently. Pinch the dough together at the ends to seal the ball. Then roll the dough ball on your palms, reshaping it into a ball again. This is to make sure the dough is completely covered the ball to prevent tears during the cooking process.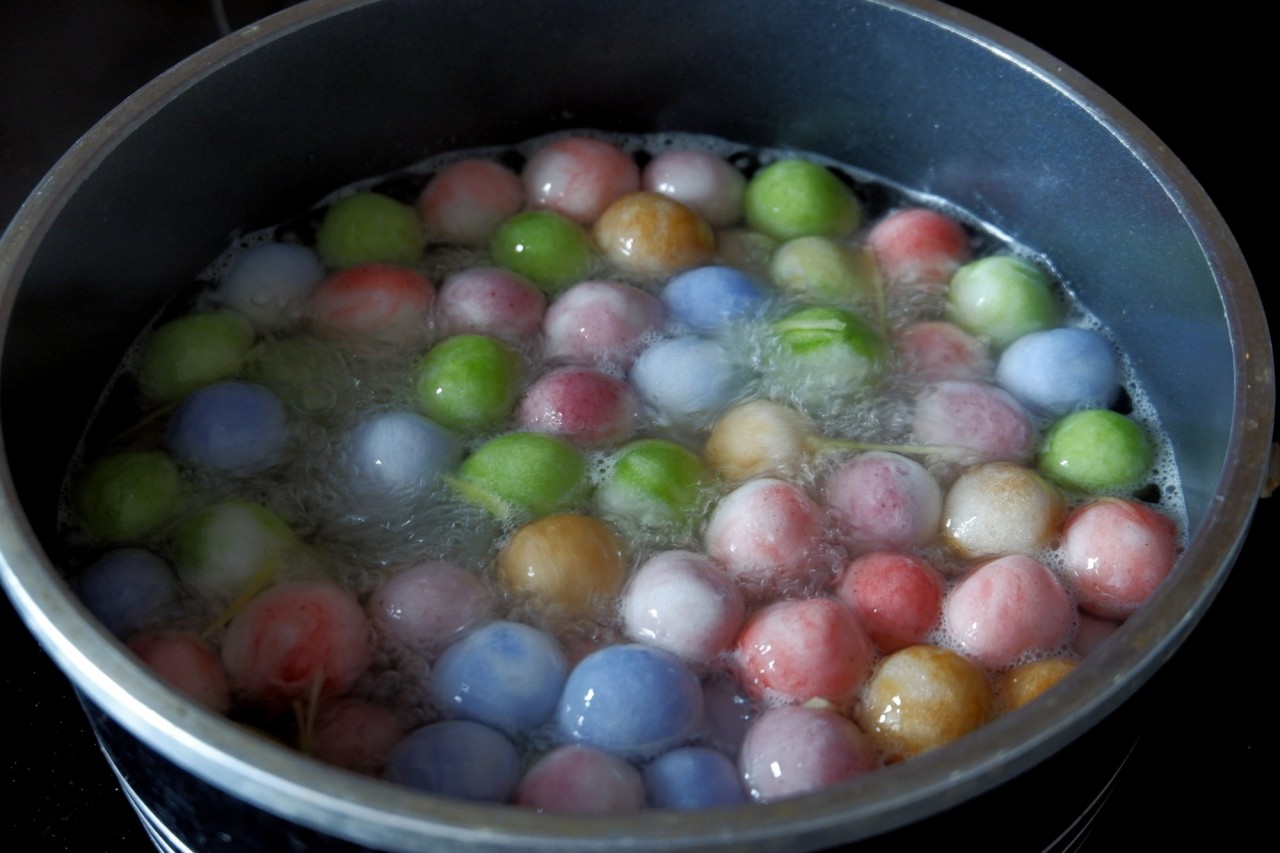 Boil the balls until they float to the surface and become translucent.
-Boil the balls for about 5-7 minutes, or until they float to the surface and become translucent. Test the dough by taking one ball out and cutting it in half to see if the inside is cooked.
-Take the balls out into another bowl of cold water so that they don't stick together.
-Fill a pot with water and add ginger, pandan leaves and sugar to taste. Place the pot over medium-high heat and bring to a boil. Once the sugar are fully dissolved, gently place the balls in the water and cook them on low-heat for another 10 minutes. This is to allow the syrup to soak into the balls and give them a sweeter taste.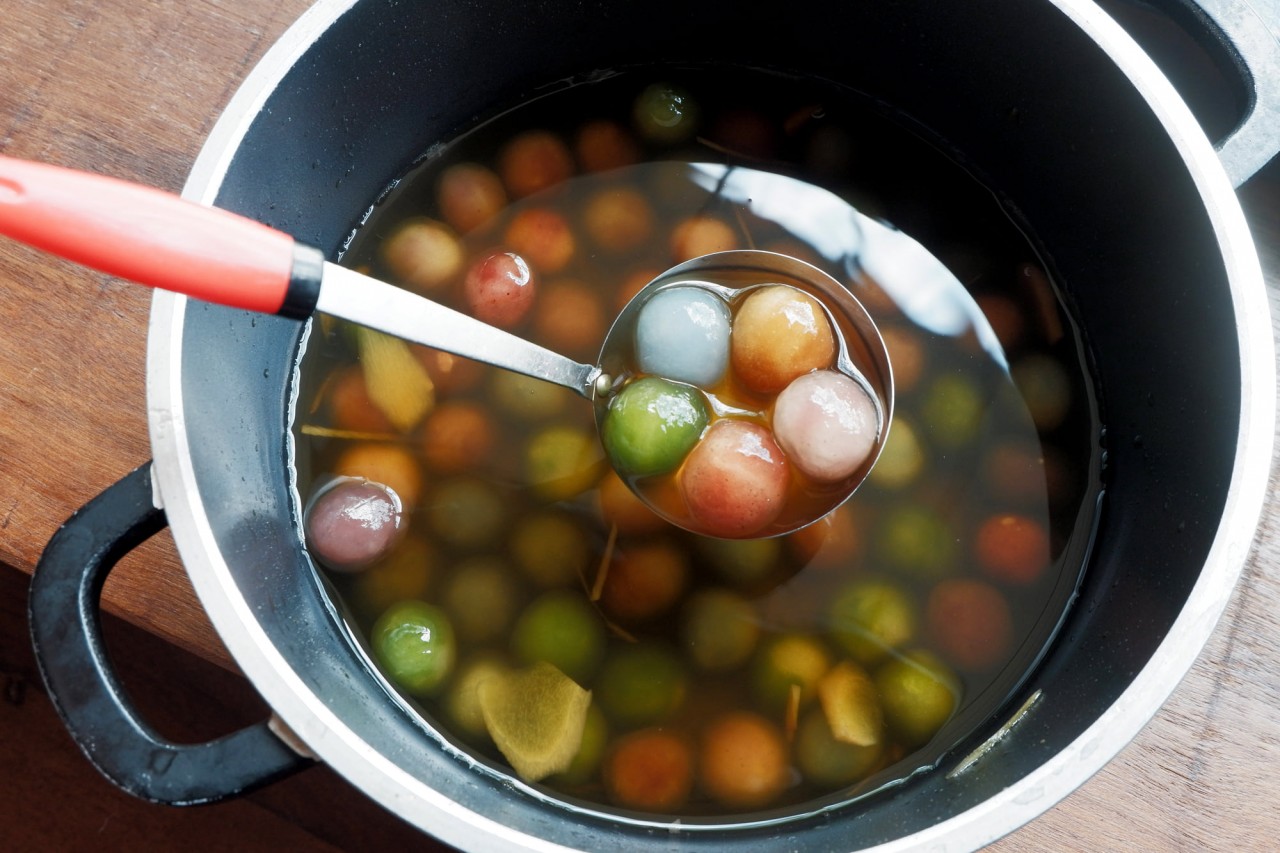 Serve the cooked tapioca balls in a bowl of the warm sweet ginger soup.
It really does not matter how you eat this dessert, you will love that soft, chewy texture of the balls in every bite and crunchy fresh coconut pieces/peanuts along with the comfort fragrant of grated ginger soaking in the sweet syrup.