The festival celebrates the full moon of the first lunar month of the year.
The city's Centre for Cultural Heritage Management and Preservation confirmed the certificate was handed over on February 5, marking the fifth national intangible heritage after Thanh Chau bird's nest, Thanh Ha Pottery village, carpentry of Kim Bong village and Tra Que vegetable garden.
The centre said the festival was a major event in a series of cultural and ritual activities among local people held during the first lunar month.
Local people often prepare for the festival from the seventh day of the month with ancestor worship and praying for peace at the communal houses of Cam Pho, Ong Voi, Japanese Bridge, Ong and Ba Pagoda and Minh Huong commune house, as well as the Fujian and Jiao Zhou clubs.
A night parade will take place in the Old Quarter with lanterns and a poet recital at Cam Pho communal house as well as folk games at Kazik Park on February 4-6.
Pagodas and communal houses will be open on two days and nights of the 15 and 16 lunar days of January (which fall on February 5-6 this year).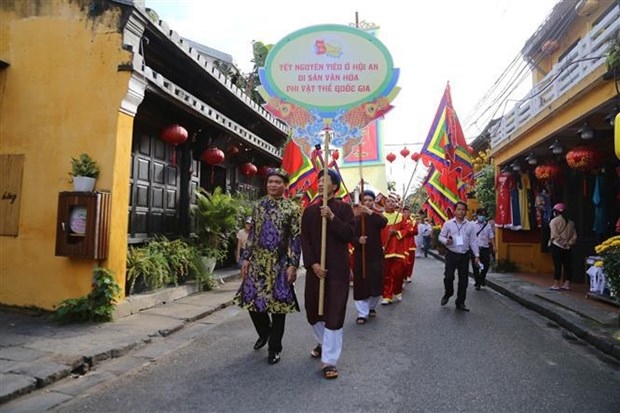 The annual festival – the most important spiritual event of the year – is an attraction to the locals and tourists with candlelit paper flowers lighting up the river.
Every family wishes for a peaceful year with vegetarian food, rice, salt, wine, aloeswood, votive ancestral tablets and paper.
In boosting tourism promotion, Hoi An city has launched an online portal – Hoi An innovation city – on metaverse and bizverse showing the UNESCO-recognised Hoi An in cutting-edge 360 virtual reality technology.
It will help visitors explore destinations of the world heritage site through virtual reality technology before travelling to Hoi An.
The Old Quarter of Hoi An was recognized as a world heritage by UNESCO in 1999 along with My Son Sanctuary, and Hoi An-Cham Islands world biosphere reserve in 2009.