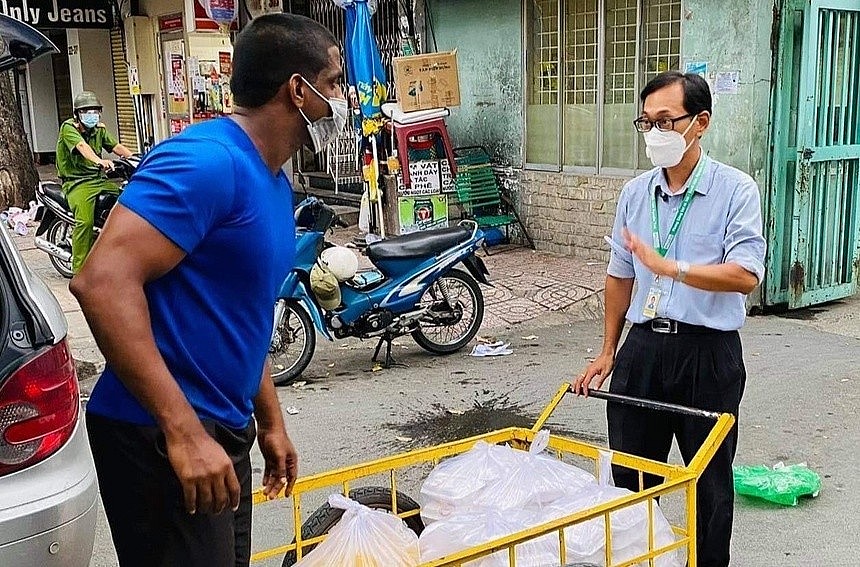 Robin Deepu (L) bringing meals to Nguyen Trai Hospital. (Photo: Zing News)
Outside the gate of Nguyen Trai Hospital (District 5, Ho Chi Minh City) during social distancing days stood a tall foreign man wearing a mask, delivering meals to the hospital staff. The man is Robin Deepu, owner of an Indian restaurant in Thao Dien (Thu Duc City). For nearly a month now, Robin has been cooking hundreds of free meals a day to gift foreigners, Vietnamese in difficulty, and frontline medical workers.

Robin Deepu's team preparing meals for people in need. (Photo: Zing News)
Giving out free meals in all districts
Robin's restaurant had to close under the government's Directive 16 a month ago. Witnessing many people struggling for each meal, Robin planned to help. Instead of firing all the restaurant's employees due to the pandemic, he gathered enthusiastic ones to together help those less fortunate.
'Many people fell into unemployment, some ran out of money, others were isolated. When the pandemic broke out, both foreigners and Vietnamese people faced a lot of financial difficulties, so I wanted to share the burden they are bearing,' said Robin.
Since then, everyone gathers in a kitchen at 6 am every morning, busy preparing more than 800 meals for both lunch and dinner. "Depending on the need for help in Ho Chi Minh City, I will prepare the corresponding number of meals. The list gets a little longer each day, so we try to bring more meals to everyone every day." Robin said.
After being cooked and packaged, hot meals are delivered to people and medical staff in blockade areas in many districts, from Tan Phu, Go Vap to Binh Chanh, from hospitals to orphanages in the city.
For Robin Deepu, every day is a new challenge. The meal giving happens during a complicated pandemic situation, so he has to pay close attention, ensure the health and safety of all team members. The whole team must keep themselves safe during every step of their work to avoid the risk of infection in dangerous areas.
As the city prolongs the social distancing order, the need for help increases. Robin's team needs more support to meet the mentioned need, so he asks his friends for their assistance.

People are happy receiving meaningful gifts in difficult times. (Photo: Zing News)
His deep love for Vietnam
Robin comes from the south of India. During a visit to Ho Chi Minh City to visit his uncle, the man fell in love with the city and decided to stay here for nearly 10 years. 'Vietnamese people are always resilient, hardworking, and eager to learn. Everyone is friendly, dedicated to helping others. They are smiley, also,' said Robin.
For Robin, Vietnamese pho bo is the perfect dish. Wishing to contribute to the diversity of Ho Chi Minh City's food, Robin opened a restaurant with typical dishes of his country. The restaurant serves both Vietnamese and expats.
Helping people in need during these days is a joy to Robin. In addition to meals, his team also prepares 50 to 100 servings of essential dry food to the most disadvantaged areas. Robin receives donations of rice, instant noodles, cooking oil, soy sauce, milk, or any other food. Sometimes he even gives vegetables and fruits to others.
'My team sometimes even receives special orders for people with difficult health conditions or religious restrictions,' Robin said. The recipients' happiness fuel the man's meaningful work.
The Indian man expressed gratitude to those who supported him to prepare, cook and deliver meals to the people of Saigon. 'It is difficult to put into words. I will try harder to help more people. I hope my small meals help them ease the burden during this difficult pandemic," Robin said.