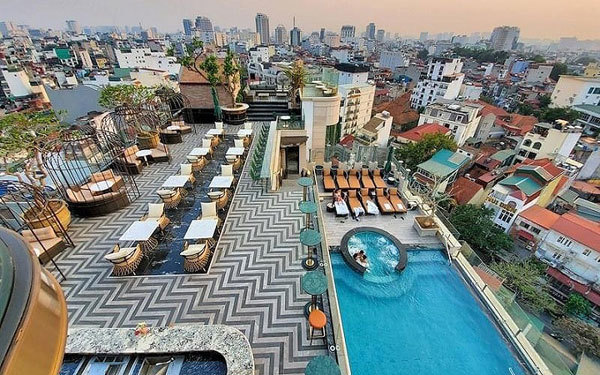 Peridot Grand Hotel & Spa in Hoan Kiem District, Hanoi, ranks sixth among the 25 hotels and resorts in TripAdvisor's 'Top Rooftop Hotels – World 2021'.
Powell made the statement in the Vietnam Market Report for Q2 2021 that was recently issued by Savills Vietnam.
The average room rate in the city stood at US$77/room/night, up 1% quarter-on-quarter (QoQ) but down 9% year-on-year (YoY), the report said, adding that the market's supply was stable QoQ with 10,120 rooms coming from 17 five-star, 17 four-star and 32 three-star hotels.
Five-star hotels accounted for 54% of the supply and had the highest revenue per available room at US$28/room/night, as businessmen and long stays remain their main guest sources.
By the end of Q2 2021, five three-star hotels with 315 rooms remained closed due to COVID-19 and for renovation. In addition, 10 hotels continued as quarantine facilities.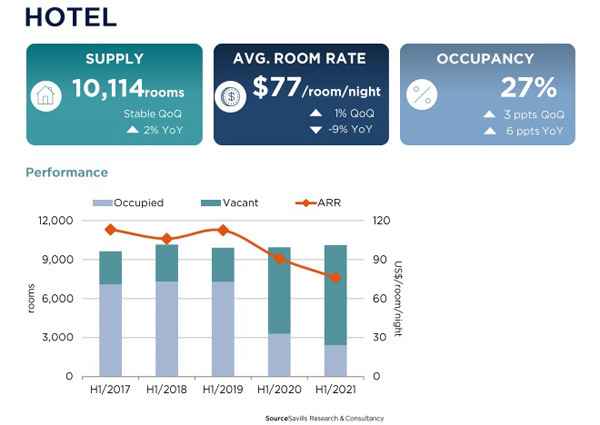 Occupancy rate of Hanoi hotels is 27% in Q2 2021, up 3% from the previous quarter. (Photo: Savills Vietnam)
The Savills report said in the first half of the year, occupancy rate of Hanoi hotels was 25%, down 8 percentage points YoY, while average room revenue was down 16% YoY. Visitors to Hanoi in H1 were mostly domestic at 2.9 million, down 25% YoY.
Although Hanoi's hotel market recovered in April, the fourth wave of COVID-19 dragged the Q2 market occupancy down to 27%. However, it was still up 6% YoY as the social distancing policy was not as strict as in the previous year, the report stated.
Savills forecast that from H2 2021 to 2023, approximately 2,600 rooms from 14 projects are scheduled to be supplemented to the market. In 2021, one five-star, one four-star and one three-star hotels are expected to provide over 500 rooms. The secondary area will deliver the most future supply with approximately 1,200 rooms from seven hotels.
Powell said that international hotels will continue to join in the market, providing nearly 1,300 rooms, or 48% of supply sources, including major brands such as Eastin, Grand Mercure, Fairmont, Four Seasons, Lotte, Dusit and Wink.
Source: Nhan Dan