On February 16 morning (the 5th day of the Lunar New Year), a series of eateries on Ta Quang Buu Street (Hai Ba Trung District, Hanoi) shut down in line with the request of the Hanoi People's Committee to close all street eateries and coffee shops to prevent the Covid-19 spread.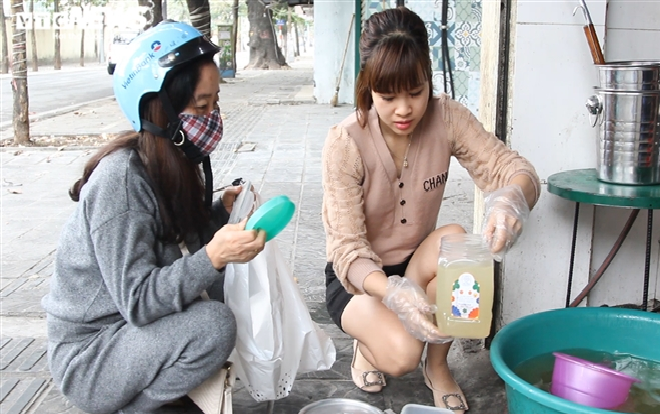 Hai's wife scoops broth to give to a customer. Photo: VTC News
Nevertheless, a Pho eatery was seen to still open. Hai, a shop owner, said that he didn't know about the city's order until the functional forces reminded him.
"Although I already prepared all ingredients to sell chicken Pho (chicken noodle soup), the Covid-19 prevention and control are the most important. My wife and I came up with an idea to presenting broth to people", Hai was quoted by VTC News as saying.
Hai added that he spent VND 1.4 million (US$ 60.83) to buy ingredients including chicken, noodles, pork ribs, etc. Besides, he had to hire 2 employees.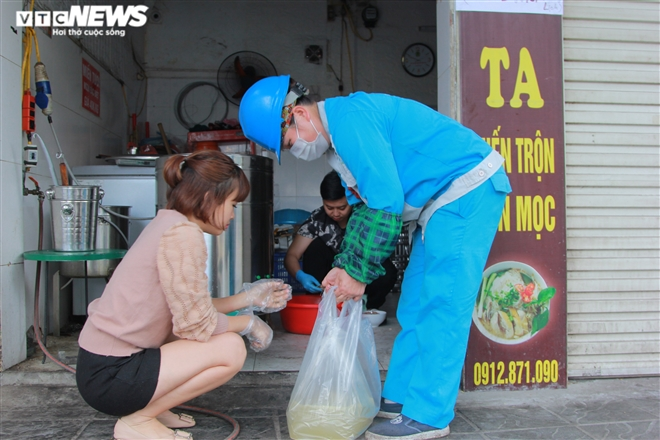 Photo: VTC News
"Though the shop has to close, I still pay each staff VND 300000 (US$ 13.04)", he said.
Hai's eatery has operated for two years, sells about 150 bowls each day, bringing an income of VND 4 million (US$ 172.52).
In April last year as Hanoi was under social distancing, Hai's family strictly abided with the request of closing the shop although they still had to rent the premises.
Earlier, Vice-Chairman of the Hanoi People's Committee Chu Xuan Dung requested to close all street eateries and coffee shops starting 0:00 February 16 as part of efforts to combat the Covid-19 pandemic.
As of February 17, Hanoi has reported 35 Covid-19 locally-transmitted cases. Most of the cases are linked to the outbreaks in Chi Linh City (Hai Duong) and Van Don International Airport (Quang Ninh).
Vietnam has recorded 719 locally transmitted Covid-19 cases since community transmissions reemerged in the nation on January 28 after 55 consecutive clean days.
The country's total Covid-19 infection tally is now 2,311 with 699 active cases. Around 128,000 are in quarantine nationwide, either in hospitals, quarantine zones, or at home.