The thousands of red flowers blooming in the middle of the Sa Pa forest have become a tourist attraction, especially with young people who immerse themselves in the sea of beautiful red flowers, mixed with the white clouds and O Long tea hills.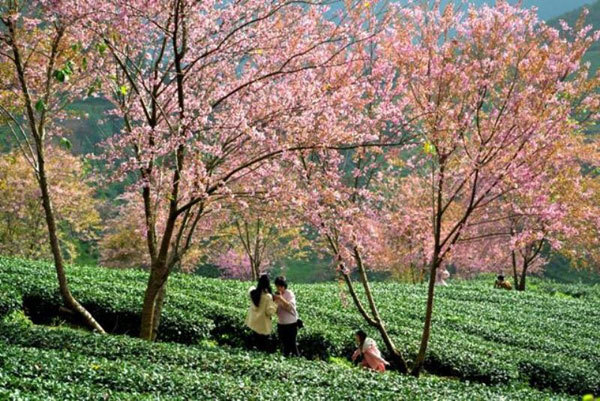 Gorgeous cherry blossoms in Sa Pa Town.
Sa Pa is located at an altitude of 1,600m above sea level, with a cool and pleasant year-round climate, suitable for growing cherry blossoms. The flower is grown in many places in Sa Pa town, such as Ham Rong tourist area and others including Hoang Lien National Park, and in the centre of town.
Cherry blossoms are characterized by two colours: pink and white, but each has a different density. With the pistil in the centre, petals are arranged in layers around them. As each flower season comes, the green leaves fall off to make room for the flowers to bloom. Flowers bloom in clusters, each cluster helping to form a beautiful pink canopy across the majestic Sa Pa mountain landscape. Cherry blossoms in Sa Pa have three main colours: pink, red, pink and white. Cherry blossoms in Sa Pa bloom simultaneously bloom from the beginning of November and spring, around March-February.
In Sa Pa, the cherry blossoms planted on the road along the central tourist lake in front of the office of the People's Committee of Sa Pa town are those donated by the Vietnam – Japan Friendship Association and the European flower garden belongs to the Ham Rong mountain eco-tourism area.
But the most beautiful is surely in O Long Tea Hill, in O Quy Ho ward, about 10km from Sa Pa town, next to Highway 4D to Lai Chau. This is the most popular destination in Sa Pa today. The popularity of the tea hills is spreading throughout the mountains and forests as in the middle of the naturally green visage of the tea hill are rows of cherry blossom trees in both their youth and blooming cycles.
Under the golden rays of sunlight, the buds of the young cherry leaves display their bright orange-yellow and purple-pink flowers and illuminate a peaceful sky. On beautiful days, clouds floating on the tea hill add to the romantic vision.
Quoc Hong (Nhan Dan)