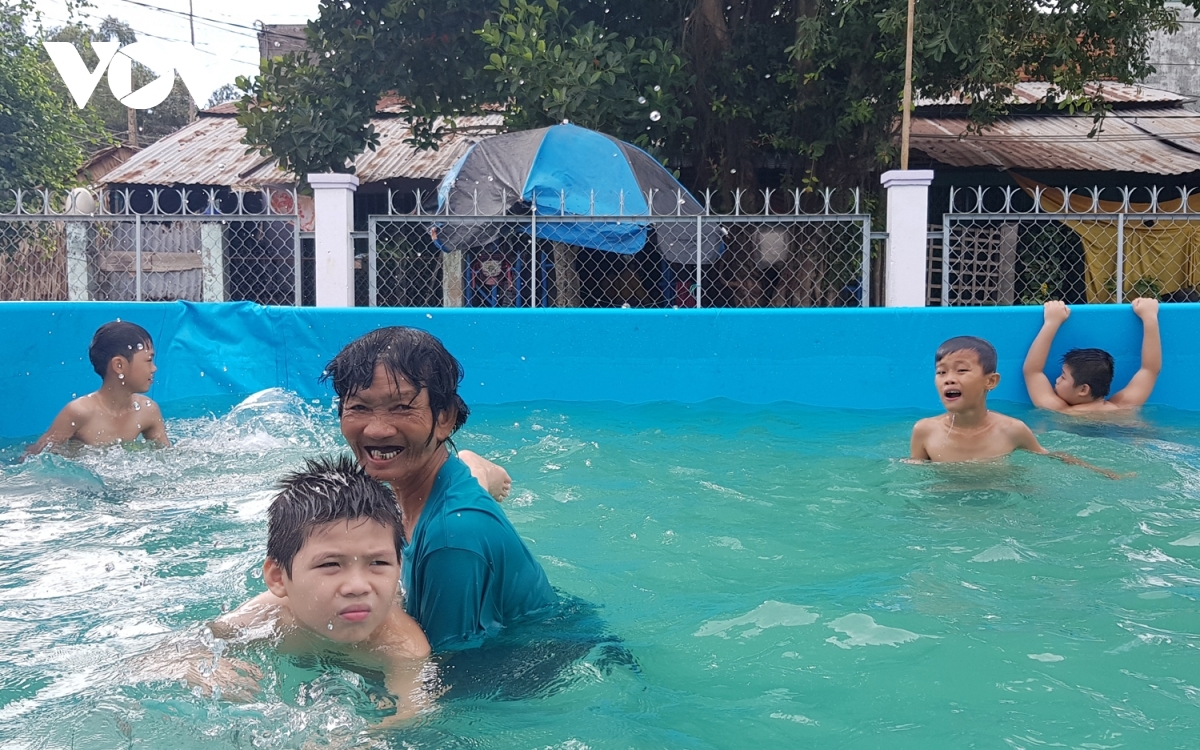 63-year-old Tran Thi Kim Thia teaches thousands of children to swim. Photo: VOV
Tran Thi Kim Thia (known affectionately as as Ms. Sau Thia) used to sell lottery tickets for a living, but has taught about 3,800 children to swim for free in Dong Thap since 1992. Ms. Sau Thia does not accept tuition fees so that families, rich or poor, can send their children to her 'classes.'
When students enter the summer vacation, the swimming classes of Thia in Hung Thanh commune, Thap Muoi district, Dong Thap province, begin. Thia goes from house to house of children aged 7 to 15 who do not know how to swim, encouraging their parents to send them to her swimming lessons.
Le Thi Ha has to take care of three grandchildren, aged 4 to 9, on her own, so has no time to teach them how to swim. Although she knows that the river in her hometown is dangerous, she has to just accept the risks. Knowing the situation of the single family, Thia went to the house to persuade her to let two eldest children go to the free swimming lessons. If the family does not have time to pick them up, Thia takes the children home herself.
Ha said that she is happy knowing that her two grandchildren will be safer when the flood season returns.
Thanks to her love for children, Thia is always patient, guiding them through each movement. The teaching time is not limited either, and she teaches them until they can swim; only then does the course end. In nearly 20 years of teaching, Thia has taught more than 3,800 children how to swim and protect themselves from drowning.
Tran Minh Tan, also of Hung Thanh commune, said that when the flooding season returns, she and her friends in the neighborhood often go fishing, catching mice, and picking wild cotton, but she can't swim, so it's scary. She asked her father teach her but she still cannot swim. "I joined Ms. Tran Thi Kim Thia's swimming class, and learned how to swim after only a week or so," she says
"Ms. Sau taught me every movement carefully. My neighborhood has many friends like me who learned to swim from her. I know how to swim and stay calm. Every time the flood season comes, I am not afraid of the water anymore."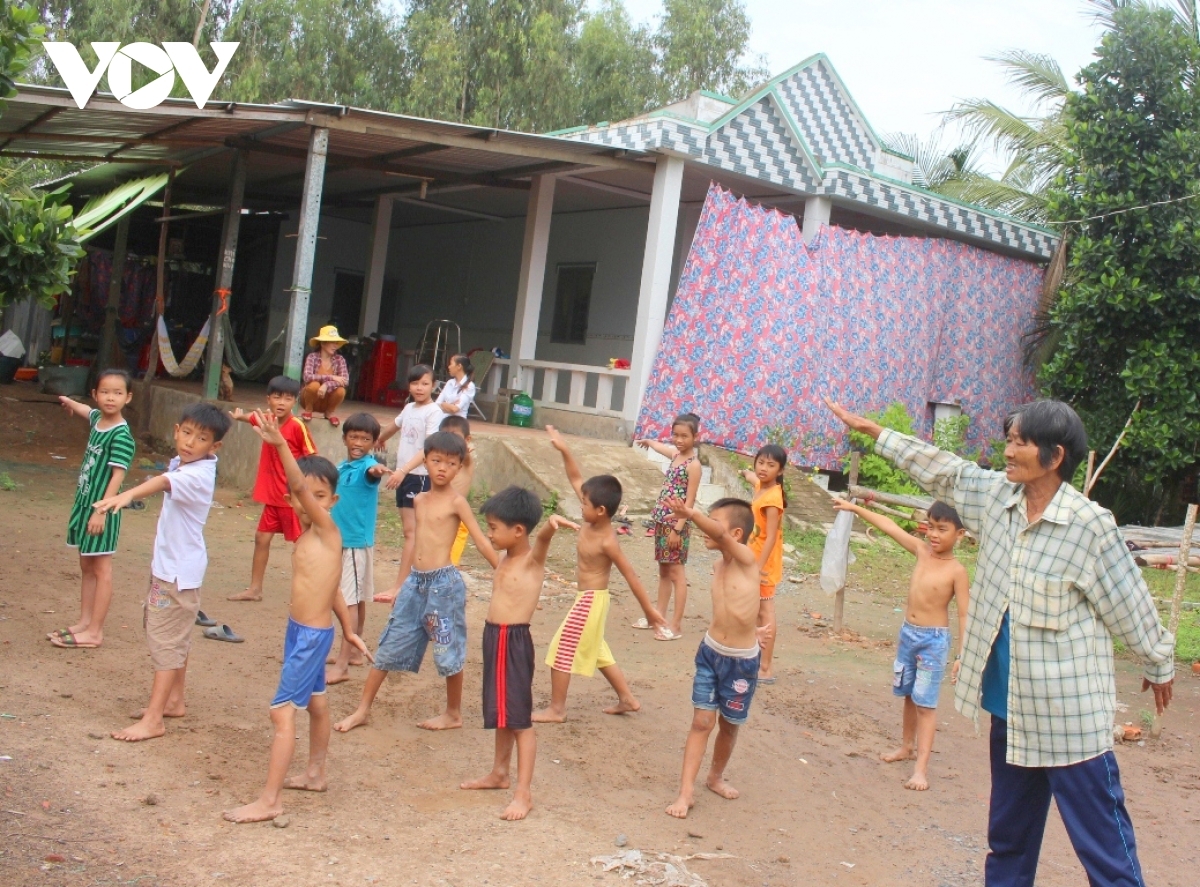 Thia has a passion for teaching children to swim. Photo: VOV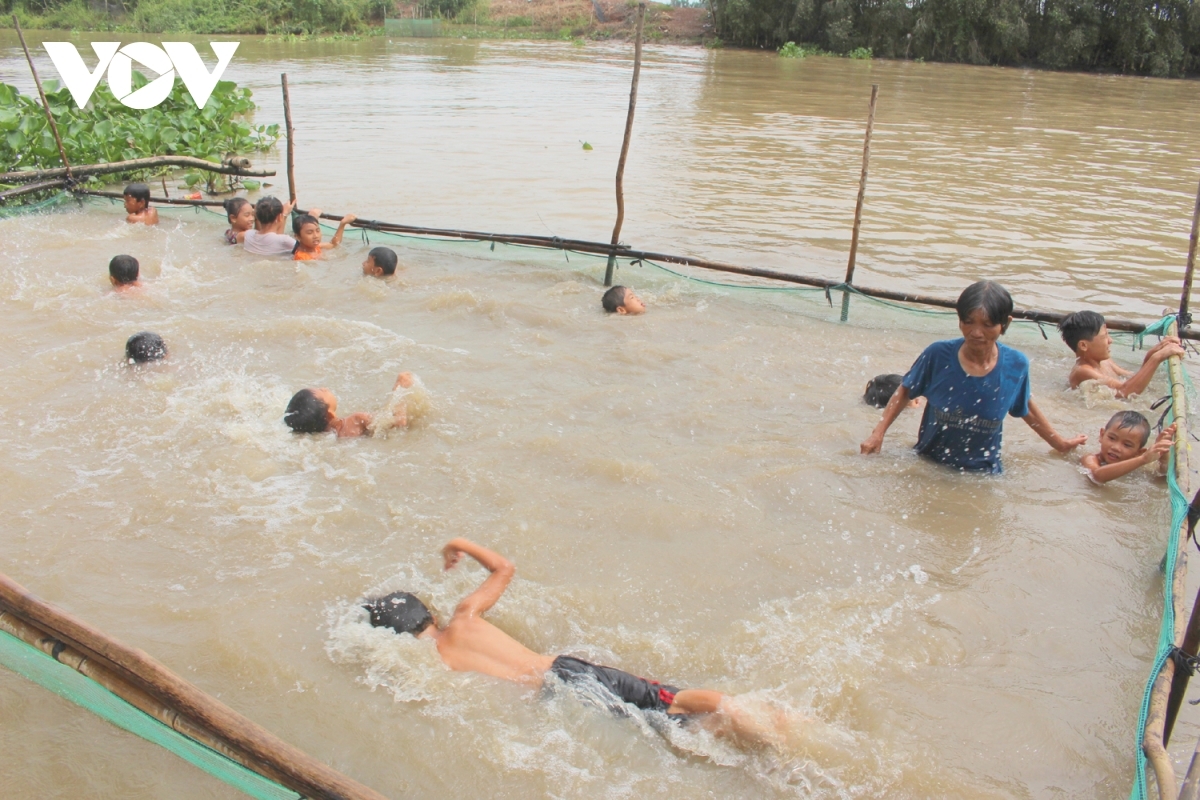 Thia has taught thousands of students how to swim, over 20 years. Photo: VOV
Aside from free swimming lessons, for single families or parents who are busy working and do not have time to pick up their children, Thia takes the children home, feeds them, and even takes care of them.
Despite her age and deteriorating health, Thia continues to teach children swimming free of charge and participates in local social work. Currently, due to the Covid-19 pandemic, each of her swimming classes has been reduced to less than 10 students to comply with pandemic rules.
Thia said that despite her failing health, she still teaches swimming to young children, and that while each child has a different situation, not knowing how to swim will be a dangerous risk, especiallty when the flood season comes.
"I'm still strong, healthy, and I teach them when I still can. I don't have material things, but I love children and my neighbors very much, so I am not poor. I can contribute to society as much as I should, whatever I can do, I will do it," Thia said.
When asked why she does not spend time to develop her family's income, but instead organizes swimming lessons for young children and takes part in social work, Thia laughed and said she was not afraid of poverty, only that children who could not swim could be hurt.