(Video courtesy of Dang Hoang Le)
Several provinces in Central Vietnam, including Da Nang has been battered by the Storm No.7 in the past few days. Consistent heavy rains inundate many streets, disrupt people's daily life.
Still, during this difficult time, many Da Nang residents are optimistic about the situation, some even go out to the middle of the street to catch some fish washed ashore by the floodwater. In the clip recorded by locals, a group of adults in raincoats does not hesitate to wade through the inundated water to the middle of the street to catch fish.
"At first, there were only 2 or 3 people. But the number quickly grew larger as people found this was exciting and wanted to join", one local was quoted. "It's the first time I've witnessed such a lovely scene".
The clip has garnered huge attention from Vietnamese netizens since its surface on the Internet. Most of the comments rave about the positive spirit of people in Da Nang, and Central areas as well amidst the difficult time. The cheerfulness in their faces is evidence of their resilience, determination to win over the natural disaster, and protect the land where they were born and raised in.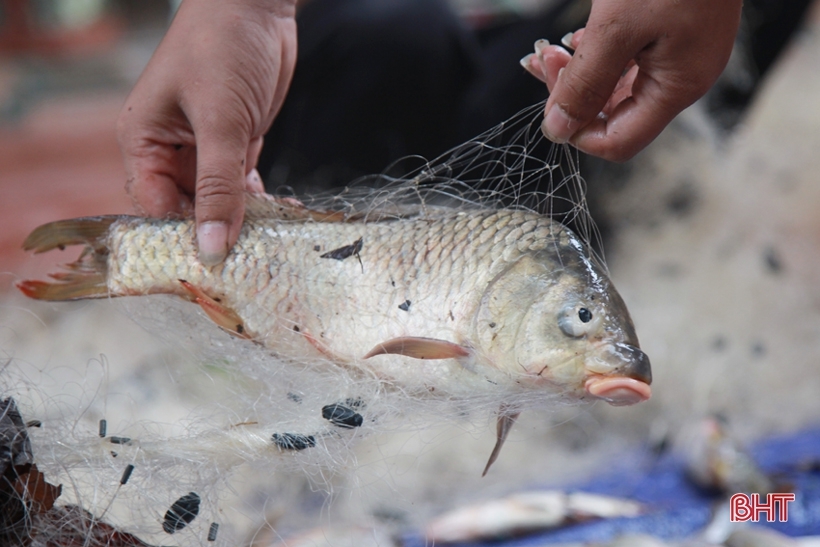 Illustrated photo (Photo: Bao Ha Tinh)
Severe flooding and landslides triggered by heavy rains in the central and Central Highlands regions have left at least 21 people dead and 14 others missing.
The fatalities were reported in Quang Tri, Quang Nam, Thua Thien-Hue, Da Nang, Quang Binh and Quang Ngai on the central coast, and Gia Lai, Dak Lak and Lam Dong in the Central Highlands.
Over 100,000 houses in 206 communes in Ha Tinh, Quang Nam, Quang Binh, Quang Tri, and Thua Thien-Hue provinces and Da Nang city are under 0.3-3 metres of water.
Nearly 50,000 people have been evacuated while authorities have stepped up efforts to supply food and other necessities to marooned people.
The flooding is expected to last until the end of this week.