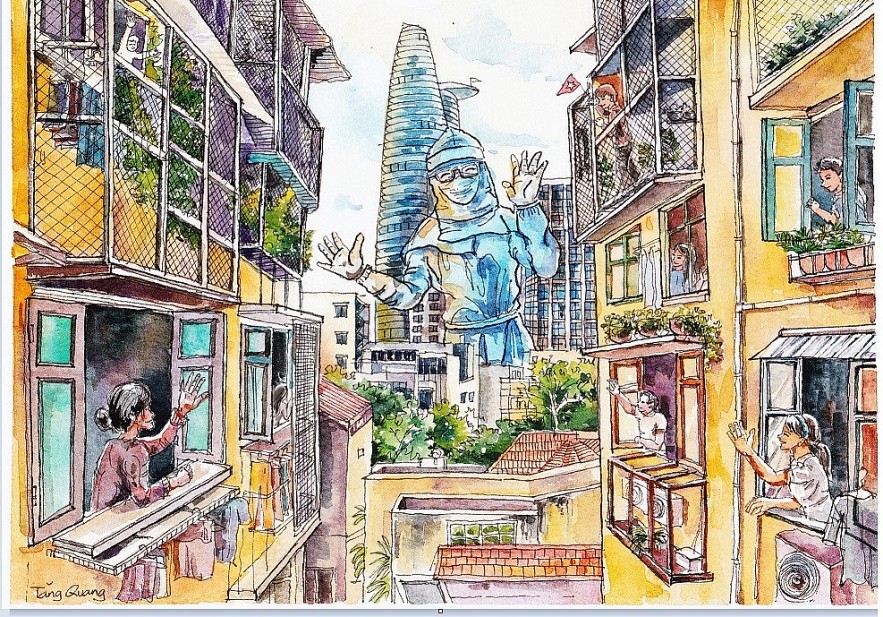 Image of Saigon drawn by a group of young people joining hands to fight the pandemic.
Remember Saigon sidewalk culture
Nguyen Tang Quang and a group of friends have released another set of paintings depicting Saigon fighting the Covid-19 pandemic. Having studied for a master's program in Design Management at the University of the Arts London (UK), Quang is well known for his sketches of his days in quarantine when he returned to Vietnam in March 2020.
Quang said the set of paintings depicting Saigon fighting the pandemic included 50 paintings made in early June when the city began its social distancing. The group has about 10 people drawing together, of which 4 are the main painters, the rest drew 1 or 2 pictures each.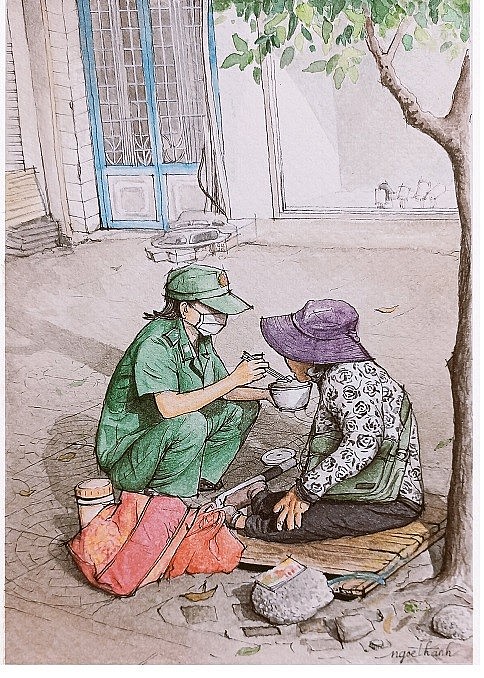 The image of a young woman volunteering to feed the old has been noticed by many people on social networks
The original intention of the group was to show the typical sidewalk culture of Saigon. "The image of laborers and wholesalers on the sidewalk, despite their hard work, have quietly created their own culture. They are also the ones most vulnerable to the Covid-19 pandemic.
"Besides, the images of doctors, soldiers, volunteers and people united against the disease is also a unique culture of Saigon," Quang said.
In the process of working, Quang's team also encountered difficulties. "We only have online exchanges to agree on the theme, sometimes we are ready to re-draw from scratch if the picture is disjointed. Behind the set of paintings, we also have many happy memories together and thanks to painting, everyone can reduce their anxiety during the pandemic season," he said.
Joining hands for meaningful work
When invited by Quang to participate in the painting group, Bui Van Tien, 26, a teacher at the Dust and Tipsy Art Center, immediately agreed with the hope of contributing to encouraging and spreading the spirit of the fight against the pandemic.
Tien is most interested in the painting of street vendors viewed from above because they depicts a warm and bustling Saigon as before. That is also what he wishes to see in Saigon as soon as possible.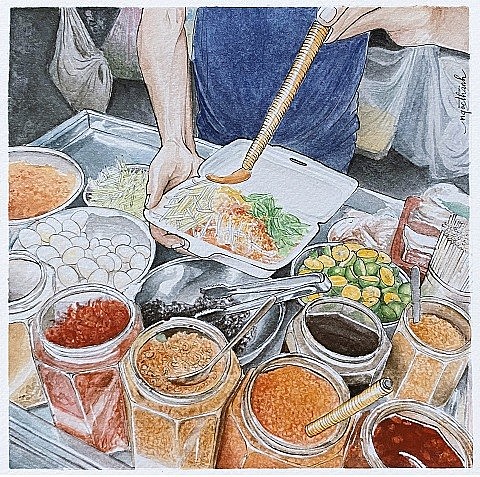 The painting of a street vendor seen from above
As far away as Australia, Pham Hong Dan Thanh, 21, contributed paintings of the food court at Ho Thi Ky market, which is associated with her childhood.
Dan Thanh hopes the photo series can contribute to spreading positivity a time when social networks seem full of negative images.
She also wishes to see a bustling Saigon again, with streets filled with food, shouting, and sales pitches, instead of the quiet, deserted, melancholy streets that are no found across the city.