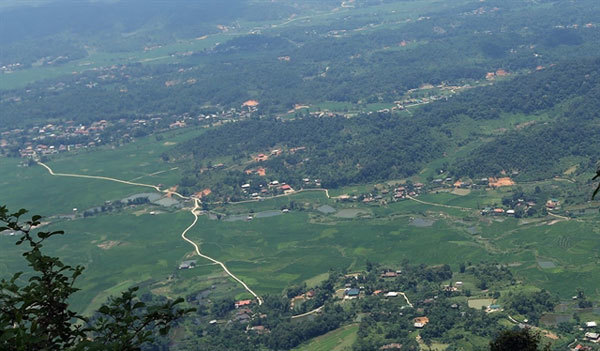 Muong Phang Commune viewed from above. — VNA/VNS Photo Phan Tuan Anh
To reach Che Can Village, tourists can take Highway 279, through Na Nhan Commune, Dien Bien District, then follow provincial Road 3 into Muong Phang Commune.
Visitors can also follow a southeast road of Dien Bien Phu City passing through Ta Leng Commune.
These two routes both lead through the winding roads along Pa Khoang Lake hidden under the green forests with fresh air and peaceful natural scenery.
The village is on a part of the Pu Don mountain range which has the highest peak of Pu Huot, 1,700m above sea level.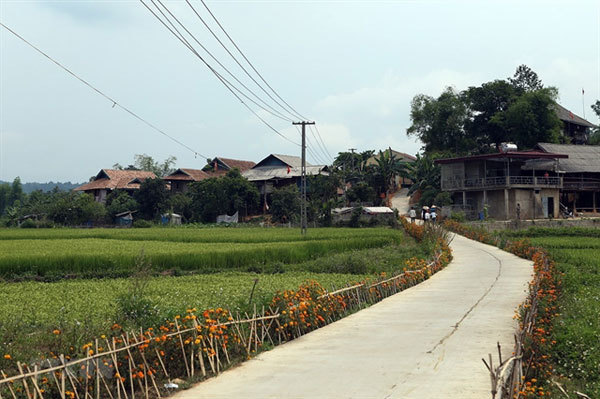 The road to Che Can Village. VNA/VNS Photo Phan Tuan Anh
It was on the top of this mountain that the Commander-in-Chief of the Vietnam People's Army (VPA), General Vo Nguyen Giap, ordered an observation post to monitor the developments of the fighting with the French forces in Muong Thanh during the pivotal Dien Bien Phu Battle in 1954.
Before exploring Che Can Village, visitors can visit the famous revolutionary base where the VPA headquarters at the campaign were located.
Che Can was one of the few villages that existed before 1954. "Che Cẳn" means protecting people from foreign invaders. In the past, the village was deserted, locals lived in small, humble houses in the middle of the murky mountains and forests, and people mainly farmed, planting maize and cassava.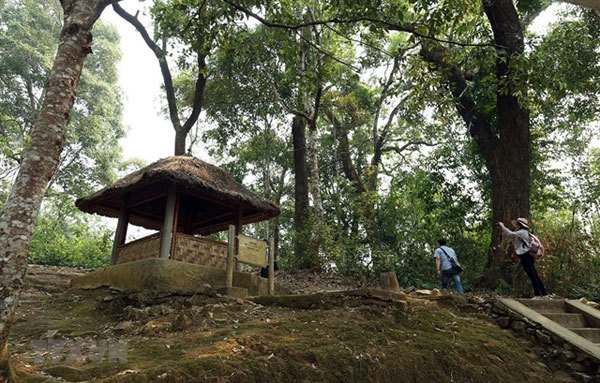 The headquarters of the Dien Bien Phu Battle have become a tourist attraction that attracts tourists every time they visit Muong Phang Commune. — VNA/VNS Photo Phan Tuan Anh
After 1954, locals were able to make their stilt houses bigger and more stable, their livelihoods gradually developed with cattle and poultry raising, as well as growing wet rice and fruit trees.
Che Can Village has nearly 100 households with more than 430 people, all of them of Thai ethnicity.
They maintain their cultural values with the traditional architecture of stilt houses of the black Thai as well as clothes, beliefs and festivals.
In addition, the village attracts tourists with traditional occupations such as brocade weaving, knitting, forging, carpentry and making traditional musical instruments. 
Stilt houses and festivals
From the centre of Muong Phang Commune, walking on a clean, airy concrete road, we saw mossy stilt houses on the dark blue background of mountains and sky.
The plum trees were in the gables of many houses and in each family, we saw many women doing embroidery, sewing on the porch and cooking traditional dishes.
According to local Luong Van La, the most unique feature that visitors coming here all note is the traditional architecture of the black Thai stilt houses. Traditional stilt houses were usually built in a high, cool place with their back leaning on the hill, mountain and the door facing a river, stream or crop field.
The stilt houses have two floors, the upper floor usually has three compartments, for the host's family and guest reception, while the lower floor is for agricultural tools, wood, firewood and breeding.
The village also hosts special festivals with unique folk songs and dances.
According to Mua A Kenh, vice chairman of People's Committee of Muong Phang Commune, the Ministry of Culture, Sports and Tourism recognised Che Can as a typical traditional village of ethnic minorities and was one of 20 traditional cultural villages preserved in the country.
Kenh said over the years, the local government has made efforts to preserve and promote the traditional cultural values ​​of the Thai in Che Can by harmoniously combining tradition with modernity and preserving the traditional household items of the black Thai such as stone mortars to grind maize and to pound rice.
In Che Can, visitors will have a chance to experience a unique Thai stilt house.
Lo Van Duc, owner of the homestay Phuong Duc, said his family received advice from the provincial Community Development Centre to upgrade his two adjacent stilt houses and he built additional facilities to serve about 50 guests.
He has a bicycle service for visitors to explore the village's open spaces, clean alleys, colourful flowers and rice fields.
An interesting experience in Che Can is that for only around VND30,000 (US$1.3), visitors can ride a buffalo cart to explore tourist sites around the village. In addition, harvesting agricultural products is also a very attractive experience for many tourists in Muong Phang.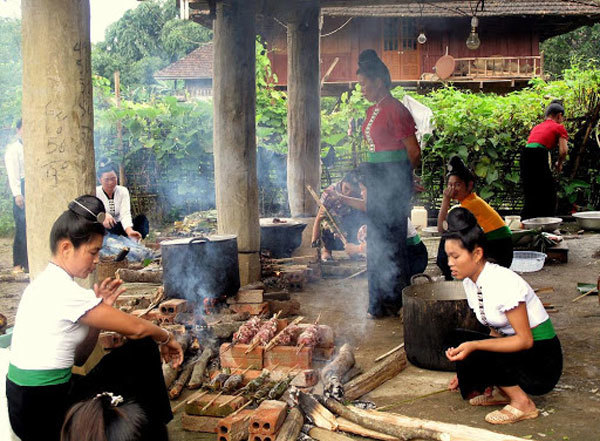 Thai people in Che Can Village like grilled dishes. — Photo dienbien.gov.vn
Cuisine
In Che Can Village, visitors have the opportunity to enjoy the Thai cuisine with delicious dishes such as pa pỉnh tộp (grilled fish) nộm da trâu (buffalo skin salad), thịt trâu gác bếp (buffalo meat smoked in the kitchen), grilled chicken, steamed pig with banana leaves, fish salad, and purple sticky rice.
Stemming from the local geographical conditions, climate and living habits, food from the Thai ethnic community here always has a unique flavour, taste and colour.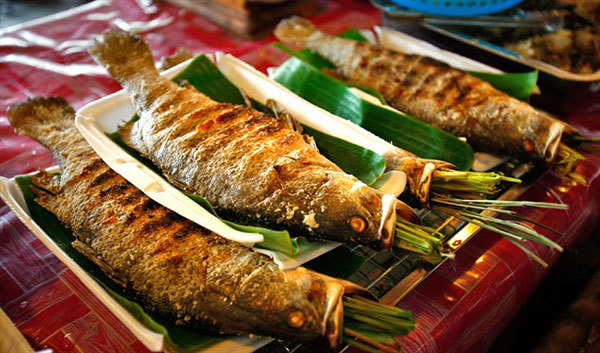 Pa pỉnh tộp (grilled fish) is one of popular dishes of Che Can Village. — Photo www.chudu24.com
After dinner, visitors have the opportunity to mingle with the local people in the cultural space of the Thai, with wonderful dances and songs.  VNS
Lam Giang