(Video: VNE)
Made from bamboo charcoal, the bread has an attractively natural black color. As if the black color isn't unique enough, the restaurateur would sprinkle gold flakes or put thin gold leaves onto the hotdog/ sausage. Herbs, pickles, chili sauce, mayonnaise are other fillings that make up the flavorful taste of the street food.
According to the restaurateur who comes up with brilliant ideas, the gold is normally the 18K, which priced around VND 60,000 – 100,000 per 2 gram (US $2.58 – 4.31). The metal is sourced from a credit store and actually has no nutrition benefits.
"It took me roughly 2 months to put the idea into practice. I was actually inspired by the gold-plated foods in Japan", the owner of the bread stall said. "I want the customers to not only have a delicious bite but also enjoy the bread just by its look".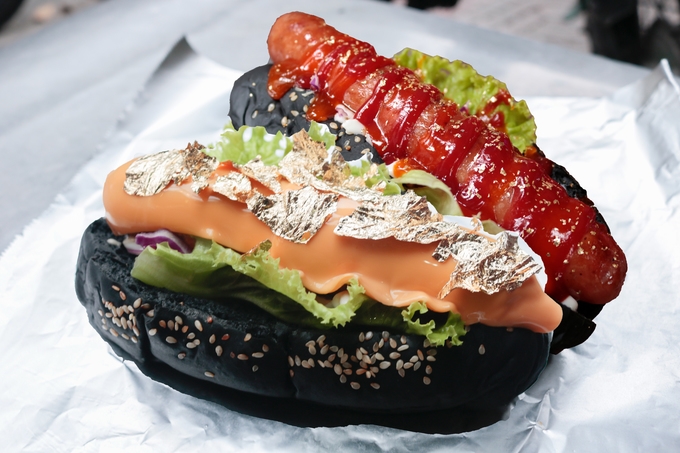 The hotdog has gold leaves on top (Photo: VNE)
"The flavor of the bread and hot dog in this stall is quite different from others. I really want to sample on as I heard there's a gold-plated bread downtown", one customer was quoted by VNE as saying. "It's totally worth the try".The bread stall opens every day from 1:30 pm – 9:30 pm. On average, she sells around 50 gold-plated bread per day.