Addressing a ceremony held at the city hall of Larmor-Plage, Mayor Patrice Valton expressed his delight at the close France – Vietnam ties which have been fostered for not only the last 50 years but long before that, along with the effects of their joint projects.
He said bilateral cooperation has developed not only in politics, diplomacy, and trade but also health care, education, culture, science, and locality-to-locality ties, citing as example the partnership between Lorient town of Morbihan and Khanh Hoa province or Ho Chi Minh City of Vietnam, as well as the local Vietnamese community's efforts to popularise the Vietnamese culture and reinforce the two countries' friendship.
Reviewing the milestones in bilateral relations over the past half of a century, Vietnamese Ambassador to France Dinh Toan Thang said that cultural similarities form a solid stepping stone for the countries' friendship and cooperation nowadays.
He appreciated the local Vietnamese community's contributions to the popularisation of the Vietnamese culture in France and highlighted the community's bonds with the homeland's culture along with their success in gathering generations of overseas Vietnamese (OVs) to honour the common heritage.
The ceremony at the city hall was the start of a number of activities as part of the Vietnam Festival, organised by the City Hall of Larmor-Plage in collaboration with the three associations of Art Space, Vietnam Bretagne Sud, and Appel Lorient.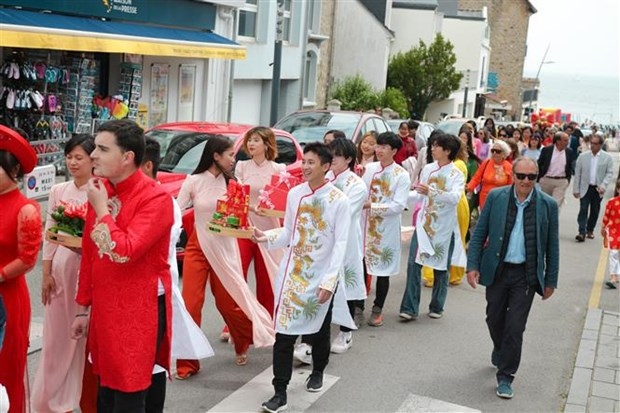 The first-ever large-scale Vietnamese cultural event in Larmor-Plage attracted thousands of local residents and visitors. It was an occasion for not only introducing the culture of Vietnam but also connecting OVs from around the world.
Activities included raising the donation of the used "ao dai", a traditional costume of Vietnam, from OVs in many countries such as the US, France, Canada, Germany, Japan, and Vietnam, and they were handed over to visitors in exchange for donations to some centres of orphans and disabled children in Vietnam.
Visitors also had chances to engage in many activities to explore the traditional Lunar New Year festival, the Dong Ho folk paintings, calligraphy, and other aspects of the Vietnamese culture. An exhibition of paintings by Vietnamese-origin children from nearly 20 countries, a photo display on Hoi An ancient town by young artist Thai Nguyen, and stalls of Vietnamese street food also formed part of the festival.
Ambassador Thang commended the remarkable success of the Art Space, Vietnam Bretagne Sud, and Appel Lorient associations in strengthening cultural connections and exchanges between the two nations, as well as promoting the beautiful image of Vietnam to French friends.
He described this event as a perfect milestone for the 50th anniversary of the two countries' diplomatic relations.
Regine Le Normand, Deputy Mayor of Larmor-Plage, held that after joining dances, enjoying colourful traditional costumes, and tasting attractive dishes of Vietnam, local people will want to learn more about Vietnam and even come to the country to directly experience its identities.