As of Tuesday afternoon, Cao Bang reports no Covid patients since the fourth outbreak in Vietnam on April 27. The northeast province covers over 6,700 meters square, with 90% are mountainous terrain and covered with forests. It, therefore, offers a fresh, clean atmosphere, especially in rural areas.
Cao Bang is some 290 km from Hanoi, offering year-round beauty. If you are lucky enough to visit it between December and January, you will be amazed by the stunning fall foliage. The red and yellow leafy canopy gives the place a European-vibe, where photo lovers can truly live with their passion.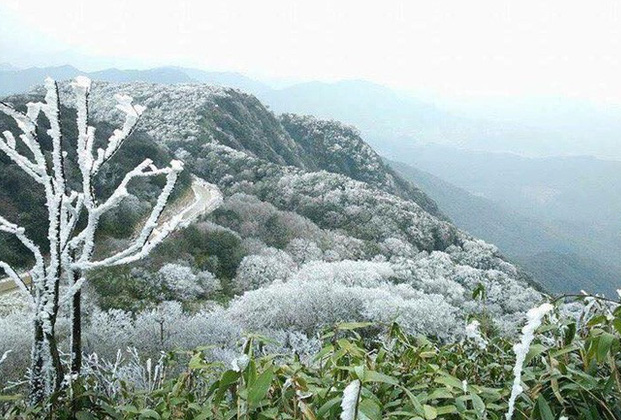 Cao Bang on a frosty day. Photo: Dan Tri
The home of 28 ethnic groups
According to the 2019 census, Cao Bang's population is 530,000, including 28 ethnic groups, such as Tay, Nung, Dao, Mong, Kinh, among others. As such, a trip to Cao Bang is not just about admiring the gorgeousness of Mother Nature, it's also an opportunity to mingle with locals and their traditional way of life. Discovering the Tay's traditional handicraft village or cultural values of Khuoi Khon hamlet, Bao Lac district, are among the must-try experiences.
UNESCO Global Geopark
Non Nuoc Cao Bang Geopark was recognized as a UNESCO Global Geopark on 12 April 2018, becoming Vietnam's second global geopark after Dong Van Stone Plateau in Ha Giang.
Non Nuoc Cao Bang Geopark covers more than 3,275 square kilometers, spanning over 9 districts. It houses 215 ranked historical and cultural relics and 130 geological heritage sites with unique limestone landscapes in different shapes and sizes. The wied range of geological heritages such as paleontological fossils, types of minerals, faults, are the historical witnesses of the geopark's 500 years of development.
Top largest natural waterfall in Southeast Asia
Measuring 53 meters high and 300 meters wide, Ban Gioc waterfall is one of the largest waterfalls in Southeast Asia. During rainy season (April – September), water flow is strong, creating white foam. From a far distance, visitors can hear the sound of rumbling water. In dry season (October – March), waterfall is calmer with turquoise color.
You can have a boat ride to explore the magnificence of Ban Gioc waterfall. Each ride costs VND 50.000 (US$ 2.18) per one person.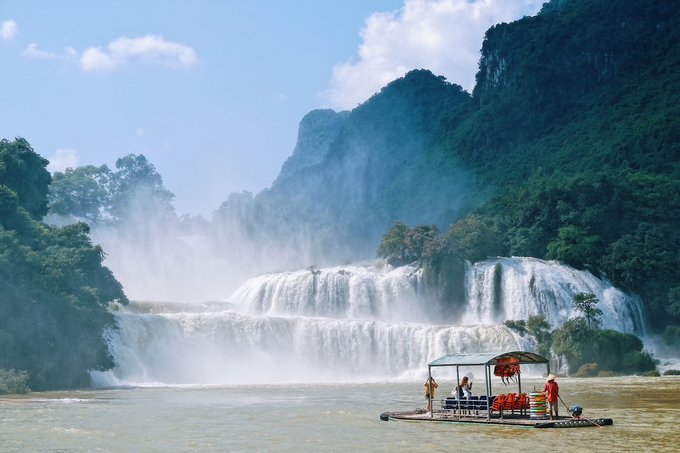 Bang Gioc waterfall. Photo: VNE
Home to "disappearing lake" in dry season
Nam Tra lake at the foot of Mat Than Mountain has high water levels in the rainy season (June-August). In dry season, the water recedes, creating a walkway.
Visitors can also visit Mat Than mountain. To reach Mat Than mountain, you will have to walk from the main road for around 15 minutes, through the trail pass Tay ethnic people's village. Prepare yourself for the vast rice and cornfields, as well as many houses titled in yin and yang style.
Lenin Stream: Unique relics site of Pac Bo, Cao Bang
Lenin Stream is named after the well-known Russian revolutionary and politician Vladimir Lenin. This stream is not only attractive because of its natural beauty but it is also a witness of the war that the Vietnamese resiliently fought in to save the country. Lenin Stream has always been an interesting tourist attraction due to its historical and natural value, according to Journey on Air.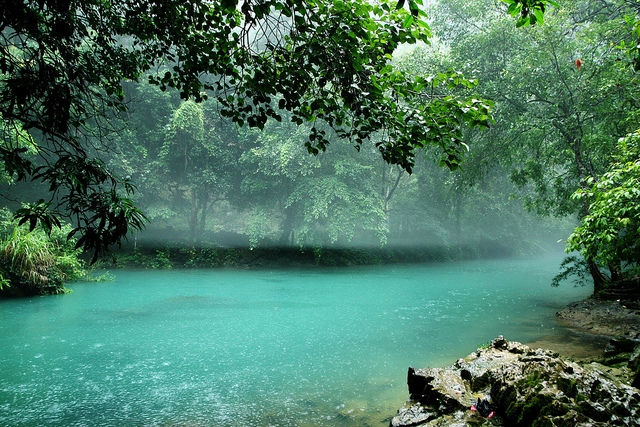 Lenin stream. Photo: Journey on Air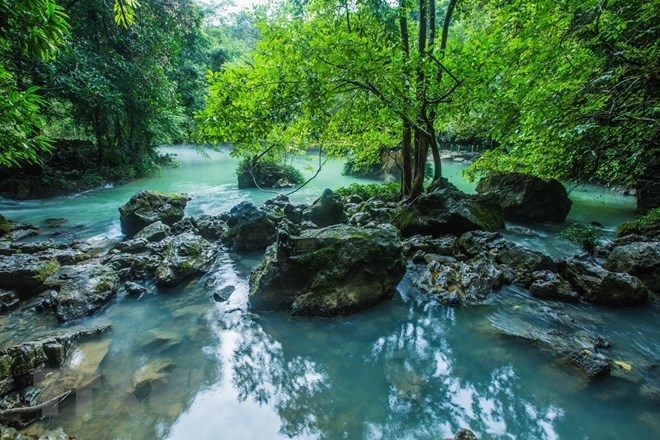 Photo: Journey on Air
Located in Cao Bang province, Lenin Stream is next to Pac Bo cave and at the foot of Cac Mac (Karl Max) Mountain. In the past, Lenin Stream was known as Khuat Giang Stream or Suoi Troi (Sky Stream).
The beauty of Lenin Stream always impresses the visitors. It has a unique color of emerald green. Different from other streams, Lenin Stream is no… mainstream. While others are clear and kind of transparent in some ways, Lenin Stream has a vivid and attractive color of bright green. This distinctive feature has captured the hearts of many tourists.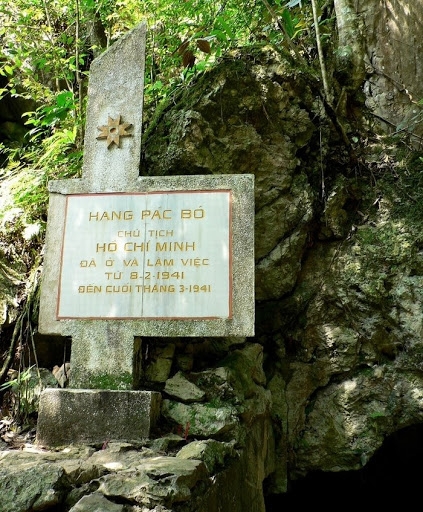 Pac Po cave. Photo: Journey on Air
The air here is undoubtedly fresh and cool. Take a deep breath and you will feel so relaxed and peaceful. This is truly a perfect getaway from the dusty, noisy and bustling city. Here, you can fully immerse yourself in nature and forget all of the pain.